Jopen Lentebier
| Jopen Bier BV Haarlem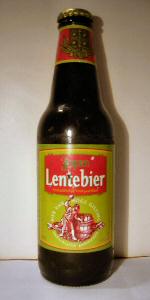 BEER INFO
Brewed by:
Jopen Bier BV Haarlem
Netherlands
jopen.nl
Style:
Belgian Strong Pale Ale
Alcohol by volume (ABV):
7.00%
Availability:
Spring
Notes / Commercial Description:
No notes at this time.
Added by paterlodie on 05-12-2005
Reviews: 9 | Ratings: 27

4
/5
rDev
+3.6%
look: 4 | smell: 4 | taste: 4 | feel: 4 | overall: 4
33cl bottle. Pours a briight yellow, with a white head. Smells sweet, like a Belgian ale, candi sugar, caramel, yeast, bread. The taste follows the same notes (I wonder where the "usa hopped" notes are), very nicely balanced, not too sweet for a Belgian pale ale.
★
263 characters
4.17
/5
rDev
+8%
look: 4 | smell: 4.5 | taste: 4 | feel: 4 | overall: 4.25
Not sure how to classify this one: smells like an American IPA (Amarillo and Cascade are used), but (after)taste is more like a Belgian Blond. All in all a very nice and refreshing beer appropriate for the spring time. I would gladly drink another.
★
248 characters
2.98
/5
rDev
-22.8%
look: 3.5 | smell: 3 | taste: 2.75 | feel: 3.5 | overall: 3
On-tap at Jopenkerk, Haarlem, Netherlands
A: The beer is clear yellow in color and has a slight amount of visible carbonation. It poured with a quarter finger high off white head that died down and left delicate lacing on the surface, a collar around the edge of the glass and lacing down the sides of the glass.
S: Faint aromas of alcohol are present in the smell.
T: The taste has very strong flavors of alcohol towards the finish that also linger in the aftertaste.
M: It feels a little more than medium-bodied on the palate and has notes of alcohol warming in the finish. No dryness is perceptible.
O: This beer has too much alcohol in the aroma and taste to make it enjoyable.
★
686 characters

3.93
/5
rDev
+1.8%
look: 3.5 | smell: 3 | taste: 4.5 | feel: 4 | overall: 4
Bottle of 300 ml, at home. Pours a deep golden honey-like slighty hazy coloured beer, with two fingers of white head with great retention. It has now settled to one finger but it's still there, creamy. Leaves heavy lacing on the glass as I drink it.
Aroma is fruity and yeasty.The coriander not traceable at all.
Very bitter on the taste, this is great! The bitterness of the aftertaste lingers in the mouth for a long time, even longer if you take a good big sip.
Full bodt, nice carbonation and some dryness on the palate, which serves to make you go for another sip.
Overall a really great beer, and it may be called spring beer but I certainly would prefer it over the so-called summer beers.
★
696 characters

4.77
/5
rDev
+23.6%
look: 4 | smell: 4.5 | taste: 5 | feel: 4.5 | overall: 5
Had this beer in the Arendsnest in Amsterdam from draft. The color was dark blond, with a little hase.
The aroma was very fruity with a destic=nct grapefruit aroma. Definetly USA hops in this one but not agresive, just fruity and spicy (coriander?).
The taste is well balanced between a higher alcohol level 7%, that causes a full body and a drinkability. Taste of citrus fruit, specialy grapefruit.
Very nice beer, to bad its a seasonal.
★
439 characters

3.9
/5
rDev
+1%
look: 4 | smell: 4 | taste: 4.5 | feel: 3 | overall: 3
Poured it from bottle in a Jopen glass. It has a nice dark yellow color and a solid foamy head. Looks like highly carbonated. Smells fruit esters and light coriander. Carbonation is much lower as I expected. The taste is rich but not too complex. Hints of apple, citrus, light coriander, alcohol nicely masked, little bitterness and moderate in hops and sweetness. I'm not really a fan of sourness in beers, but with this one it just seems to fit.
Too bad that the carbonation dissapears rather fast.
This beer was better than I expected after reading a previous review mentioning the sourness. The name suggests it's a spring beer, but I will surely place it on my list of favorites for this summer.
Edited my review after my second bottle because of the fast oxidation.
★
775 characters
4
/5
rDev
+3.6%
look: 4 | smell: 4 | taste: 4 | feel: 4 | overall: 4
On tap in April 2007 at "De Gouveneur", the local bar attached to the Joops Hotel, one of the 2 more highly-recommended hotels in Haarlem, Netherlands, the home of Jopen beers. Detailed notes not taken, so impressions only.
A nicely flavored, somewhat fruity maibock type spring beer, quite nice on a warm spring afternoon, with the coriander as the primary addition to the full malt base. Generally well balanced, not overly complex. No hint of the alcohol in the taste or mouthfeel. I had a couple of these over a few days, and it was part of my growing interest in Dutch beers. They have some good stuff!
★
610 characters
3.05
/5
rDev
-21%
look: 3.5 | smell: 3.5 | taste: 2.5 | feel: 3 | overall: 3.5
This beer comes from one of my favorite Dutch breweries (even though most beers are brewed in Belgium). Most beerstyles and recipes originate from medieval times. This is one their own creations I think. A 'Lentebier' or a springbeer, brewed with barley, oats and wheat like in medieval times, with a touch of coriander.
Appearance is orange and murky with a big bubbled head that collapses after seconds.
Smell is 'interesting', some sourness, yeast and barnyard smells, which are the main smells. Then a little toffee, coriander and higher alcohols. The coriander is not very aromatic, rather pushed in the back.
Taste is slightly sour, with some coriander, higher alcohols and warming in my throat. A medium bitter round of the beer. The sourness is unintentional I guess, but fits the beer and matches the medieval origin. But there is also some oxidation in the beer that is still just below the acceptance level, but becomes more prone when nearly finishing the entire glass. This will take some points of for taste.
Aftertaste is dry and the oxidized taste is present. Body is medium and drinkability is good, if the off-taste is not taken into account.
★
1,171 characters
4
/5
rDev
+3.6%
look: 4 | smell: 4 | taste: 4 | feel: 4 | overall: 4
BB 02-03-07. Poors in with good and lasting snowwhite head and beautifull goldenbronze beercolor.Nose is good but not overdone on anything: ripe aplle and banana with other fruitesters and some malty& sourness. Taste is fresh and good too but misses litle body. Think its very commercial though and certainly enjoyable on a nice bright springday like today is.
Anyway munich and pilsmalt are dominating in the taste as is the litle coreander that from taste seems to be mostly cooked out. Moderate hoppiness following as was te sweetness during drinking it. Good brew and highly enjoyable during warm spingdays.
★
612 characters
Jopen Lentebier from Jopen Bier BV Haarlem
3.86
out of
5
based on
27
ratings.