Houten Haarlemmer
| Jopen Bier BV Haarlem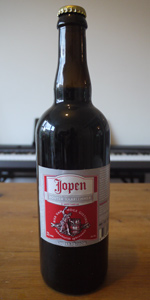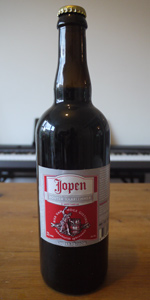 BEER INFO
Brewed by:
Jopen Bier BV Haarlem
Netherlands
jopen.nl
Style:
Russian Imperial Stout
Alcohol by volume (ABV):
9.00%
Availability:
Limited (brewed once)
Notes / Commercial Description:
No notes at this time.
Added by Aethien on 09-26-2012
This beer is retired; no longer brewed.
HISTOGRAM
Ratings: 7 | Reviews: 5
Reviews by Aethien:

4.07
/5
rDev
+8.8%
look: 4 | smell: 4.5 | taste: 4 | feel: 3.5 | overall: 4
Bottle # 382/525
Pours an ink black and dark ruby where a little light gets through at the edge. A small caramel coloured head that leaves surprisingly much lacing tops it off.
Smells like roasty coffee, pure chocolate, licorice and vanilla but all very smooth. Hinting towards bourbon or cognac at times even if it's only been aged on white oak.
Tastes are similar to the nose but the oak shows up in full power here, less coffee and chocolate but there's dark fruit and a big alcohol and licorice blast in the aftertaste to keep the brew complex. The taste isn't as deliciously smooth as the nose but it's complex and interesting.
Mouthfeel is a little too thin for the beer for my tastes. It's a big beer and I prefer a thicker, creamier mouthfeel. It is much more drinkable than most barrel/oak aged stouts because of it though.
Aside from the somewhat thin feel this is a potent and complex stout that may just be a bit too drinkable given the ABV. I for one hope they'll make more.
1,004 characters
More User Reviews:

4.27
/5
rDev
+14.2%
look: 4 | smell: 4.5 | taste: 4.5 | feel: 3.5 | overall: 4
This came in a 750ml I picked up from the local Mitra.
Bottle 261 of 525
Poured into a snifter.
Darker than cola but lighter than motoroil this comes out with a enthusiastic head and plenty of visible carbonation.
Smells of dark thick bitter chocolate and subtle coffee. A little bit of barrel hidden that seems to come out more as the beer warms up.
Thick chocolate flavores are to be tasted but also dark fruits that deliver a bit of sweetness right before the bitterness kicks in. The barrel is subtle but very flavorful.
It has a light to medium body with a surpisingly full finish. Goes down very smoothly with a silky feel even.
Overall this is a solid offering by Jopen. I had to let this beer warm up a little to really bring out all the flavors and complexity that is present in this beer. The mouthfeel could have been a bit fuller. Very much recomended.
870 characters
3.92
/5
rDev
+4.8%
look: 3.5 | smell: 4 | taste: 4 | feel: 3.5 | overall: 4
A limited edition of the Jopen brewery. It opens with a very faint ssjt and pours a black/burgundy beer woth some traces of foam.
Smell is very woody, mainly oak. It reminds of port. The wood adds a slightly musty smell. The dark malts are pretty bold and roasty/burned. In the end there is a boozy smell in the sense that it has an oxidized character of the barrel aging. In a good way.
Taste is dark with the dark malt being not too roasty. The dark malts add a somewhat acrid roast, on the edge of burned. It is probably because of the lack of more sweetness. The beer gets a little 2 dimensional with the wood on the one hand and the roast on the other. It seems that the beer misses some kind of midlayer of caramalts. The beer would improve of this. Of course this is not a bad beer, and it does not correspond with all the RISs from the US,b ut why would it?
868 characters

4.1
/5
rDev
+9.6%
look: 3.75 | smell: 4.25 | taste: 4.25 | feel: 3.5 | overall: 4
This beer pours a very dark brown to black into my glass. Head fades very quickly leaving a khaki ring around the edge.
Smells of honey and molasses with some oak and vanilla.
At first I taste rich roasted malts and then the sweet honey and molasses, followed by the very subtle oak and vanilla. No alcohol to speak of. Very smooth and easy to drink. Nothing really stands out here, it"s a really balanced oak aged RIS. It is very sweet and I could use a little more the roasted malts but a very solid stout indeed.
This is a little thin for the style, good carbonation though.
This was my first experience with Jopen and I can thank Erik for this one. I hope to try some more offerings from these guys, I would definitely drink this beer again if it was offered to me.
774 characters
3.12
/5
rDev
-16.6%
look: 4.25 | smell: 4 | taste: 2.5 | feel: 3 | overall: 3
1.95
/5
rDev
-47.9%
look: 2 | smell: 2 | taste: 1.5 | feel: 3.5 | overall: 2
Jopen's started to push the envelope and make some more interesting beers lately. This one is a limited edition RIS aged in white oak. Fun stuff. Picked up a bottle at the local liquor store.
From a 750ml bottle into a snifter
Bottled December 2011
Bottle 135 of 525
APPEARANCE: Pours an extremely clear and transparent light brown and yields a two finger, medium looking, creamy, off-white head with excellent retention. Transparent brown body with higher levels of carbonation. Head slowly fades to a good foam cap with lots of carbonation pushing through. A ring and splotchy wisp remain leaving a few dots of lacing. The head looks pretty nice, but the thin, light colored body is just all wrong.
SMELL: Heavy on the oak and wood here. Some vanilla and licorice notes push through, as well as light, very light hints of milk chocolate, but the wood basically runs the show here. Pretty one dimensional.
TASTE: Beings with some oak, then follows with wood, wood, and some more wood. Some light vanilla and mint candy notes through the middle into the finish. Very, very wood dominant and very little stout here. Aftertaste is bold and lingering with yet more sweet wood flavors, touches of leather and licorice, as well as some vanilla and minty chocolate flavors. Did I mention this is a wood bomb? All wood all the time.
PALATE: Medium body and medium levels of carbonation. Lighter on the palate, but very creamy smooth as well. Goes down smooth and finishes a bit dry. Some woody sweetness lingers. This is by far the best part of the beer, but that's not saying much.
OVERALL: This toally misses the mark for me. I like oak aged imperial stouts as much as the next guy, but this is completely overdone. One dimensional and dominating, this is an oak bomb if the world has ever seen one. Too much wood and not nearly enough stout, this is one to avoid. I'm glad Jopen has decided to push the envelope a little, but this one just didn't work out. The best word I could use to describe this would be "challenging."
2,031 characters
Houten Haarlemmer from Jopen Bier BV Haarlem
Beer rating:
3.74
out of
5
with
7
ratings