Bede's Chalice
| Durham Brewery Ltd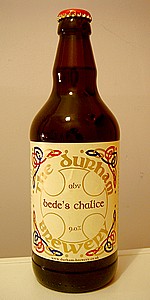 BEER INFO
Brewed by:
Durham Brewery Ltd
England
,
United Kingdom
durham-brewery.co.uk
Style:
English Strong Ale
Alcohol by volume (ABV):
9.00%
Availability:
Rotating
Notes / Commercial Description:
No notes at this time.
Added by wl0307 on 02-19-2008
Reviews: 10 | Ratings: 17

4.15
/5
rDev
+7.2%
look: 4 | smell: 4 | taste: 4.25 | feel: 4 | overall: 4.25
500ml poured into a pint glass
Look: Pale golden yellow with a hint of haze. There's a big ol' head on this one- it took a few attempts to get the entire bottle poured, but on the plus side it gave me ample opportunity to sample this venerable brew. Plenty of off-white, sudsy head which left some lacing and foam around the glass as it receded.
Smell: The bottle describes this as a Belgian tripel, and going by the smell alone it's bang on the money - heavy on the yeast, iwth hints of orange, pineapple and coriander. Some malts, with a hint of hops and a healthy dose of alcohol rounds out the picture.
Taste: Despite coming from the north-east of Engliand the taste is unmistakably Belgian too - plenty of yeast, citrus, a dash of malt and a slightly phenolic twang. Surprisingly sweet, too and, not entirely surprisingly, quite boozy with it. It certainly tastes like a 'traditional' tripel too.
Feel: For 9% ABV it's not a heavy feeling brew by any means. Quite the contrary, in fact - it's light enough to be eminently drinkable despite being a heavy hitter ABV-wise. Overall, quite sweet and yeasty.
Overall: Durham Brewery do a couple of Belgian-inspired beers, and if they're anything like this one they're going to be difficult to tell aprt from the 'real thing'. This is a sippin' beer, to be sure, but well worth the effort.
1,343 characters
3.88
/5
rDev
+0.3%
look: 4 | smell: 3.5 | taste: 4 | feel: 4 | overall: 4
Good Belgian Ale. With yeast so dominant, in no way is this an English strong. A foamer. Quality fruity yeast, cloudy orange fruit coloured body with lace dots and Caesar retained head. Boozy in finish and in the aroma, still nicely drinkable nightcap.Above average mouthfeel. Thanks Presario.
293 characters
3.97
/5
rDev
+2.6%
look: 3.5 | smell: 4 | taste: 4 | feel: 4 | overall: 4
500ml bottle. While not exactly drained into a chalice worthy of Bede the Venerable, I think this particular wise man would appreciate the simplicity of the simple American pint glass...if not, well, that's his loss...
This beer pours a slightly hazy pale golden amber hue, with two fingers of thin foamy bone-white head, which leaves a low-lying coastal scape of lace around the glass as it settles. It smells of bready malt, some mild indeterminate spice, and a nice leafy, citrusy hoppiness. The taste is bready, underwhelming caramel malt, zingy muddled citrus and tangy leafy hops, with an undercurrent of uprising, mildly threatening booze warming. The carbonation is just on the inside of actually noticeable, the body medium weight, and smooth in the fruity sense. It finishes still rather sweet - caramel, bread, and wheaty breakfast cereal the usual suspects, hardly offset by the heretofore prominent, sassy hops.
One uncompromising, colonies promoting, weird-ass offering. Few beers are usually this strong in the mother-island, outside of barleywines. Since this is nothing of the sort, I defer to the label: Oi! This is apparently a Belgian Tripel? Boozy, in a well-obfuscated sense, sure. Any other Belgian attributes? Well, no, so I'm off to do some more pontificatin'...
1,289 characters
3.88
/5
rDev
+0.3%
look: 4 | smell: 3.5 | taste: 4 | feel: 4 | overall: 4
Hazy golden colour with a medium, off-white head. Medium head retention.
Bright citrus and spice aroma with some light malt. Some darker fruits. Interesting.
Lots of sweet malt which dries out nicely with some Belgian yeast esters and light phenols adding depth. A bright and delightful beer.
Medium-full body with moderately-high carbonation. Smooth.
A wonderful beer packed full of esters and sweet malt. Really quite easy drinking.
438 characters
3.7
/5
rDev
-4.4%
look: 3.5 | smell: 3.5 | taste: 4 | feel: 3.5 | overall: 3.5
Apricot-y colour with a porous, lacy head. Smooth malt scent, very light spice. Banana and light citrus hop notes. Very light metallic note to it.
Dry malts, noticeable wheat taste. Hops and a hidden, lingering alcohol taste. Bread, mild spiciness and citrus. Notes of Belgian yeast. An interesting mix of an English strong ale and a Belgian tripel.
A bit heavy-handed on the carbonation, but not horrible. It lingers and doesn't ease off as the beer sits.
A good beer - not quite what I expected, but I'm not put off by it. I'd have this again.
548 characters
3.42
/5
rDev
-11.6%
look: 3 | smell: 3.5 | taste: 3.5 | feel: 3 | overall: 3.5
The brew pours a light apricot hue with average carbonation that leaves behind a half finger head and no lacing,the smell is raisins,citrus and alcohol,it has a light to medium bodied averagely carbonated mouthfeel and exudes tastes of sticky date pudding,boiled candy,orange zest,melon,light toffee and ends with a tropical bittersweet finish and overall its alright without being standoutish and ive noticed more and more from sampling this brewery's brews that they dont really nail the style they are attempting and probably wouldnt revisit anytime soon.
558 characters
3.5
/5
rDev
-9.6%
look: 3.5 | smell: 3.5 | taste: 3.5 | feel: 3.5 | overall: 3.5
An all around very decent beer showing everything i would expect of an old style ale - noticeable raisiny alcohol presence slight hop bitterness and some dried fruit.
The drinkability is high considering the abv but more than a pint is challenging...
251 characters
4.2
/5
rDev
+8.5%
look: 4 | smell: 4 | taste: 4.5 | feel: 4 | overall: 4
BB October 2009
a) Bronze orange, slight haze. Crackly offwhite head
s) Powdery, floral perfume. Faint lemon sherbet note. Crystal malts lift on warming.
f) Rich, molasses/licorice flavour, slight ethanol hint. Fruitcake
m) Filling and rich. Lightly syrupy. But light tingle on tongue. Enjoyable.
d) Not a quaffer. Slow, winter sipper.
335 characters
3.85
/5
rDev
-0.5%
look: 4 | smell: 4 | taste: 4 | feel: 3.5 | overall: 3.5
A - 500ml bottle poured into a pint glass a slightly hazy deep orange colour with a couple of centimetres of off white head that falls away fairly quickly.
S - The aroma is quite fruity, almost like marmalade. Some floral notes are also present. A touch of biscuity malt and some spicy esters as well.
T - A lot of fruit on the taste as well, citrus mainly but also some peach & pear hints. Quite a sweet biscuit maltiness. Some warming alcohol touches.
M - Medium bodied, quite a low carbonation. A sticky, slightly cloying finish.
D - A nice beer indeed and worth a try. Not quite what I was expecting but I'd probably drink it again.
636 characters
4.35
/5
rDev
+12.4%
look: 4 | smell: 4 | taste: 4.5 | feel: 4.5 | overall: 4.5
Bottle-conditioned, 500ml brown glass bottle. BB Oct. 2009, served cool in a straight imperial pint glass.
A: reddish amber with slight haze due to yeast-sediments; hissing and semi-lively carbonation full of tiny bubbles carries a well-lasting fluffy off-white sponge on top.
S: sweet and fragrant malts, citrus fruits, fresh and ripe longan fruits, caramel, a light hint of mineral and lemon-rind like mustiness (as in Duvel)... all blended together, resulting in a lively, aromatic smell. Not much alc. is felt but a tad too sweet, although this is anticipated given the high alc. content.
T: chewy biscuity, syrupy, as well as jammy berry malts with a layer of alc. prevails upfront, followed by lots of aromatic fruit esters, sweet citrusness, and a moderately(herbal & slightly metallic) bitter flow of hops... A slightly stinky (like leather plus dirty kitchen cloth) and spicy (peppery and clove-ish) note of magical yeastiness lingers quietly but well until the end.
M&D: besides a superbly-controlled, soft yet lively carbonation, it's chewy and slightly powdery on palate, while the alc. makes itself felt more like a lubricating and warming kickback of a fruit liquor down the throat. As it warms, the fizziness softens greatly as does the warming feel, making it tasting even smoother... This well-hopped, moderately bitter, strong ale is very well bottle-conditioned IMO, and 9%abv. is nowhere to be felt on the palate - a dangerous but brilliant sign of a successful strong ale! This proves to be my new favourite ale from the Durham Brewery.
1,563 characters
Bede's Chalice from Durham Brewery Ltd
3.87
out of
5
based on
17
ratings.