Emmett's Brewing Company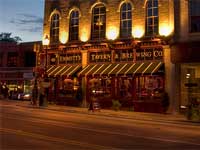 PLACE INFO
Type:
Brewery, Bar, Eatery
128 West Main Street
West Dundee
,
Illinois
, 60118
United States
(847) 428-4500 |
map
emmettstavern.com
Notes:
No notes at this time.
Added by taez555
Reviews: 14 | Ratings: 26

4.15
/5
rDev
+7%
vibe: 4 | quality: 4.25 | service: 4.25 | selection: 4
They have a citra IPA that is a MUST HAVE. One of my favorite local places I've been to.
A- Great local spot, you really get the small town outside a big city feel in Dundee and Emmett's fits right into it.
Q- The quality was great from the chairs to the bar. Very clean and well setup spot.
S- Was great. Staff very knowledgeable of the beers to a deep level.
S- Had a huge amount of beer on tap.
F- N/A went for the beer baby.
V- You paid for the beer, but not anything outrageous. Decent prices.
502 characters

3.93
/5
rDev
+1.3%
vibe: 4.5 | quality: 4 | service: 4 | selection: 3.5 | food: 4
I've been here a few times and am currently sitting here at the end of the month of November and the Christmas lights are up. It's a warm and inviting atmoshpere. A great place to grab a brew after work. Pretty low key place but it's got a nice visual appeal that welcomes all.
The food is good. Not partaking this evening, but have before. It's well prepared and is a good meal for a decent price. I haven't ventured too far into the menu, but what I have had is pleasing and leaves you quite happy.
The service is excellent. The bartenders rarely take a break as they want to be there for the patrons at the bar and the servers check on you regularly enough that is almost borderline "just leave me alone" territory but not quite to that point, and not an annoyance. Well balanced.
The beer menu is mainly house brews, which there is nothing wrong with that. I do like their beer but I also enjoy selection and options.
Overall it's a great place for almost any occasion. Date, casual meetup, dinner, and especially a brew after work. Recommended.
1,053 characters

3.56
/5
rDev
-8.2%
vibe: 4 | quality: 3.5 | service: 3.5 | selection: 3.5
Stopped in here with a group o' ladies before heading across the street for some pool. On a Tuesday night (Pint Night, baby), the place was pretty empty, though the bar proper had only a couple free seats. The place is like a nice-ish restaurant, dark woods all around, and only a small handful of flatscreens around, all muted. We sat at a table near the bar and grabbed a few beers. The brews, while all pretty decent, were run-of-the-mill, with nothing really outstanding by any stretch of the imagination. They only offered a couple German styles and the obligatory pale ale and oatmeal stout. Not much in the way of experimentation here. The server seemed decently knowledgeable about the beers and was nice enough to us. I didn't try the food, and didn't really look much at the menu, as I was only here for some beer. (One of us ordered the french onion soup, and while I didn't try any, she said it was pretty good, but a bit salty.) Pricing seems pretty good, though the food sounded a bit on the expensive side. Overall, I can't say this place is a great brewpub that needs to be visited, but it's a nice place to grab a beer if in the West Dundee area.
1,163 characters
3.48
/5
rDev
-10.3%
vibe: 3.5 | quality: 3.5 | service: 3.5 | selection: 3 | food: 4.5
This place might have the greatest selection for beer but with the combination of the food/service/and location that is a great place but there is definitly a good brewpub. The beers at this location aren't going to be anthing that will blow your socks off and definitly won't have you clammering at the doors for more but will defintly go well with the beer they have pared together. In addtition to this being in a great location in downtown West Dundee this is one of the only brew pubs in the area, but a good starting point for a new hophead.
547 characters
3.71
/5
rDev
-4.4%
vibe: 5 | quality: 4 | service: 4 | selection: 2.5
Stop # 209 on my quest to visit as many quality breweries as possible.
I went a bit out of my way to hit Emmett's and then Monk's Table on this trip to Chicago. Emmett's is located in the center of a charming historic town in suburban Chicago.
My visit was around 8:30 on a Thursday and the place was comfortably busy. I sat at the end of the bar and went with their award-winning pale ale. Other options were an English Ale, red ale, Dopplebock, oatmeal stout, and I think a light beer (all made on site). I did see a woman at the bar drinking a Mich Ultra.
The whole facility is probably one of the classiest brewpubs I've visited. The mash and boil kettles are houses right by the entrance and the copper color is a sight to behold. The bar area has lots of wood and done in a very elegant fashion.
The beer...well, the pale ale was good and correct to style. I would have preferred a little more American hop aroma/flavor. The options for house made beers did not include anything creative or adventurous which is fine for most.
If I was with a group of coworkers for dinner, this place would be fine. As a person seeking a bit more than a handful of classic styles, I would not go out of my way.
1,210 characters
3.7
/5
rDev
-4.6%
vibe: 4 | quality: 3 | service: 4 | selection: 4 | food: 4
Had an apetizer and a sampler here on 10/7/2010.
9 house taps.
Nice place right on the river, I assume the same river (Fox) that runs through Saint Charles and Geneva. The place has an old look to it, with lots of highly laquered wood. A chalkboard on the wall shows all the beers.
The food was pretty good. We got some deep fried mushrooms and some cheese. A little steep in price but I really enjoyed the deep fried mushrooms.
The beer on the other hand was just decent with some good ones and some bad ones. The good beers (either for the style or my own tastes) were the McCarthy Red Ale, the Oktoberfest, and to a lesser extent the Victory Pale Ale (I think the name is changing to 2nd St) and Autumn Mild. The beers to avoid are Barleywine and the German Hefeweizen.
Would stop back in (if in the area) for those fried mushrooms and to see what seasonals are on, especially as they seem to have 3 or 4 on at any given time.
937 characters
3.3
/5
rDev
-14.9%
vibe: 4.5 | quality: 3 | service: 4 | selection: 3 | food: 2
My wife dragged me into West Dundee for some shopping today, so figured I'd make it worth my while and try a new place.
I was impressed as soon as I walked into Emmett's. The decor and ambience is inviting and pleasing, and the whole place has a certain spark to it. Service was very good, nothing over the top, but very friendly, helpful and courteous.
The menu disappointed me a little bit. The selection was nice, but nothing really jumped out at me except the fish tacos, which I just prepared at home the day before, so I talked myself out of consuming them two days in a row. I ordered the Buffalo Burger with cheddar and smoked bacon. The bacon was burnt, and the burger, which I ordered as medium-rare, was more like medium-well. I did get the cheddar ale soup, very good, and the Bavarian pretzels are a great touch, not to mention tasty. However, I should have ordered the fish tacos. My wife got a Cobb salad that looked great. My overall problem with the menu, besides the fact that my buffalo burger left me walking away with a bad taste in my mouth, was the fact that the only pork on the menu was very common, and there is no duck. I was hoping it would be a little more experimental.
As for the beer, it was good. I would for sure drink here again. Tried a flight of their year-rounds. Really like the 1am Ale. Also ordered a pint ($3 pint Tuesdays!) of the seasonal Dunkel. Loved it! Very, very good.
Overall, I think my whole view was skewed a bit by the burger. I normally wouldn't order a burger, but had a taste for buffalo. I think if I would have had a better main course, I would have walked away raving. The atmosphere was great. Fantastic views, in the dining area and out the windows. Very clean. Good service. House brews ranged from solid and safe to fantastic. What more could you ask for?
I know, I am putting a lot of pressure on the food, but I think it is important in this country of evolving tastes (finally!). I will go back and give Emmett's another chance. The beer and the building made sure of that.
2,042 characters
3.7
/5
rDev
-4.6%
vibe: 4 | quality: 3.5 | service: 4 | selection: 3.5
Lazy Thursday night, hadn't filled my growler in a long, long time and remembered how close this place is to my house.
Parked right by the door and walked in. Not very crowded but most people are probably out of town for the holiday. In any case this place is laid out in much the same way as the one in Palatine, with an opening that looks as though it's been lifted from a Maggiano's and had some copper kettles installed so when the cops came by asking questions the builder would have an excuse. So much wood, such high ceilings and a very bright bar from my experience does not really bode well for the beer served in such places but this place is the exception rather than the rule.
The bar looks something like I'd imagine a contemporary update of a 1920-1930s bar might look like. Big old wood bar, wooden bar stools, wooden shelving, big ol' mirror built into the back of the bar and ceramic tile everywhere, the only thing that's missing is an ever present cloud of smoke. So the atmosphere, bright as it is, is still sort of cool and a nice change of place from the dank pits I usually hang out it.
Had the oatmeal stout which was served in a 16oz glass and was quite delicious. I asked about their seasonal beers and was given a sample of a hopped up brown ale which was pretty good as well. Got the growler filled with their 1am English ale which was also pretty good. Had a couple of taps open to other beers but nothing off the charts, a couple of Spaten drafts and Hooegarden.
I like this place, it's not offensive, loud or obnoxious, but it seems to lack the kind of character where you would want to become a regular, it's all very pretty but more of a house than a home, if that makes any sense.
1,718 characters
4.28
/5
rDev
+10.3%
vibe: 4 | quality: 4.5 | service: 4 | selection: 4.5 | food: 4
As soon as you walk in to Emmett's, you instantly greeted with the giant brewing equipment sealed off by glass to your right. It's very clean and presentable in the best way. There is an eating section to the left and a bar and eating area to the right. I can only comment on the right side of Emmett's, but the dark wood and classy atmosphere is very nice.
The quality of both the food and the drink is impeccable. It's been a while since I ate there so all I can say from memory is that the food was fantastic every time. I had stake and a burger on two separate occasions (from a large, delicious menu). The beer, which I went in for this weekend was just as good as I remember it being.
The service for food was great when I went in the past and was also good this time around at the bar. The bartender had good pours and a nice attitude.
The selection of beer far outweighs M.T. Barrels. Their taps were all in use and my friend and I got 7 5oz. beer samples for under $6 making the value huge here. The food is not so cheap but when taken in consideration with the beer price, (after all this is BeerAdvocate, not FoodAdvocate) it ends up being very reasonable.
Behind the bar they proudly display gold, silver, and bronze medals for the Great American Beer Festival and it showed. Their beers were delicious. I much look forward to going back to have full glasses to review.
1,381 characters
3.73
/5
rDev
-3.9%
vibe: 4.5 | quality: 3.5 | service: 3.5 | selection: 4 | food: 3.5
I am a local, and I frequent this place. I love the ambience as I don't find it too loud and obnoxious. My friends who tend to be more traditional bar goers do complain that it is a bit pretentious. Having been there a few times I can tell you that the food quality has gone down, I do like the gameiness of the menu, not your usual pub fare, but the beer has always been the draw for me. Never a budweiser or miller drinker, Emmett's beer really turned me on to good beer. Their Victory Pale is phenomenal. (although the last time I was there it was lacking) It usually has a wonderful citrussy aroma and hoppy bitterness. I actually think of it more as an IPA. If IPA is your bag, usually this is a decent choice. Their 1AM is also excellent, slightly fruity but nicely balanced. I hated their ESB, but every other house beer has been decent enough. The service has been hit or miss. Get a good waiter or bartender, and you're set.
933 characters
4.13
/5
rDev
+6.4%
vibe: 4 | quality: 4 | service: 4.5 | selection: 4 | food: 4
Parked in back and walked around front. We entered the front door to the bar area, and sat at a table, no problem. Side door is for the restaurant, but you can also get food in the bar area.
I'm not sure what the other negatively described reviews are getting at, this place was neither corporate or a yuppie haven from my point of view. It was relaxed and more upscale than the Rock Bottom locations i've been to. Dark wood and brass on the bar, vintage tile flooring there also. Old framed photos lined the walls. There was one silent tv in the corner above the bar with the cubs game on, but it wasn't intrusive. There was a small bottle selection with craft standards like 90 minute, as well as shelves displaying awards won from brewing competitons. People of all ages and walks of life, plenty of couples.
There were around 10-12 taps, 3 were guest. A couple were doubles of their more popular house beers. I had the excellent American IPA, and also the good McCarthy Red. Both fresh as tasted great with dinner. We had a margherita pizza, and a couple appetizers. Everything was hot, fresh, and tasty. Service from the bartender was prompt, friendly, and attentive.
Emmett's is a solid option if you find yourself in the quaint river town of West Dundee.
1,265 characters

3.75
/5
rDev
-3.4%
vibe: 4 | quality: 3.5 | service: 4 | selection: 4 | food: 3
Glad I read prior reviews and knew to go to the side entrance. Greated with dark wood and a friendly host, who directed me to the bar through the opening on the right. About four tables in for lunch but no one at the bar. Barkeep was right there to get my selection. About seven or eight taps with a couple of imports included. Went with the Victory Pale and got a menu. The wings were pretty good, but not the best I've had. Monday was 1/2 price for appetizers, though so it was a very good deal. Beer price was also reasonable for a full pint. Served in 20 oz glasses so they can add and adequate head.
Talked to the bartender about the beers and what he prefered. He knew his way around the house offerings and gave me tastes of a couple. They didn't have any growlers available, so I'll have to return next time I'm in the western suburbs. I might even bring Mrs. Kdog.
875 characters
4.2
/5
rDev
+8.2%
vibe: 4 | quality: 4.5 | service: 4 | selection: 4 | food: 4.5
Went to Emmetts on two seprate occasions while in Chicago on business. Alone on a tuesday for lunch and with a group of co-workers on a friday for dinner. Both times I had similar experiences.
FYI, entrance is on Second Ave, the Main Street door isn't really a entrance. You enter and immediately you see brew kettels to your right, an Emmetts schwag display in front of you and the main dining room to your left. Further to your right is the bar and bar area dining room. A very nice bar with dark woods, behind the bar their beer awards are proudly displayed. As I entered I was immediately greeted by a friendly hostess. For lunch I sat at the bar and for dinner we sat in the bar area dining room.
Food: Extensive menu running the full range from pub fare to full on entrees. Good appetizers with exception of the pretzels, I got them after reading a good review of them...all they are is Super-Pretzel brand pretzels with fancy dipping sauce, not worth 5 bucks IMO. I had two very delicious and excellently presented meals(the Mustard Dill Salmon and the Trio of Beef) Everyone else in my party also enjoyed their meals very much. The Walleye was highly recommended. Their full menu can be found on their website.
Drink: Approximately 8 Emmetts options and one guest tap(Hoegaarden). I had a Poor Richards(Bartender said it "was like a brown ale" but to me tasted like a Strong English Dark Ale..it was very good), A Hefe, sweet and very banana-ey(yes I just made up a word) and a couple of their Victory Pales(A well balanced American Pale, I would recommend this one). Everything was served in it's proper glassware. I would recommend getting the Emmet's pint glass option. It is 6 bucks and comes full. So you basically are getting to keep the glass for 1.75. I was disappointed that there was no IPA.
Service: The lunchtime bartender was friendly but vaguely answered my questions, the dinnertime waiter was spot on with my questions, very knowledgeable. Both were attentive. Service was good and fast.
I enjoyed this place very much. This is my type of establishment and would welcome one to my neck of the woods. I would recommend it to anyone who wants a great meal accompanied by some very good beers.
2,229 characters
4.28
/5
rDev
+10.3%
vibe: 4 | quality: 4.5 | service: 4.5 | selection: 4 | food: 4
Was in town and didn't want to drive. Really just chose Emmett's because it was closer than everything else on beerfly. Happy I did.
Inside is 1980's yuppie old school bar, with very lovely dark wood everywhere. Would have really sold me if they didn't cheap out on the ceiling, tin would have completed the mood. Otherwise, very useful for sitting back and enjoying some cold ones. Considerable amount of space for tables in what looked like a rowhome from outside. Direct shot of the brewing equipment as you come in the door. Place was packed on a Wednesday night from what appears to be locals. Space for a dozen or so at the bar, some high back tables and then the two dining rooms.
Service was spot on at the bar. The barmaid was young, but knew the beers extremely well. Looks like it might be hit or miss at the tables, one or two of the waitresses didn't seem to have a clue. Fast, efficient, and well informed.
They had seven of their own brews on tap. They also have cask, which was empty, and one or two guest brews. Wide range going from light, to English ale, to imperial pilsner.
They brews were very well done. Stuck with the Victory (GABF winner) and their impy pilsner. Very tasty stuff. Growlers were only $12, too bad the carryon was packed.
Food was on the fancier side of pub grub, with some entrees being a bit pricey. The pretzels were fresh made and delicious. The nachos were HUMONGOUS. I had a morocan chicken that was very well done.
Overall: Definitely worth a stop of, great brewpub.
1,534 characters
Emmett's Brewing Company in West Dundee, IL
3.72
out of
5
based on
203
ratings.