Tennent's Special (70 Shilling)
| Tennent Caledonian Breweries
BA SCORE
78
okay
13
Reviews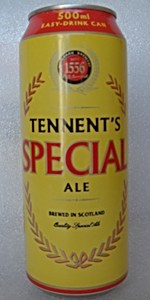 BEER INFO
Brewed by:
Tennent Caledonian Breweries
Scotland
,
United Kingdom
interbrew.com
Style:
Scottish Ale
Alcohol by volume (ABV):
3.50%
Availability:
Year-round
Notes / Commercial Description:
No notes at this time.
Added by lackenhauser on 12-22-2002
Reviews: 13 | Ratings: 18

2
/5
rDev
-37.1%
look: 2 | smell: 2 | taste: 2 | feel: 2 | overall: 2
Poured from a tall boy can into an imperial pint, 10/21/13. Look, this is drinkable. But it's bland. No distinguishing aromas that describe anything other than beer, followed by a bland, flavorless taste. If it were cold enough, it would be refreshing, but basically this is the Scottish Lone Star.
298 characters

3.2
/5
rDev
+0.6%
look: 3 | smell: 3 | taste: 3.5 | feel: 3 | overall: 3
On our European Vacation, we made our way to Glasgow, and found some local draft.
Caramel color, with reddish-amber hilight, large, creamy white head. The foam quickly shrank, but settled to a quarter inch cap that lasted for the remainder of the pint, leaving some thin lace strings. Not alot of aromas, but some caramel malt sweetness was present. Flavor was quite malty (though not overly sweet), clean and mild bitter finish. Medium bodied and not as heavy as I had expected for a Scottish Ale. Low carbonation, like a cask ale, not much much feel or finish. All in all, pretty average.
590 characters
2.29
/5
rDev
-28%
look: 3.5 | smell: 2 | taste: 2.5 | feel: 3 | overall: 1.5
Caramel amber colour with a large, creamy white head with tinges of brown throughout. The head eventually settles to a half-thumb sized one after about a minute.
Some caramel and malts to the nose along with some more earthy malts and a background sweetness with perhaps some fruits. Sadly most of this is masked by a rather unpleasant rotten egg like aroma that made the drink a struggle to put near my face.
Quite malty with a touch of caramel and a pretty clean taste overall with a mildly bitter finish. Luckily the egg like aroma present in the nose was not to be found in the taste although the beer still wasn't that great in the taste department.
Medium bodied and not quite as heavy as I had imagined. There is a mildly bitter finish and the beer has low carbonation levels.
An average beer at best if you are being very kind although the smell absolutely ruined this drink for me and it certainly won't be a brew that I purchase again. I'd sooner consider a soft drink to this again, the smell was so unpleasant that I initially thought it might be off but it turns out it's just a sorry excuse for a beer.
1001 Beers To Try Blog:
http://abarwithnoname.wordpress.com
1,181 characters

3.26
/5
rDev
+2.5%
look: 4 | smell: 3 | taste: 3 | feel: 3 | overall: 4
500mL can from Secret Santa lackenhauser, poured into an imperial pint glass.
Pours a clear deep amber with a solid off-white head that showed very good retention and lacing.
Smell is pretty tame with some light roasted malts and a hints of caramel sweetness.
The taste follows the aroma but with a dominant sweet malt base with a slightly dry and toasty finish.
The mouthfeel is pretty light, almost watery, with strong carbonation.
This is not the most complex or tasty Scottish I've had but it's certainly extremely drinkable. Not a bad session brew.
558 characters
3.1
/5
rDev
-2.5%
look: 3 | smell: 3 | taste: 3 | feel: 3 | overall: 3.5
I got this brew from lackenhauser, Thanks Steve!
500ml can served in a standard pint glass.
L - clear orange/amber color with a short lived beige head.
S - sour, earthy malt smell.
T - sour mash malt, light graininess.
F - light bodied with a thin feel.
D - yeah, at 3.5% abv it sure is sessionable but it needs more flavor.
330 characters
1.94
/5
rDev
-39%
look: 3.5 | smell: 2 | taste: 2 | feel: 1.5 | overall: 1.5
Poured into a large pint glass amber with a very large head. That's where all the compliments end. Smell is not there. Taste isn't there either. It really is like drinking water. Mouth feel is good . . . for water. There is no carbonation despite the large head that was developed pouring into the glass. This is a really really bad beer.
Thanks for the Can, Lackenhauser. After reading your review, I realized that this beer isn't available in the US. Then I noticed there is no "Federal Government Warning" on the can. So I'm going to defiantly keep the can, that's cool. But I guess I just didn't dig the beer. Thanks for the opportunity.
642 characters

3.68
/5
rDev
+15.7%
look: 4 | smell: 3.5 | taste: 3.5 | feel: 4 | overall: 4
A- Dark copper brown with one finger head poured from a can into pint glass. Minimal brussels lace. Looks pretty traditional
S- Some light sweet malts, not much else, nothing hoppy
T- More sweet malt, pretty dry in the finish, refreshing, not watery in the finish but still not muc character
M - Low carbonation, creamy mouthfeel
D-
Very drinkable ale but many better ones i can think of, would take this over any other Tennents offering though.
458 characters

3.71
/5
rDev
+16.7%
look: 4 | smell: 3 | taste: 4 | feel: 3.5 | overall: 4
This is what you will typically be served if you ask for a pint of Heavy in Scotland. Tennents is a very popular brand in Scotland and this is a beer that is readily available throughout.
It pours a nice dark red colour with a decent cream head, however this doesn't last long enough. It has a waft of fruitiness and nuts along with the dominant hop smell.
The hoppy character continues with the taste and also a hint of caramel, which is a nice addition and make this pleasant to taste. The mouthfeel is a good, but a bit watery for the beer type, however this means that it is a very drinkable session beer, that is not too heavy on the stomach the next day.
This is very drinkable and is probably one of the better of the commercially produced Heavies, it is far better than Belhaven Best. However there are better alternatives on the market, I would try a heavy from a micro brewery and then you will be able to tell the difference.
940 characters

3.4
/5
rDev
+6.9%
look: 3.5 | smell: 3.5 | taste: 3 | feel: 3.5 | overall: 4
Sampled due to the efforts of lackenhauser.
Pours a clear dark amber to nearly red colored ale with a momentary white head.
Smell is malt but more fruity to the nose than malty. Faint melon odor and slightly earthy and with a whiff of peat moss.
Taste is dry and fruity with a slight acidity from the carbonation level. Bone dry ale with fruitiness from the yeast. To my taste buds this could be more flavorful. Bone dry after taste of mild woody hops that doesn't really deliver on the peat or smoke you would expect a little of in a Scottish ale.
Mouthfeel is good especially for the alcohol and carbonation level.
Super easy to drink and a really good choice for a lunch where you absolutely don't want to feel any effects from alcohol. Super dry nature of this beer would not interfere at all with any food I can think of, even a plate of raw vegetables.
873 characters
3.82
/5
rDev
+20.1%
look: 3 | smell: 3.5 | taste: 3.5 | feel: 4 | overall: 5
Thanks to Lackenhauser for this one and the many others to follow. I will be reviewing only stuff I recieved in a trade to end all trades untill I have finished off what he has sent me...
I was dying to try this Scottish Ale... as it must be a Scottish staple to many.
Pours a clear copper with very little head and no lace.
Aroma is lightly malty with a slight hint of caramel and a touch of hops... The flavor is a mirror image.
This beer is light boidied and crisp... Extremely refreshing.
This is very drinkable at 3.5% ABV. and again very refreshing. I really wish I had a bunch of these to take golfing with me on any given day.
643 characters

2.7
/5
rDev
-15.1%
look: 4 | smell: 4 | taste: 2 | feel: 2 | overall: 2.5
Thanks to lackenhauser for this cool sample.
Beered poured into my pint a very nice amber/red with a thick white creamy head, and sustained solid lacing down the glass.
Smell was a very nice high toasty malt arouma I enjoyed very well.
Taste was very underwhelming. A small amount toasty malt flavors along with a slight metal taste with a very light, no hop finish.
Mouthfeel was ultra thin and watery, no substance at all.
Drinkability is fine, nothing offensive and easy to swallow, just not something I would be looking for.
543 characters

3.85
/5
rDev
+21.1%
look: 3.5 | smell: 3.5 | taste: 4 | feel: 4 | overall: 4
Thia ale pours a nice light red/amber colour with a small, white head. The aromas are heavily malty, and sweet. The taste is very malty and sweet as well with no hops to speak of. The mouthfeel is light, but not too light, and the drinkability is excellent!
F
262 characters
3.86
/5
rDev
+21.4%
look: 4 | smell: 3 | taste: 4 | feel: 4 | overall: 4.5
this low alcohol ale from tennents is truely the working mans beer of scotland.a copper colored ale with very little head.extremely smooth with a touch of caramel sweetness.a slight malt aroma and very little hop flavor.a great session beer all around if you ask me.dont know if you'll find it in the states-except when my wife brings me back 2 cases each year-but sold nation wide in virtually every pub in scotland.slainte!!!!!
429 characters
Tennent's Special (70 Shilling) from Tennent Caledonian Breweries
3.18
out of
5
based on
18
ratings.