Mulata
| Cervejaria Cintra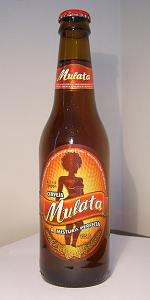 BEER INFO
Brewed by:
Cervejaria Cintra
Brazil
Style:
Munich Dunkel Lager
Alcohol by volume (ABV):
4.70%
Availability:
Year-round
Notes / Commercial Description:
No notes at this time.
Added by Beeryce on 11-29-2006
This beer is retired; no longer brewed.
Ratings: 1 | Reviews: 1
2.97
/5
rDev 0%
look: 3.5 | smell: 1.5 | taste: 3.5 | feel: 3 | overall: 3.5
New beer from Cintra unlike all the other macro beers in Brazil. In my opinion this beer is a good macro with much better flavor than the bland Brazilian macro Pilsens without being either bitter or sweet. It is just as the marketing states- a light bodied, refreshing beer that is "A Perfect Mix" of the characteristics of light and dark beer; hence the name Mulata, a Brazilian word for a woman of mixed race. I am not sure of the style and can find no reference on either the bottle or the website as to its type, but as it is bottom fermented, I am guessing lager, Munich Dunkel by the description on the BA styles web page. Please correct if wrong as I would love to know the actual style.
The beer has its own webpage- www.cervejamulata.com.br
Produced 2 fingers of slightly creamy, fine textured, pure white, meringue head when poured into tulip glass. Stability was low but the huge amount of soda like carbonation continued to produce head as quickly as it dissipated. After this a small quarter inch head was retained almost until the end of the beer. The color of the beer was a crystal clear golden honey color with a slight ruby hue; not dark not light- Mulata.
The nose is overwhelmingly metallic like most all Brazilian macro beer. I am starting to think that this might be from the strain of yeast used, but the fact that it transcends breweries gives doubt. It could be from a huge use of Carmel Malt, but to explain the smells presence in all beers would mean that all beers use this malt primarily. Behind the metallicness a very faint malt and floral/citrus hop aroma can be detected. The malt character becomes more pronounced and sweeter, of malt extract, as the beer warms; an unmalted grain smell also arises.
Light in taste with little discernable flavors, but balanced, well rounded and overall very pleasant. The website says "noble" ingredients are used and the bottle lists both non-malted grains and dark malt extract in ingredients. The taste starts with slight hop bitterness which goes to a very lightly toasted malt flavor. This is brief in turn melding to a slightly sweet maltiness with a hint of raw grain in the finish.
There is a slight thickness to the mouthfeel matching well with the flavour. Coupled with its moderately low alcohol content (4.7%) this makes a very drinkable beer. Never had more than one of these at a time but could be one of my favorite Brazilian session beers.
2,445 characters
Mulata from Cervejaria Cintra
2.97
out of
5
based on
1
ratings.