Gunga Rao

Nightmare Brewing Company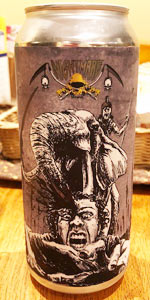 Write a Review
Beer Geek Stats:
| Print Shelf Talker
Style:

ABV:

8.3%

Score:

Avg:

4.11

| pDev:

5.35%

Reviews:

9

Ratings:

From:

Avail:

Rotating/Seasonal

Wants

Gots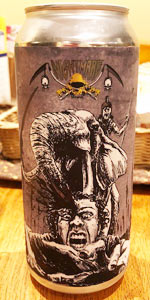 Notes: Soured on Pineapple & Coconut, with Moroccan Mint, Sabro, Kohatu & Cashmere hops

Gunga Rao originated in India & Southeast Asia, while Coconuts were cultivated there and throughout islands in the Indian Ocean, while India has been the largest consumer, producer and exporter of Mint for decades. Paired with certain hops to accentuate the flavors present in the adjuncts, sour juicy pineapple and tropical hop notes battle for first presence, followed by starfruit, sweet coconut, slight cedar and fresh mint. Acidic flavors of bromelian pineapple & Persian limes subside for an invasive coconut backdrop balanced by hop bitterness, green tea and cool mint zip for a refreshing finish. Pairs well with: Lorna Shore - Immortal

REVZEB from Illinois
4.31
/5
rDev
+4.9%
look: 4.25 | smell: 4.5 | taste: 4.25 | feel: 4.25 | overall: 4.25
Murky opaque lemon yellow with no head. Kaffir lime, pineapple, coconut, yuzu, passion fruit, guava, and maybe some star fruit is a slightly tart and vibrant nose. Taste is not as complex, same fruit but pineapple, lime, sour star fruit and some fruity bubble tee with a kiss of hop on the finish, almost as soft as a gentle brett in a sour. Feel is refreshing, fruity, bright but gets pretty thin as it warms, good lingering tartness. A fantastic sour ipa
Jun 18, 2020

stortore from Illinois
4.07
/5
rDev
-1%
look: 4.25 | smell: 4 | taste: 4 | feel: 4 | overall: 4.25
16 ounce can into a tulip snifter. Had 5/13/20.
Pours a hazy orange/yellow, with a two and a half inch head of creamy foam with good retention and a decent amount of foamy lacing. Smells somewhat sour and lightly tart, with aromas of pineapple, light coconut, light mint, light pine, some citrus hops, some funk. Smells a bit grassy, a hint floral. Also tastes somewhat sour and lightly tart. Flavors of pineapple, citrus hops, some mint, some malt, light funk, light pine, a little coconut. Tastes a little grassy. Smooth, a very good lighter body, well carbonated.
This is really interesting. The sourness and the pineapple are the standouts, and I like how the hop blend and mint interact and support them. Definitely points for creativity. Very enjoyable.
Jun 03, 2020
DrDemento456 from Pennsylvania
4.43
/5
rDev
+7.8%
look: 4.25 | smell: 4.25 | taste: 4.5 | feel: 4.5 | overall: 4.5
Quite possibly one of the best sour ipas I ever had! Full of fruit sweetness of pineapple and coconut with a nice deepstar edge and a nice well balanced body. 8.3%? Can't believe it! Only thing that made this beer better was the fact that I got it for just a couple bucks. Great job nightmare brewery!
Jun 02, 2020
DokiDokiLitFam from New Jersey
4.02
/5
rDev
-2.2%
look: 4.25 | smell: 4 | taste: 4 | feel: 4 | overall: 4
Pours a straw like yellow with a finger and a half of soapy white head.
Nose is almost farmhouse ale funky. Pungent tangy aromas. Getting big tropical notes. It's hard for me to tell that it would be pineapple. But mint hits ever so slightly. Very subtle, minty, eucalyptus sort of presence.
The taste tells a different story though. A big bout of tartness comes in strong. The pineapple finally announces its presence. Unfortunately that coconut doesn't come through. And neither do the hops. I'm not sure if this an older can perhaps, but I wouldn't call this an IPA by any stretch. This is simply a sour. The mint leaves a mild lingering flavor with the pineapple and then quickly fades into the cracker malt profile.
Mouthfeel is medium bodied with medium carbonation. A little sticky with some density. A good amount of carbonation to keep it from feeling too heavy or cloying.
As I further my quest into Nightmare's catalog, I find this to be somewhere in the mid-range of what they are capable of. Enjoyable and interesting, but not a knockout. Not everything has to be of course, but they have set the bar pretty high for themselves. I wouldn't call this an IPA. So if you are expecting more of a hop presence this isn't quite for you though. Still a solid brew.
May 19, 2020
StonedTrippin from Colorado
3.96
/5
rDev
-3.6%
look: 3.75 | smell: 4 | taste: 4 | feel: 3.75 | overall: 4
another curious beer from these guys with gruesome art on the can, man oh man, this is graphic. the beer is clever though, a sour ipa type with new school hops and only lightly tangy, but spiked with mint, pineapple, and coconut, all of which work with the tropical hops and the clean tang really well. the beer has a lightly cloudy yellow here with a white head that settles our really quickly. the mint is the most dominant element in both the aroma and the flavor, but all of these ingredients come together quite nicely here. the pineapple adds a little sweetness and is really compatible with the hops. i get a lot of fresh botanicals behind the mind, almost a gin complexion to this, the coconut is pretty light, but its also cool with the hops, and the whole thing just seems extremely fresh and dynamic. i even get some bitterness, but it seems almost more from the mint than from the hops, more of a dry hop thing to this. you have to like mint, as it really is bold in this, but the beer is unique and layered overall and well made. i wish it had a little more carbonation and life to it, but even without that, its summery and fresh. cool recipe, unlike anything else ive had. disturbing can, but tasty liquid.
May 18, 2020

Billolick from New York
4.21
/5
rDev
+2.4%
look: 4 | smell: 4.25 | taste: 4.25 | feel: 4 | overall: 4.25
Single can purchased at a boutique store in Brooklyn, NY
Fully hazed pour, under a fluffy light oatmeal cap, leaves ample medium bubble strands of lacing.
Bright sniff, oozing with pineapple juice notes.
Tasty, different and interesting brew, about a 4 out of 10 on my personal sour/tart scale. Fresh and flavorful. More sharp pineapple, mango, lime, and lemons. Smooth tropical fruit infused hoppy notes in the finish....well done and well worth a try.
May 06, 2020
schoolboy from Ohio
4.25
/5
rDev
+3.4%
look: 4.25 | smell: 4.25 | taste: 4.25 | feel: 4.25 | overall: 4.25
I've had a few nightmares in my time and this is one of the better ones - usually they involve losing someone and wandering around strange places but this one involves alcohol consumption. I think it is only my second Nightmare Brewing product. They are a bit pricey, but that great label artwork is worth an extra buck!
It pours a scary dirty translucent yellow with fine head. The aroma gives notice of the unusual sour taste to come. They could have balanced it with a lot of hops but they made the sour stand without a lot of bitter. I think my can is fresh. The taste is mostly this big mouth pull of sourness. It lingers on the tongue all tart. Very pleasant. My son is a real sour lover and he would really enjoy this.
Highly recommended if you are looking for a unique sour brew that is extremely drinkable.
Apr 23, 2020

drdiesel9483 from Ohio
4.25
/5
rDev
+3.4%
look: 4.25 | smell: 4.25 | taste: 4.25 | feel: 4.25 | overall: 4.25
So I reviewed this beer and somehow it didn't save it so I guess I need to re-enter what I remember. I remember really loving this beer even thought Im not usually a fan of sout ipa's. It was pretty tart/sour but tons of pineapple and really tasty. I will get again and make sure I review correctly.
Apr 12, 2020
jzlyo from Iowa
3.78
/5
rDev
-8%
look: 4.25 | smell: 3.75 | taste: 3.75 | feel: 3.75 | overall: 3.75
Aroma is pulpy pineapple, lime and mild sweetness. The flavor is pineapple/juice, mild medicinal/mint, malts and a medium sweet/hoppy/warming alcoholic finish.
Mar 22, 2020
Gunga Rao from Nightmare Brewing Company
Beer rating:
90
out of
100
with
18
ratings