BA SCORE
79
okay
13
Reviews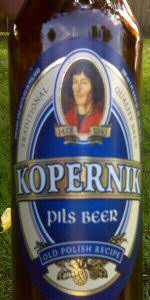 BEER INFO
Brewed by:
Browar Amber
Poland
browar-amber.pl
Style:
Euro Pale Lager
Alcohol by volume (ABV):
5.60%
Availability:
Year-round
Notes / Commercial Description:
No notes at this time.
Added by SickBrew on 02-13-2008
Reviews: 13 | Ratings: 29
3.38
/5
rDev
+2.7%
look: 4 | smell: 3.5 | taste: 3.25 | feel: 3.5 | overall: 3.25
Poured from a brown 16.9 oz. bottle. Has a light golden color with a 1/2 inch head. Smell is of grains, malts, some sweetness. Taste is grains, light malts and hops, some hints of a metallic flavor. Feels medium bodied in the mouth and overall is a decent beer.
★
261 characters

3.47
/5
rDev
+5.5%
look: 3 | smell: 3.5 | taste: 3.5 | feel: 3 | overall: 3.75
Served in a pilsner glass.
A: Pours a golden honey color with a 1/2 inch white head that dissipates really fasts, leaving hardly any lacing.
S: Smells of yeast, wheat, honey, bananas, grains
T: Tastes fairly sweet, yeast, wheat, grains, bananas, honey, a bit syrupy, bit of hops at the end
M: A light bodied beer with good amounts of carbonation, kind of syrupy but still fairly good
O: Overall this is not too bad compared to the other Polish pale lagers I've had. Not too bad but a little bit funky. Not really too original, I would still opt for this over the mainstream american adjunct crap but still, doesn't say too much.
★
635 characters

3.88
/5
rDev
+17.9%
look: 4 | smell: 4 | taste: 3.75 | feel: 3.75 | overall: 4
A - Cloudy dark straw w/ a 1.5 finger head that dissipated without lace. Some sediment.
S - Barley and sweet caramel
T - Perfect balance between sweet and bitter. Finishes with a nice linger. Lacks the cripness I usually associate with a pilsner. Almost to the point of doubting the accuracy for the style. Regardless, it is good... very good! Somewhat hoppy too for a pills. Like a sweet pale ale.
M - Carb is adequate and leaning toward creamy. Medium body.
O - Even though it may not be true to style I will be trying it again before the summer is through.
★
564 characters
2.44
/5
rDev
-25.8%
look: 3.5 | smell: 2 | taste: 2.5 | feel: 2.5 | overall: 2.5
500ml bottle.
It pours an almost hazy-looking bright light pale orange with a frothy white head that gives a bit of lacing.
The smell is of malt syrup and a hint of hops.
Taste is typical pale lager. Nowhere near a pils. It is malty with a hop flavor but not bitterness, really generic and plain.
★
299 characters
3.88
/5
rDev
+17.9%
look: 4 | smell: 3.5 | taste: 4 | feel: 4 | overall: 4
Pours a bright pale orange with clarity so sharp, you can read through it. Fluffy billowing head of white foam rises up and leaves plenty of lacing sticking to the glass. Retention is pretty good, after 15 minutes or so, the head starts to break up into clumps and eventually a thin broken skim.
Lightly sweet, clean and bready barley malt, no off aromas, but fairly nondescript. Slightly perfumey noble hop, very vague however.
Sliced pears on toasted multigrain bread, notes of clover honey. Feels a little light and mild, but this is a euro lager, and that's to be expected. Clean with no off flavors. Crisp and dry in the finish with a little bit of initial malt sweetness, and mild residual sugars. Refreshing in early July. I liked Kopernik, and would drink it again.
★
776 characters
3.73
/5
rDev
+13.4%
look: 3.5 | smell: 3 | taste: 4 | feel: 3 | overall: 4.5
Kopernik is named after Copernicus, A famous Polish astronomer whom one of the first scientists to theorize that the Earth wasn't the center of the universe, and that the Earth is round and not flat.
This beer pours into a pils glass, nice and fast... racing carbonation, quick but impressive head that dissipates almost immediate.
The Color is of a pale gold hue, straw yellow... with sunset highlights. This beer Glows, when put to the light.
The taste is thin, and crisp, especially served chilled. Thin in body that is. A nice hop tweek, and a smooth, and resistance-less finish.
I really enjoyed this beer, its good to see Pilsners from outside Czech be so good too.
I really recomend this to Pils Lovers, and or for some one who wants to either get a taste of Polish/Astronomical History or wants to enjoy a nice beverage on a hot summers day.
Cheers.
★
864 characters

3.5
/5
rDev
+6.4%
look: 4 | smell: 4 | taste: 3 | feel: 4 | overall: 3.5
Pours a cloudy pale yellow with an inch of shiny white head, good retention and nice lacing to top it off. For a pilsener or Euro Lager it looks pretty nice. The aroma has some nice barley malt aroma to it also with cookie dough and a bit of citric hops to liven it up. The flavor here has a mellow hop character that is present throughout the drinking experience, a bit citric but well balanced with malts for a nice drink. There is, however, some plastic flavor to this and a bit of hops astringency despite the mellowness. The aroma is quite enjoyable but the taste is not quite up to par with it. Medium body with a somewhat creamy carbonation. Pretty decent beer, not really something I would import from Poland but something I could see being part of a session in a local scenario.
★
787 characters

3.43
/5
rDev
+4.3%
look: 3.5 | smell: 3 | taste: 3.5 | feel: 3 | overall: 4
500ml bottle poured into a pint glass.
Pours slightly darker orange hued cloudy with 1 inch foam. Decent retention, but little lacing.
Smells light citrus, bot otherwise not much.
Clean lager taste, a tad on the sweet malty side with a very modest hop finish. Almost a malt liquor, but not nearly as heavy or offensive. Very light carbonation.
Overall, a drinkable lager. Sweeter and less crisp than typical, but still worthy.
★
430 characters
2.61
/5
rDev
-20.7%
look: 3.5 | smell: 2.5 | taste: 2.5 | feel: 3 | overall: 2.5
500 mL bottle, intrigued by a beer with Copernicus on the label, the father of modern astronomy,
A: Pours a pale yellow with a solid creamy white head, solid retention.
S: Strong smell of sweet malt, some booze.
T: Overly sweet tastes like a Euro Strong or a malt liquor. Too much sugar for a pils which is what it's labeled as. Light hop component in the ends tries to balance, but the sweet corn flavours take over.
M: Light-bodied, pretty good feel, watery though.
D: Usually I've found the Polish make pretty good lagers, Okocim O.K. beer comes to mind. This one is not one of them, feels like a beer double it's strength. Too bad.
★
640 characters
3.3
/5
rDev
+0.3%
look: 3 | smell: 3 | taste: 3.5 | feel: 3 | overall: 3.5
Sampled this from a bottle into a sampling glass at a brewfest. Was surprised to see it pour darker than expected (since the label said 'Pils'), but the carbonation was apparent. The only negative was the non-existent head. The taste was surprisingly malty for a thin-body beer, which combined to make this an above average session beer. The big knock on this beer, which seems like it has a case of mistaken identity, is the lack of pronounced noble hops flavor...particular Saaz. A little too sweet for this style, and not enough of a floral bouquet.
★
552 characters
4
/5
rDev
+21.6%
look: 4 | smell: 4 | taste: 4 | feel: 4 | overall: 4
Half-liter bottle from Super Liquor (Placentia, CA), on to the beer:
Poured into a stange, this beer is shiny pale gold, the head is bubbly and foamy. The aroma is sweet with underlayers of hay and a mild bite of hops. Me likey the latter. To drink, no imported flavor to be found, but overall it's all good. It's a mild flavored lager, the pale malt is sweet and the end of the journey is of spicy hops. The finish is clean with the hops fading.
This is all one needs in a simple lager. Certainly better than Zywiec, and one that washed down my dinner well.
★
561 characters

3.13
/5
rDev
-4.9%
look: 3.5 | smell: 3 | taste: 3 | feel: 3 | overall: 3.5
Purchased from by "By the Bottle" in Vancouver, WA.
Poured from a standard 500ml brown bottle into a "pils" class.
The brew has a the classic pils look with a golden hue and a descent white head but it fades quickly. It is not a clear as some other pils.
Aroma is ok for this style Pils/Lager, but I like a touch more Saaz hops in my lagers.
Taste is fair but there is a bit of a metallic taste in their background. With each passing sip however it did fade.
This was first Polish Pils and it is not really worth a try and next time I'll stick with Poland's neighbor to the south!
Prost!
★
593 characters
2.78
/5
rDev
-15.5%
look: 3 | smell: 2.5 | taste: 3 | feel: 3 | overall: 2.5
From a brown 500ml bottle with a blue label featuring a portrait of Copernicus, the famous Polish astronomer, at the top. The label claims this is a "Pils Beer".
Pours with standard Euro lager clarity, although the color is shifted over to the amber side of things. A small head is kicked up by the initial pour, but it fades to nothing quickly. The nose is malt-forward, with a bit of corn and DMS mixing into the sweet malt smells. There's just a hint of drying hops in the aroma. On the palate, there's a quick flash of hop bitterness and carbonation, followed by a longer malt phase marked by corny sweetness. The finish sticks a bit for a beer of such minor flavors. Mouthfeel is unremarkable in every way.
Overall, this is just your garden variety Euro macro lager, albeit perhaps a maltier than normal one. No way is it a pils like the label claims -- way too dark, malty and un-hoppy for that. Kopernik pils is nothing special but also nothing offensive. Bo-ring.
★
977 characters
Kopernik from Browar Amber
3.29
out of
5
based on
29
ratings.