Kiper Bock
| Browar Kiper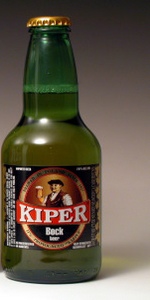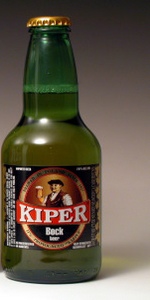 BEER INFO
Brewed by:
Browar Kiper
Poland
kiper.com.pl
Style:
Bock
Alcohol by volume (ABV):
7.00%
Availability:
Year-round
Notes / Commercial Description:
No notes at this time.
Added by DogFood11 on 03-01-2006
HISTOGRAM
Ratings: 11 | Reviews: 10
Reviews by DoubleJ:
3.26
/5
rDev
+1.9%
look: 4 | smell: 3 | taste: 3 | feel: 4 | overall: 3.5
Another offering from Browar Kiper, on to the beer:
Blonde in color with a nice foamy head, I was expecting this beer to be a bit darker. Straight-forward sweet smell with hints of honey. Taste is pretty basic with no off-flavors or bitterness, a simple sweet beer with a noticable alcohol that surprisingly compliments the flavor. Notes of caramel prevail in what I can describe the flavor as. Feels almost silky for what it is with no interruptions from the alcohol, an accomplishment for how light tasting it is.
Notes: A decent Polish bock with a kick that fits in the beer. One bottle came in my Beer Traveler's pack, but it can be found in 4-packs at $4.99. In short, a no-frills bock.
698 characters
More User Reviews:
2.16
/5
rDev
-32.5%
look: 3 | smell: 2 | taste: 2 | feel: 3 | overall: 2
This beer pours a clear light golden yellow color, with a very thin white head. the head fades very quickly, leaving almsot no lace.
This beer has a slightly grassy aroma. It also smells of boiled cabbage. Not very good. Some sweet malt aroma is present as well.
This beer tastes like it smells. Grassy with some sweet malt. The boiled cabbage is also present in the flavor.
This beer leaves a sweet cabbage aftertaste. The alcohol is well hidden behind the offensive flavor. Carbonation is low.
This beer wouldnt make a good session beer. With 7% ABV, it isnt a candidate for multiple bottles. Also, the flavor is pretty bad and I would not want to ever have to drink more than 1.
Overall: This beer is pretty bad. Not the works thing I have tasted. That would be Michelobe Ultra, however, this one isnt much better.
822 characters
2.92
/5
rDev
-8.8%
look: 2.5 | smell: 3 | taste: 2.5 | feel: 3.5 | overall: 3.5
Actually has a BBD! Sept 22 07
Another world beer, wish me luck...
Pours an effervescent honey golden with 1/2" of white head. Minimal head retention
S: Sweet malt & cornyness
T: Rich honey malt & some lemon hop notes up front. Slight grassy, apple & pear notes follow. Finishes with pear notes, honey & a little cornyness
MF: Syruppy with medium body & no/low carbonation
Drinks pretty easy, my 1st Polish Bock, not making any case to deflect me from the German Bocks, but not horrible. Makes me think of a funky helles or belgian pale more than a bock though; so I had to knock this down .5 in some categories. Would work in a pinch
654 characters
3.82
/5
rDev
+19.4%
look: 3 | smell: 3.5 | taste: 4 | feel: 4 | overall: 4
Pours golden color with thin white head. Smell is not very strong - grassy, malty, a bit sweet. Taste - very clean, alcohol is hidden very well - caramel and fruity sweetness combines nicely with grassy maltiness. Pretty tasty beer. Smooth, carbonation is just right, drinkable. A nice surprise, good stuff.
307 characters
3.49
/5
rDev
+9.1%
look: 3 | smell: 4 | taste: 3.5 | feel: 2.5 | overall: 3.5
11.2 oz green bottle.
Pours a deep gold with a fizzy/loud quickly dissipating white head. Tons of carbonation bubbles can be seen in the crystal clear liquid.
It actually smells like a normal bock, there isn't any skunkiness, just some light toastiness and some caramel.
The taste is pretty similar to polish malt liquor, with perhaps a bit more grain. It is very sweet and caramally. The alcohol is detectable but not overt.
It is a bit overcarbonated.
Style wise I would peg this more as a Euro Strong Lager, though in the smell it has Bock-like characteristic.
568 characters
2.85
/5
rDev
-10.9%
look: 3 | smell: 3 | taste: 3 | feel: 2.5 | overall: 2.5
First time I've seen this at the west hollywood bevmo. It's nice to be a regular at this bevmo, when they see me they always point out anything new as they know I buy a crapload of beer when I stop by. So Charlie points out this new stuff from Poland called Kiper bock...Ok in the cart you go.
Released the contents from a 11.2oz green bottle into a pounder glass it forms a thin but well retained white head. Loads and Loads of carbonation almost macro lager volumes. Way over to the pale side of the scale. I don't think I've ever had a bock that was light golden in color, let this be the first.
Sweet almost cloying at times, has that belgian yeast type smell and taste. This is a tasty brew but for all the wrong reasons. Fruity presence is towards the sweet side without any citrus. Warming alcohol finish is not well disguised and adds a nice dimension to a fairly light bodied bock. Frickin' bubbles are relentless although not as stinging as I had anticipated in the mouth. Powdery dry finish coats the roof of my mouth.
Eh...it was ok. Kind of an odd take on the style.
1,088 characters
3.7
/5
rDev
+15.6%
look: 3 | smell: 3 | taste: 4 | feel: 4 | overall: 4
Poured from a bottle into a glass
A-Golden color with a thin white head. Seems like it might have alot of carbonation with all the bubbles present.
S-Not too overwheling but a scent of florals and hops.
T-Very surprising taste. It pours like its not going to have much flavor but gives you a nice surpprise.
M/D-This is a good beer that surprised me. I encourage you to give it a shot.
388 characters
3.33
/5
rDev
+4.1%
look: 4 | smell: 3.5 | taste: 3 | feel: 3.5 | overall: 3.5
Pours a very nice light amber/golden color. Nice head that recedes quickly.Has a nice toffeeish aroma; sweet malty goodness. Faint alcohol smell that lets you in on the fact that it's content has 7% of it in there. Taste is a little sweet. Alcohol comes through. Could drink a lot of this with food, something to combat the sweetness a little. Of course pork comes to mind. Not a bad little beer. I could come to like it a lot, on the right night.
447 characters

2.51
/5
rDev
-21.6%
look: 2.5 | smell: 1.5 | taste: 3 | feel: 3 | overall: 2.5
Appearance: Poured this from a bottle; clear golden color with a decent sized head.
Smell: Hints of high school locker room and warm slippers. Detected some flatulent undertones.
Taste: Sweet; almost like an echo of honey BBQ, taste did not linger long
Mouthfeel: Very light, medium carbonation, pretty average
Drinkability: I'm not very impressed with this beer. My friends thought I was joking when I said I could smell fart funk in my cup before I started drinking it.
Verdict: Tasted better than it smelled, would bring it to a party as a joke for my friends to smell.
578 characters

3.95
/5
rDev
+23.4%
look: 3.5 | smell: 3.5 | taste: 4 | feel: 4 | overall: 4.5
This is a tasty bock, flavourful, and easy to drink.
Light amber, it has a smallish, off-white head steadily shrinking to a thin, wispy top but no real lace.
The aroma is pungently fruity, slightly meaty, with minerals, some grain and honey. It has an old fruit, high-gravity malt-liquor quality. It's not bad but not great.
The taste is much better, fruity, a bit meaty, zesty with a warm, zesty alcoholic quality, qith old oarnages, pears. It's mostly sweet with a light grassy-bitterness and warm spicey bite. It's smooth and easy to drink while retaining a good flavour and full feel.
591 characters
Kiper Bock from Browar Kiper
Beer rating:
3.2
out of
5
with
11
ratings