Staropolskie Zlote
| Browar Staropolski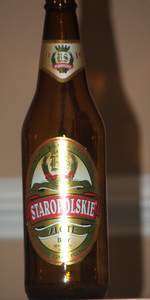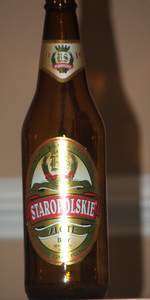 BEER INFO
Brewed by:
Browar Staropolski
Poland
browarstaropolski.pl
Style:
Euro Pale Lager
Alcohol by volume (ABV):
6.20%
Availability:
Year-round
Notes / Commercial Description:
No notes at this time.
Added by Noelito76 on 05-18-2006
This beer is retired; no longer brewed.
HISTOGRAM
Ratings: 9 | Reviews: 9
Reviews by trevorwideman:
3.15
/5
rDev
-4.3%
look: 3.5 | smell: 3.5 | taste: 3 | feel: 3 | overall: 3
500ml bottle poured into a pilsner glass.
Pours with a 1 inch head that retains very well, medium carbonation. Lots of wet lacing. Deep yellow colour, unfiltered, and what appears to be a decent amount of body. Aroma is pretty sweet, Butterscotch, nuts, very grainy with a light grassiness. Lots of character here though, even if I do find it a bit sweet.
Big malt presence in the mouth, tons of grain, nuts, and lots of generic sugary sweetness too. Smooth butteriness followed by an earthy, grassy, dry finish with an alcohol burn. A little overcarbonated but nice and dry in the finish, heavy body for the style. There's a lot of flavour here, and it's not an awful beer, it's just too sweet for me. Still, a slightly above average Euro lager.
749 characters
More User Reviews:
3.42
/5
rDev
+4%
look: 4.5 | smell: 2.5 | taste: 3.5 | feel: 3.5 | overall: 4
Brilliant high clarity amber, with lazy carbonation and very tiny suspended particles. Fluffy merengue-esque head that is convex, and coats the edge of the glass with sheets of foam. Dense enough that you can't see the beer through the foam.
Bland vegetal aroma of cooked vegetables. Some sort of artificial sweetner, saccharin. Really doesn't bode well for the appeal of this beer, but it does look good.
Slight sweetness with a blend of toasted malt and mellow earthy hops. Not especially bitter, they just lend an herbal flavor. Pleasant toffee in the aftertaste, wasn't expecting it. A little thin, with a moderate level of prickly carbonation. Sweetness lingers on the tongue. It's inoffensive and fairly quaffable.
Overall, I had a mixed reaction to this one, but would advise that you simply hold your nose and enjoy it!
833 characters
3.95
/5
rDev
+20.1%
look: 3.5 | smell: 3.5 | taste: 4 | feel: 4 | overall: 4.5
My first russian beer, awesome. I saw this sitting on the shelf and knew I had to try it It just sounded so damn old and european and had never seen it before, so I just had too..
A - Poured a deep, hazy golden yellow. Nice hue. Bg fizzy white head receded down and left a nice layer of lace on the top, nice lace on theglass as well, pretty much obscured it. Some, a little carbonation could be seen, but this was sooo hazy it was really hard to tell.
S - Wow, alot of malt for a euro plae. Deep thick malty aromas, lots of roasted barley, and a touch of caramel. Very intresting, earthy and thick, not a light aroma at all.
T - Again very very malty. Had a rather thick and aged flavor to it. A bit of a sour grape or apricot and a nice bitter touch at the finish. A very unique flavor and something I havent seen before in the style, I was quite impressed with the flavor to be honest, it had a whole other kinda feeling to it then what I was expecting.
M - Very nice, light, good carbonation, not slippery or slick. Great feel. Long biting aftertaste could be still felt for a while later.
D - Really good here. I could have this one all night. It is really a drinker. It has a robust flavor, but at the same time is very light and easy to drink. Great cold, still damn fine as it warmed up.
Overall I was really shocked at this one. I was expecting a run of the mill pale lager and I got a really complex brew and I was not expecting that. Really good job crafting this one. Very very malty and a good solid offering. Will be intrested to try the other brew from them. Seems like a definate winner and I would easily recommend this.
1,655 characters
3.23
/5
rDev
-1.8%
look: 3.5 | smell: 3 | taste: 3.5 | feel: 3 | overall: 3
I found this beer pretty malty for Euro Lager. There are some hints of corn but it was still pretty drinkable. Very little carbonation. Mouthfeel was a bit thin but nothing was too offensive about this beer. Everything else was pretty average down the line.
257 characters
3.31
/5
rDev
+0.6%
look: 2.5 | smell: 4 | taste: 3.5 | feel: 3 | overall: 2.5
Appearance - Golden color, average looks.
Smell - Interesting flowery aroma.
Taste - Sweet malt flavor with flowery hop accents, with earthy overtones in the aftertaste.
Mouthfeel - Medium bodied.
Drinkability - Tasty and flavorful, but the sweetness hinders overall drinkability.
293 characters
3.84
/5
rDev
+16.7%
look: 3 | smell: 4 | taste: 4 | feel: 3 | overall: 4
A: pours a pale gold with a 2 finger white head that reduces ro a thin film and leaves some decent lacing. Tiny particles visible on close inspection.
S: very intersting olive oil, rosemary-like aroma (smells like a fresh baked specialty pizza crust!). A bit of grassiness in the backgroud as well.
T: Again, quite prominent herbal flavours thats are semi-sweet and quite buttery as well - all around, a good maltiness to this beer and not too much hopping.
M: light and quite creamy, good amount of carbonation and a smooth, somewhat oily finish.
D: this is a very interesting euro lager - I like it because it is very different - less hops, more malts and a herbal aroma and flavour that provides for a truly unique taste experience. I would definitely reccoment that all BA`s try this beer. It reminds me somewhat of the Fraoch Heather Ale... quite nice indeed.
869 characters

3.38
/5
rDev
+2.7%
look: 3.5 | smell: 3 | taste: 3.5 | feel: 3.5 | overall: 3.5
Kinda a interesting euro lager in that it tastes quite malty and slightly sulphurious like a English bitter. Darker than usual colour with an odd malt nose. The beer is very drinkable though the flavour profile is quite different than most euro lagers. I actually enjoyed the ,malty finish and found it food friendly. Interesting beer and worth the purchase.
358 characters
2.48
/5
rDev
-24.6%
look: 3 | smell: 2.5 | taste: 2 | feel: 3 | overall: 3
Pours a deep sunny, hay color. Very clear, but there aren't any bubbles to see. Hardly any head after the first few sips. Then quickly goes to nothingness. The aroma is a sickly bloody, metalic malt with some tainted grass mixed in. The beer is a thick pilsner malt with some tinny tang at the end of each sip. Keep in mind I did pour this beer into a glass.Not a whole lot going on, a little hard to get past the metallic taste.
429 characters

2.81
/5
rDev
-14.6%
look: 3 | smell: 2 | taste: 3 | feel: 4.5 | overall: 2.5
I am half way through this beer and I am trying to decide if I like it or not. On some aspects it is quite pleasant and unique, but other aspects throw me off.
A: Nice dark color like an amber ale, had very small head that dissapeared and leaves just a tiny ring of foam around the edge of the beer mug
S: This is what is throwing me off I think. It has an unusual smell. Very malty, but almost malty like the smell of marmite or, I know it's strange, a bit like Oxo cubes.
T: The taste is nice but it is obviously accompanied by the smell. It has a malty flavour with not much hop taste at all, it is quite sweet with creamy flavour.
M: Just right, perfect amount of carbonation, and a silky mouthfeel that is almost "oily".
D: I am not sure if I could drink two of these. And I am now just about done the beer and still can't decide if I really like this beer, I guess if I can't decide then that must mean that I really don't like it. I would not buy this beer again, it was nice to try, but there are so many better beers in the world to have to drink something that is less than fully enjoyable. I will try any beer at least once, so I will chock this up to another beer tasting adventure.
Final verdict = Try it if you must, but if you have other choices get something else.
1,287 characters
Staropolskie Zlote from Browar Staropolski
Beer rating:
3.29
out of
5
with
9
ratings