Anker
| Feldschlösschen Beverages Group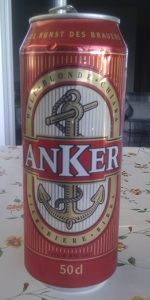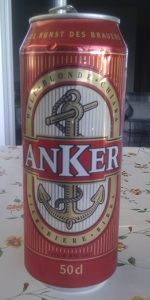 BEER INFO
Brewed by:
Feldschlösschen Beverages Group
Switzerland
feldschloesschen.com
Style:
Euro Pale Lager
Alcohol by volume (ABV):
4.80%
Availability:
Year-round
Notes / Commercial Description:
No notes at this time.
Added by Daredevil on 10-16-2005
HISTOGRAM
Ratings: 10 | Reviews: 6
Reviews by Rumlibeers:

More User Reviews:
2.05
/5
rDev
-1%
look: 2 | smell: 2 | taste: 2 | feel: 1.5 | overall: 2.5
Really not much different from the Feldschlossen Original Loger. Pours a light yellow with several inches of head, which quickly disappears. Has a light honey smell and very malty taste, not much in the way of nuance. Only difference when compared to the Loger is that it is slightly more bitter but almost trivially so.
320 characters
1.34
/5
rDev
-35.3%
look: 5 | smell: 1 | taste: 1 | feel: 2 | overall: 1
Review: 50cl Can of Anker Lager Beer: ABV: 4.8%
As there are a few discount supermarket beers in Switzerland.......Coop Lager, and Tell to name just two, Feldschlösschen have decided to get a leg in on this market with their own offering, Anker, available in Coop at a cheap price.
Colour is very light yellow, very bubbly with a good bit of carbo resulting in a decent sized frothy white head. Perfect lacing, and a lot of it to boot. Looks good, this looks promising!
Smell, none! Or very light, of a lagery aroma, disappointing.
It is tasteless really.
Had it cold. Yes it is easy to quench and very smooth but I couldn't for the life of me find any taste from it at all. Basically it was just cold water. Very light body and no flavours, weak malts,
Smooth but ok. Much better cheap beers out there.........this is dull and boring. Ah well, least I didn't spend much on it!
889 characters
3
/5
rDev
+44.9%
look: 3 | smell: 3 | taste: 3 | feel: 3 | overall: 3
Anker is some sort of budget brand from the Feldschlossen Group that is fairly cheap and sometimes dirt cheap. I bought a full case for 12 francs a while back that took a good while to finish off. I decided to buy one can for review and it is what I expected. Extremely average. Pours a decent gold with a small head that disappears pretty fast. It is not as harsh from carbonation and gritty as Feld so I believe there is reason to believe that it is not the same brew. It tastes so much like an american style macro minus the sweet corn. It is decently balanced but not complex, thus, pretty unremarkable. The finish is thin with a bit of grain, hops on the back of the taste buds maybe a little sour but not offensive.
721 characters

1.68
/5
rDev
-18.8%
look: 2.5 | smell: 2 | taste: 1.5 | feel: 1.5 | overall: 1.5
This is a brew under the label of "SwissBeverage Ltd.", which actually has the same adress as Feldschlösschen (owned by Carlsberg), therefore I suppose it is actually brewed by Feldschlösschen. Especially as it tastes almost like a copy of Feldschlösschen Lager, albeight slightly more sour (but that could be due to the can as opposed to the glas bottle).
This is a cheap line beer in one of the retail chains (Coop), so not much to be expected ...
453 characters

2.5
/5
rDev
+20.8%
look: 2.5 | smell: 2.5 | taste: 2.5 | feel: 2.5 | overall: 2.5
500ml can served in a chalice glass.
A: Pours a pale yellow color. Clear. Forms a big aired fluffy white head but retention is very low and it disappears almost completely, leaving a thin bubbled layer. However, not much lacings are left in the glass
S: Simple beer. Honey, sweet malts and a bit of grassy hops. Lager yeasts
T: As the nose. Sweet malts backbone. Crispy. A dry and smooth tasting beer. Very mild bitterness, could be much better in this aspect
M: Very ligh body. Medium carbonation. Grainy aftertaste. Low bitterness
O: Average cheap European Lager. Easy drinking but nothing special
604 characters

2.18
/5
rDev
+5.3%
look: 3.5 | smell: 3 | taste: 1.5 | feel: 2.5 | overall: 2
Poured from a 500ml can into a large .5l mug.
Pours a piss yellow color as if you have not drank water in a few days. Really gross actually with a slight orange hue to it, really resembling a hangover piss. The carbonation coming off the bottom is in tiny micro bubbles that feeds the soapy white head. Although this looks similar to many lagers, even helles beers, this really loos gross for some reason. the head dwindles down to fuzzy piss bubbles even. Though there is something intriguing about this look so i give it a decent score. Retention and lacing are decent. Smell is a bit watered down lager like grainy, humid and flat aromas resembling macro lagers sans sweetness. There are some pale malt undertones that comes through to make this smell decent but really nothing special. Taste is pure piss water. gross flat old skunk beer characteristics and a bitter after taste that makes you cringe. Really gross, not worth drinking at all regardless of price. i actually prefer bud light over this since that beer is at least refreshing. this just tastes like old beer. Mouthfeel is under carbonated, under whelming and forgettable. Overall this is nothing to go searching for, probably a great hot dog beer if you use it to cook with, but overall gross. avoid
1,268 characters
Anker from Feldschlösschen Beverages Group
Beer rating:
2.07
out of
5
with
10
ratings