City Steam Czars And Girls
| City Steam Brewery Café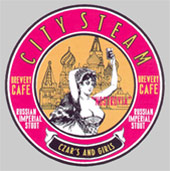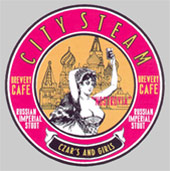 BEER INFO
Brewed by:
City Steam Brewery Café
Connecticut
,
United States
citysteam.biz
Style:
Russian Imperial Stout
Alcohol by volume (ABV):
9.00%
Availability:
Rotating
Notes / Commercial Description:
A dense, opaque, incredibly powerful RUSSIAN IMPERIAL STOUT. Not for Bolsheviks or the faint of heart.
Added by stirgy on 01-27-2004
This beer is retired; no longer brewed.
HISTOGRAM
Ratings: 14 | Reviews: 13
Reviews by sulldaddy:
4.67
/5
rDev
+11.2%
look: 4 | smell: 4.5 | taste: 5 | feel: 4.5 | overall: 4.5
I filled up my 2L swingtop growler with this brew. Poured a cold pint into a pint glass. the beer is molasses brown with some ruby highlights when held to a light. Frothy yet fluffy tan head of 2 cm fades quickly leaving windowpane lattice and a sturdy edge layer when it is gone. Aroma is brown sugar, molassess, and general maltyness. Some roasted notes as well. First sip reveals an average body with fine rolling gentle carbonation. Texture is a little sticky.
Flavor starts with sweet malt, chocolate, molasses and roasted malt as well. I get some espresso bean and possibly some anice spiciness in the background. No hops make an appearance and the beer hides its ABV well, after a few pints I am more aware of the kick due to my head not from any heat or bite. A very nice brew that should be tried by any and all imp stout enthusiasts.
843 characters
More User Reviews:

3.85
/5
rDev
-8.3%
look: 4 | smell: 4 | taste: 4 | feel: 3.5 | overall: 3.5
Had this brew on-tap during a happy hour out with co-workers. It has a dark-brown, near black opaque color. The head is thick and creamy. It smelled a little bit of chocolate and a little bit of roasted coffee. The taste started malty, was just slightly bitter in your mouth, and had a malty finish again, making for a very balanced beer. It felt thick in your mouth and went down smoothly. A definite favorite among local beers.
429 characters

4.23
/5
rDev
+0.7%
look: 4.5 | smell: 4 | taste: 4.5 | feel: 4 | overall: 4
Inky black with a low and wispy brown head. Aromas of molasses and roasted malt. Flavor is big and rich, full of cocoa and strong coffee. Mouthfeel is tingly, leading to a hoppy finish, followed by a lingering aftertaste of espresso. Very drinkable for such a rich beer. Too bad this one's not around more often.
312 characters
4.42
/5
rDev
+5.2%
look: 4 | smell: 4.5 | taste: 4.5 | feel: 4 | overall: 4.5
turning this beer into an essential lager has aided its flavor profile, and henceforth comes my hasty review. wow.
it's black with a tan ring, respectable in appearance for any imperial stout. slight arcs of fizz extend from the edges. overall, it sits like a lead bomb in the glass. smells smoky, charred malts balance delicately with caramel undertones.. all the while, avoiding a blast of alcohol nastiness that one dreads from this style. cocoa dust seems present in the nose as well.
immediately tastes tart, but not sour. has the lager twinge, a bit of green apple and some wheat like presence add to the roasty-malty RIS profile. stands alone in its class as something special. complex and very drinkable with reduced abv. alcohol carries over as a very light sting in the finish, not at all distracting from the overall flavor. etoh is supplicated by an deep toffee richness which emerges from sweetsville with a hoppy, stinging finish. nice.
957 characters

4.08
/5
rDev
-2.9%
look: 4 | smell: 3.5 | taste: 4.5 | feel: 4 | overall: 4
Pure black with a tannish head. Smell was just chocolate with a faint smell of coffee. Wish there was a little more to the nose than just that. Taste made up for it though. Roasted malts with chocolate start off with some dark fruit coming through in the middle. Finished with some tangy hops to give it a nice balance. Chocolate had an everlasting finish. Mouthfeel was medium with a creamy texture. Overall a nice solid beer here.
432 characters

4.38
/5
rDev
+4.3%
look: 4.5 | smell: 4 | taste: 4.5 | feel: 4.5 | overall: 4.5
07/25/05- Growler purchased on premisis.
Presentation- Pint glass fill via growler.
Appearance- Black pour. Very thick viscous pour. Huge dirty brown/milk chocolate colored head. Average lacing.
Smell- Mostly some dark roasted malts. Maybe a touch of chocolate and a touch of dark coffee.
Taste- Huge sweet dark roasted malt flavors. Deep dark chocolate flavors as well. Very little coffee in this one.
Mouthfeel- Creamy and thick. Medium to lower carbonation. Quality stout mouthfeel.
Drinkability- This is one damn good stout. It was so good I didn't even let it warm to room temp. Thick and dark.
618 characters

4.2
/5
rDev 0%
look: 4 | smell: 4 | taste: 4.5 | feel: 4 | overall: 4
On top at the brewpub on 5/14/11.
Opaque oil in color beneath a light brown, creamy head. Slightly sweet, dark chocolate with mellow coffee aromatics. The flavors are deep, slightly sweet, and roasted; however, the peat-smoked malt is the primary and most unique quality. The body is smooth, slightly chewy. Pretty drinkable for the style; mainly high marks for such it being such a well crafted, quality brew.
411 characters

3.8
/5
rDev
-9.5%
look: 3.5 | smell: 3.5 | taste: 4 | feel: 3.5 | overall: 4
Purchased on 5/14/06. Served in a nonic. Growler opened with a light whoosh. Very little carbonation blew out of this one which surprised me because the bartender over-poured the growler to push out the residual O2. Poured an opaque cola-brown, almost black, with red highlights around the edges. Quarter inch tan-colored head dissipated within seconds, settling into a some residual swirls of foam; almost no lacing to speak of. Nose was somewhat subdued. Coffee, malt and a hint of dark fruit, but very much understated for the style. Taste similar to nose with a little nuttiness and a smooth roasted character, and surprisingly, a mild sourness at the finish. Medium-bodied mouthfeel. Not much happening up front, but the carbonation presents itself at the back of the throat. Alcohol was very well hidden make this quite drinkable, but very mild all and all for an RIS.
874 characters
4.4
/5
rDev
+4.8%
look: 4.5 | smell: 4.5 | taste: 4.5 | feel: 4.5 | overall: 4
City Steam Czars and Girls:
My great-grandfather was a sergeant in the Czar's Army in the early 20th century. If you know your history , you know that this was not a great time to back the incumbent. But, Antonin Slonimsky found his way to Jersey and I actually met him once. He was damn near deaf at the time, and didn't talk much…but he was a big fan of czars and girls, as am I. Yup, a big time imperial stout pours black as night with a fine tight tan head from a 33.8 oz monster swing-top. Big vinous aroma is just so temping…and diving right in I find a dark chocolate and roasted malt palate that is just freakin' divine. Somewhat of an overly astringent aftertaste to it that distracts from drinkability somewhat…but the silky roasted malt finish is just beautimus and the more I drink it the more I wantonly I attack. Big props to Venom via sulldaddy on landing this beauty.
Cheers…
905 characters
4.27
/5
rDev
+1.7%
look: 4 | smell: 4.5 | taste: 4 | feel: 4.5 | overall: 4.5
Came to the table with a minimal tan colored head that quickly disappeared. The body was absolutly Tar black in color. Absolutly no carbonation. Lacing was extremely watery.
Huge notes of roasted chocolate and malt. Had subtle notes of toffee which balanced off the malt to allow the chocolate a second explosion in my nose.
A slighlty alchol bite was the first noted flavor. Quickly replaced the bitter alcohol with a smooth chocolate malt flavor. No notes of hops. A finishing of roasted toffee in a chocolate shell.
Very nice thick bosy. Worked on every surface of my mouth, and tried to cling there as long as I let it. Had a slight alcohol burn in the aftertaste.
A very nice imperial stout. If you like a darker more malted flavor in your beer with a higher alcohol, then this is a must for you. I would recommend not having this with food, as it will overpower almost any flavor in your meal.
911 characters
4
/5
rDev
-4.8%
look: 4 | smell: 4 | taste: 4 | feel: 4 | overall: 4
Draught: I was a bit disappointed in this one. I expect Imperial stouts to be more full bodied and flavorful than this one was. It was good, but more of an "Imperial Stout Light" than anything else. It was still very drinkable, but just not all I would expect from an Imperial Stout. Re-rate 9-07: Definitely improved from the last time that I had this. Much more body and flavor than before.
392 characters
3.83
/5
rDev
-8.8%
look: 4.5 | smell: 4 | taste: 3.5 | feel: 4 | overall: 4
A - Opaque inky black, dark brown, with thin tan head that quickly fades to wisps.
S - Light fruit aromas hint of roasted malt, and apple skins.
T - Raisins, dark chocolate. Initial bitterness morphs to soft sweet fairly crips finish. Lite fruity bitterness lingers.
M - Medium-heavy body. slick mouthfeel.
D - Very interesting and drinkable but look out, 20P will sneak up on ya quick.
399 characters

3.88
/5
rDev
-7.6%
look: 4 | smell: 3.5 | taste: 4 | feel: 4 | overall: 4
Pours black with a light tan, cola like head that fades quickly. Aroma is some nice chocolate malts along with a good dose of roastiness. Some cola sweetness and hints of black licorice as well. Taste is a stronger black licorice with the cola sweetness, some tangy roastiness and peppery bitter hops towards the finish. Roastiness has a slightly nutty quality that is nice and blending into the bitter finish becomes somewhat dry and smoky. Medium in body, bit of a bite in the finish along with the zing of the peppery hops. The alcohol is very well hidden, a highly drinkable stout. Thanks to Jim for the opportunity!
620 characters
City Steam Czars And Girls from City Steam Brewery Café
Beer rating:
4.2
out of
5
with
14
ratings