Speakeasy Ales & Lagers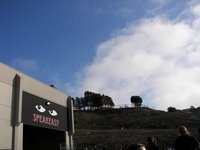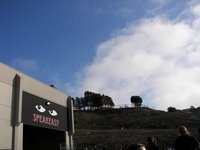 Brewery, Bar
1195 Evans Avenue, Suite A
San Francisco
,
California
, 94124
United States
(415) 642-3371 |
map
goodbeer.com
Notes: Monday: CLOSED
Tue - Thu: 1:00pm to 10:00pm
Fri - Sat: 1:00pm to 12:00am
Sun: 1:00pm to 8:00pm

Knapp85 from Pennsylvania
4.06
/5
rDev
-3.8%
vibe: 4.5 | quality: 4 | service: 4 | selection: 4
Stopped in here after arriving in the bay area to check out the place since it wasn't far from my hotel. The vibe was pretty cool, dimly lit with a decent tap list. The service was good. Not a bad spot.
Dec 24, 2015

VABA from Virginia
4
/5
rDev
-5.2%
vibe: 4 | quality: 4 | service: 4 | selection: 4
A little out of the way, but worthwhile to visit if one is in San Francisco. The selection of beers is very good. A little tougher to get to, but public transportation is not too far away.
Oct 30, 2015

RyanK252 from California
4.6
/5
rDev
+9%
vibe: 4.75 | quality: 4.5 | service: 4.75 | selection: 4.5
I try and swing by here whenever I'm up in San Francisco. Tucked into a warehouse, totally unassuming, until you walk up. The door has a sliding panel, I wish they jokingly asked for a password to enter. The inside is probably one of the coolest tap room designs I've seen. Kinda dimly lit, tons of reclaimed wood paneling, and even a "Press in case of raid" button. There are tables, stools, couches, and some side private rooms. Bartenders are always friendly, knowledgeable, and laid back. Great selection of tasty beverages on tap and available to take home. It seems like they always have something new and cool in addition to their standards. One of my favorite places to kick back, relax, and enjoy a beer.
Apr 05, 2015
brewjockey from California
4.5
/5
rDev
+6.6%
Excellent "Speakeasy" facade for the tap room. Though out of the way for many, it's worth the experience. Good place to meet a good buddy or two. Not much seating (though it's usually sufficient) or food so it's really about their great variety of strong brews and unique taproom experience.
Dec 04, 2014

Totalpackage411 from California
5
/5
rDev
+18.5%
Unfortunately I, Couldn't take the tour but it is a cool little bar with good beers and a good vibe. Good place to hang out before a game at AT&T park or a night downtown.
Sep 28, 2014

Tazmaniandavis from California
4.25
/5
rDev
+0.7%
Speakeasy is in a tucked away location on the other side of San Francisco in the Hunter's Point District. The location itself is pretty cool looking on the inside and looks a bit speakeasyish. The beers are all pretty decent and the service was very helpful and attentive.
Sep 02, 2014

elNopalero from California
4.16
/5
rDev
-1.4%
vibe: 4 | quality: 4.5 | service: 4 | selection: 4
Sometimes there's a brewery where their personality just extrudes across their product line. I've visited breweries where they are formal and their beers reflect this attitude—the guy making a beer that follows the German purity law to the letter, the corporate shills who direct marketing more than making a quality product… So to me Speakeasy's punk attitude has always been a defining feature of them. Their beers—super hoppy. Their employees—punk rock! And they're "on the edge of town" as they say, in an industrial area, where they play rockabilly and serve up $3 pints of their strong brews on Friday and Saturday evenings for anyone who cares to visit. Worth the trip.
Aug 18, 2012
baycat from California
3.95
/5
rDev
-6.4%
vibe: 3.5 | quality: 4 | service: 4 | selection: 4 | food: 4
Best to visit on a Friday when the brewery is open to the public and hosted their weekly Frikin or Final Fridays. Brewery is out of the way and requires a drive or cab as public transportation takes you through some questionable areas later that night. Prices are cheap as $10 gets you a pint glass to take home and poker chips for your choice of beers. Tap list has the standard beers Speakeasy produces and always a few special, brewery only releases that one day might make it to local shelves. The vibe is laid back since the brewery is in an industrial part of town. Usually a rock or punk band playing and some good local food.
May 04, 2011
t0rin0 from California
3.93
/5
rDev
-6.9%
vibe: 4.5 | quality: 4 | service: 4 | selection: 3.5
Visited numerous times since 2007. Didnt know we could review this place.
Every Friday they do an open house which started small with music and a dart board and a tour of the brewery (which you are already drinking in so you can do a self guided tour if you'd like). Now there is still music and I assume they still do tours but you pay to get in the door and there are more people. In any case it's fun.
They always have half a dozen or so beers on including something interesting (cask variations, one offs, small beers, barrel aged beers, etc) in addition to the regular lineup. Not sure if they still give out the poker chips as drink tokens but those were neat. It was $15 for a pint glass and 4 tokens to fill the entire glass, which was more beer than anyone person needs in a sitting but you can bring the glass and tokens back, kind of like they do at Drakes. They also have some shirts and hats that you can buy.
There isn't much "service" as it's a hangout kind of event. The only service that you'll get will be while ordering a beer. The employees are pretty cool. And you might see the brewers wandering around as well. Everyone seems to be more than happy to answer questions.
Definitely worth a stop once if in the area.
May 03, 2011

ThreeWiseMen from California
4.04
/5
rDev
-4.3%
vibe: 4.5 | quality: 3.5 | service: 4.5 | selection: 4
The following review describes my first visit to Speakeasy Brewery, this past Friday, August 13, 2010.
An eclectic mix of white folks gathered in the unanimously black Bayview. That was the first thought that came mind when I walked in. Punks, hipsters, businessmen, toddlers, and the elderly; grouped accordingly, beers in hand. I came alone, and spent the first thirty minutes wandering around and taking in the scenery.
This is not your typical taproom. In fact, it's not a taproom. It's a warehouse filled with fermentation vessels, kegs, and other brewing paraphernalia; a brewery, no doubt. A small, open space sits in the middle of it all, and this is where the people gathered. At one end of the space is the bar; at the other end, an open garage door leading to the back "patio"; in between, scattered chairs and a stand selling Mexican food. Hand-made Speakeasy signs hung from the rafters. Bicycles rested along the walls. It felt odd, but also comfortable, and certainly relaxed. I soon made friends with a couple of people outside, and spent the majority of the evening chatting with them.
The beer was surprisingly good, and damn cheap! A mere $3.00 for a pint of whatever you want, which (when I went) included their standard lineup plus Ritual Roasters Payback Porter, Midnight Run IBA, and Bourbon Barrel-Aged Hunter's Point Porter (unadvertised). I stuck to those three, finishing the night with a couple pints of the bourbon Hunter's Point, or as the inner circle was calling it "the beer that shall not be named."
There were a couple other peculiarities that deserve mention, all of which made for a richer, more entertaining experience. First, several members of the brewing staff were in attendance. They wandered about and spoke candidly with many of the patrons. When I asked the bartender a difficult question about one of the beers, he said "Why don't we ask the guy that brewed it?", and called him over. Second, all purchases (beer included) are made at a window in the front of the warehouse. There you can buy Speakeasy merchandise and beer tokens. Third, seating wasn't abundant, so several people improvised seats out of buckets, boxes, bags of rolled oats, etc.
I had a blast here, and I'll definitely be back next Friday (hopefully with friends). Keep in mind that this is not the place for beer snobbery. If you're looking for a fun, interesting, and very different experience, Speakeasy Brewery is a must!
Things to know before you go:
- The brewery is only open from 4:00-9:00pm on Fridays, with the exception of special events.
- A free tour starts around 4:30pm, and it's the only tour they give each week.
- Speakeasy fills growlers, but doesn't sell them. Bring an unmarked growler with you if you'd like to take beer home. Growler fills cost $12 (same price as four pints).
- There's a parking lot in front with an abundance of spaces.
Aug 15, 2010
Speakeasy Ales & Lagers in San Francisco, CA
Brewery rating:
3.79
out of
5
with
5781
ratings