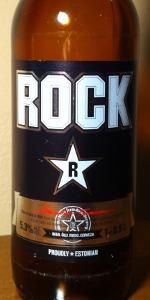 BEER INFO
Brewed by:
Saku Brewery LTD
Estonia
saku.ee
Style:
Light Lager
Alcohol by volume (ABV):
5.30%
Availability:
Year-round
Notes / Commercial Description:
No notes at this time.
Added by Parrotbeak on 08-11-2010
Reviews: 6 | Ratings: 18
2.93
/5
rDev
+1.4%
look: 3.5 | smell: 3 | taste: 2.75 | feel: 3 | overall: 3
A: Pours a crystal clear medium yellow in color with light amounts of active visible carbonation streaming from the bottom of the glass and some faint golden yellow highlights. The beer has a finger tall fizzy off-white head that reduces to a mottled surface of thin film with a medium thick ring at the edges of the glass. Moderate amounts of lacing are observed.
S: Moderate to strong aromas of sweet bready malts with light amounts of grainy and light fruit (apple juice/cider) sweetness. There is a light amount of yeastiness that I would expect from a Märzen or other Bavarian beer.
T: Taste is very similar to the smell with upfront a moderate to strong flavor of bready and grainy malts with a light fruit (apple juice) sweetness. There is a light amount of yeast flavor that I associate with Bavarian beers and almost no perceptible presence of hops. Minimal amounts of bitterness in the finish which fades quickly.
M: Medium bodied with moderate amounts of carbonation.
O: More robust than I was expecting a for a Light Lager but very much tastes like I expect a beer from Eastern Europe to... It is not bad but not one I would be in a hurry to grab again.
★
1,171 characters

1.92
/5
rDev
-33.6%
look: 3.5 | smell: 1.5 | taste: 1.5 | feel: 3.5 | overall: 2
They were having a big sale today at Sam's Blue Light in Durham. Of course, this one was already cheap but I still spent way more than normal but it was worth it. We'll see if this is the same. Pours a cloudy pale golden with tons of visible carbonation and very little head.
Nose is offensively sweet, burned, and astringent, almost cartoonishly so. I guess I should be glad it's there at all for a light lager but this smells like a mad scientist was performing experiments on a Steel Reserve and Krispy Kreme Doughnuts.
Taste is not good but somewhat muted, which is a godsend. Dry in the finish but a sawdust laced sewer in the mouth. Finish relatively clean. An experiment gone mad for sure. The texture, stiff and thick, saves this from a drain pour but not by much. Wow. Just, wow. Comically awful, but somehow, not nearly as bad as it could have been. Note to the brewers: taste matters, no joking around.
★
917 characters

2.99
/5
rDev
+3.5%
look: 4 | smell: 2.5 | taste: 3 | feel: 3.5 | overall: 3
A light lager at 5.3% hmm ok.Iam out grillin today so I thought a lighter lager would be a good thing to drink before I opened the "good" stuff.Poured into a pilsner a somewhat hazed lemony yellow with a nicely formed bone white head atop,not a bad pour at all.Light grainy notes in the nose and thats about all,maybe a slight mineral note as well.Somewhat clean on the palate with mild graininess,a decent sturdy mouthfeel to it though.It is what it is but I would say it's a bit bold for a light lager,I would drink it over alot of American macro non-light lagers.
★
566 characters

3.42
/5
rDev
+18.3%
look: 3 | smell: 3.5 | taste: 3.5 | feel: 3 | overall: 3.5
Poured from a bottle into a Pilsener glass.
Look - light straw color, clear, with about 2 fingers of off-white colored foam that dissipates somewhat slowly.
Smell - light-smelling pilsener type of smell, maybe a bit hoppy. Very "Bavarian" smelling.
Taste and Mouthfeel - interesting smoky type of German pilsener taste. Interesting malt/hop blend. Texture is pretty light and watery, but quite refreshing.
Overall - not a terribly complex brew, but still interesting taste. Not bad in general.
★
497 characters

3.3
/5
rDev
+14.2%
look: 3.5 | smell: 3.5 | taste: 3 | feel: 3.5 | overall: 3.5
Poured from 500mL bottle into a Pilsner glass. The bottle indicates this is a light lager, although 5.3% is a bit high for a light beer in my book.
Appearance: rich yellow color, though not quite golden; body is clear with tons and tons of apparent effervescence. Head is three fingers of creamy white foam. Personally, I think it looks rather good for a light lager.
Smell: light malty aroma which is rather sweet. Not a lot of hops here, but there's nothing sour or grainy or otherwise unpleasant here; I'm quite happily surprised.
Taste: not bad, but not particularly inspiring. Sweet malt with a small dose of hops, probably of a noble variety. Totally acceptable but not very interesting.
Mouthfeel: light body but a good level of carbonation which yields a nice cream. I like it.
Drinkability: a pretty middle-of-the-road beer that's got a lot going for it, especially for the style. Like I said, I don't know if I'd personally call this a "light lager", but that's what the brewer seems to be claiming. I'd definitely quaff this again, especially on a hot day.
★
1,072 characters
2.73
/5
rDev
-5.5%
look: 3.5 | smell: 3 | taste: 2.5 | feel: 2 | overall: 3
Yellow, with a thin, bubbly white head that remains. Good lacing.
Smell is lightly spiced, bready malts with some faint, grassy hops. Euro yeast, with some notes of ginger, cinnamon, and light fruits.
Taste is again lightly spiced, bready malts, but a little less hops than on the nose, making the hops presence very subtle. Some more euro yeast, with a very faint touch of cinnamon and ginger.
Mouthfeel is fairly flat and watery. Low level of carbonation, and a wet finish.
Drinkability is okay. Slightly less than mediocre beer, with not enough attractive features to entice one to drink more.
★
600 characters
Rock from Saku Brewery LTD
2.89
out of
5
based on
18
ratings.