Fat Weasel Pale Ale
| Steinhaus Brewing Co.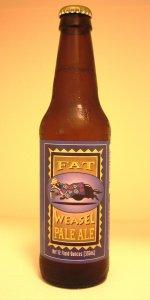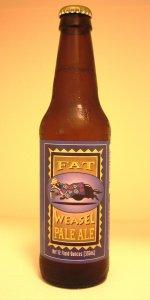 BEER INFO
Brewed by:
Steinhaus Brewing Co.
California
,
United States
Style:
American Pale Ale (APA)
Alcohol by volume (ABV):
not listed
Availability:
Year-round
Notes / Commercial Description:
No notes at this time.
Added by HalfFull on 01-02-2009
HISTOGRAM
Ratings: 13 | Reviews: 7
Reviews by HalfFull:

3.38
/5
rDev
+19.4%
look: 3.5 | smell: 3 | taste: 3.5 | feel: 3.5 | overall: 3.5
A single from Trader Joe's, labeled with 'River Trent Brewing Co.' from Ukiah. Knowing their association with Mendocino Brewing I assumed the apparent and put here. Sports the same cartoon figure used on the Fat Weasel Ale from Firestone Walker as Steinhaus Brewing.
Pours a clear golden into a pint glass from a 12 oz bottle. Half inch head hangs around for a few minutes and settles to an easily regenerated surface film.
Smell is light of a bit of hops and malts, touch of citrus. Not really much going on. Hops do open up as the beer warms a bit however.
Taste is pleasant, with a slight bitterness on the finish. Carbonation matches the beer well and yields a decent feel. Slightly sweet on the close in a simple way, but not enough to be a negative. Definitely prefer over the other Fat Weasel. Will try again.
825 characters
More User Reviews:

3.05
/5
rDev
+7.8%
look: 3 | smell: 3 | taste: 3 | feel: 3.5 | overall: 3
A - Yellow-gold, slightly cloudy, with barely one finger fairly rocky white head which settles to a skim layer and decent cling ability.
S - Very subtle with just the faintest hints of citric hops, malt, and dry grass.
T - Not bad really, but nothing special... pretty decent grain and malt flavors and very lightly hopped just barely adding some nuance. Finishes with just a touch of earthiness... a bit of that dry grass coming through. There is just a slight metallic twinge underneath coming through which isn't so great.
M - Farily smooth and medium bodied with pleasant carbonation.
D - An OK drink, especially considering the price, but certainly nothing special going on here. A pretty good budget choice.
719 characters
3
/5
rDev
+6%
look: 3 | smell: 3 | taste: 3 | feel: 3 | overall: 3
Flashback #21
13 characters

2.62
/5
rDev
-7.4%
look: 4 | smell: 2 | taste: 2.5 | feel: 3 | overall: 3
12oz bottle into DFH shaped pint glass.
A: Pours a dark golden yellow with a couple fingers worth of fairly oily looking bright white head that took its time fading into a thin film that left a pretty good layer of sticky lace down the glass.
S: Light notes of bready malt and grassy hops. Not very much hop at all though. Fairly sweet smelling for some reason.
T: Crackery toasted grain taste, hardly any hops, with a strange fruity sweetness to the finish followed by a faintly bitter aftertaste. Slightly orange.
M: Medium body that tapers a bit in the finish. Carbonation is low and unimpressive. Mouthfeel is slick but not bad.
D: Pretty run-of-the-mill average APA. Worth it for the price if you need a cheap 6-pack that isn't a lager. Could use some hop flavor though.
779 characters

2.58
/5
rDev
-8.8%
look: 2.75 | smell: 2.75 | taste: 2.5 | feel: 2.5 | overall: 2.5
3.38
/5
rDev
+19.4%
look: 3.5 | smell: 3 | taste: 3.5 | feel: 3.5 | overall: 3.5
Single 12 ounce bottle bought at Trader Joe's. The label claims that this was brewed by River Trent Brewing in Ukiah, but a quick search shows that this is a contract brew. On to the beer:
Darker that straw color is the beer, along with some teeny bubbles runnning through, a little haze, and a somewhat creamy head that's a ½ inch thick and sticks. The smell is okay; a little diacetyl stays beneath soft waves of citrus. Some grassy character there as well, though at tiems giving it an overall astringent character.
Mildly appetizing for the most part. It starts off with a little caramel and dough. Then, it is off to a kiss of lemon. A little bit bitter from the hop. Overall, the taste is on the mark. Mouthfeel is light with a little creaminess and lighter carbonation.
You never know what you're going to get with beers from unheard breweries. After 12 ounces with The Fat Weasel, maybe I shouldn't be as shy, especially given the low single price at Trader Joe's.
978 characters
2.31
/5
rDev
-18.4%
look: 3.5 | smell: 2.5 | taste: 2 | feel: 3 | overall: 2
Appearance> Hazy, yellow. decent head, which dissipates quickly and leaves only the faintest hint of lacing.
Smell> Not strong.... notes of burnt sugar sweetness, with a hint of metal.
Taste> Honestly, I was very unimpressed. A friend who loves pales, and was with me, actually used the words "nasty gross." It was like someone gave me a decent pale, but as a trick had dropped a large piece of metal into the pitcher and let it marinate.
Mouf> okay, good even.
Drinkability> thanks, but no thanks.
518 characters
3
/5
rDev
+6%
look: 3 | smell: 3 | taste: 3 | feel: 3 | overall: 3
Another birthday sixer, the only cool things about birthdays at my age.
Pours a light copper orange with a rather pathetic head.
I smell a really faint tobacco leaf and mandarin orange mixture. Marginal to say the least.
I taste said smells with an oh-so-slight sourness. So there is some taste, which is better than no taste, but I'm not a fan of this taste. Marginal again. Hops are way too tiny for a pale ale. Can I get a little bite here?
Fairly smooth. Fairly drinkable. So this isn't bad, but I just don't get into average beer anymore.
Overall: meh
563 characters

3.48
/5
rDev
+23%
look: 4 | smell: 3.5 | taste: 3.5 | feel: 3 | overall: 3.5
Deep gold, big off-white head steadily shrinks to foamy thin top, some nice lace – it looks good.
Aroma is apple, grain, faint yeastiness, hints of leafy hops and metal, mostly like a good, basic pale lager.
Taste is lightly sweet apple, grain, faintly lemony-spicy grassy hop bitterness primarily just at finish. It has a nice, lively feel and though light, basic, and simple, it has a good light, easy-drinking character that holds up well and has just enough firm well-roundedness to keep it going.
505 characters
Fat Weasel Pale Ale from Steinhaus Brewing Co.
Beer rating:
2.83
out of
5
with
13
ratings