Krombacher Alkoholfrie
| Krombacher Brauerei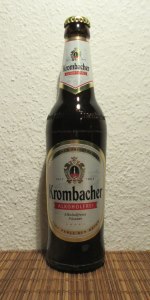 BEER INFO
Brewed by:
Krombacher Brauerei
Germany
krombacher.de
Style:
Low Alcohol Beer
Alcohol by volume (ABV):
0.50%
Availability:
Year-round
Notes / Commercial Description:
No notes at this time.
Added by Jason on 03-01-2005
Reviews: 8 | Ratings: 18

3.97
/5
rDev
+10.9%
look: 4.5 | smell: 3.75 | taste: 4 | feel: 4 | overall: 4
330ml bottle poured into pint glass 6/4/15
A clear light golden yellow with about as many bubbles as you could fit in a glass, three fingers of foam not only has excellent retention it actually grows for a sip or two, still foam at the bottom and partial rings deep down the glass, looks great
S sweet grains, spicy, grassy hops are fairly strong, a little hay and cracker, smells like a decent German Pil
T mimics the smell but with more noble hops, it actually tastes like a version of the style I could get drunk on but without the goods, not too shabby
M light bodied but not watery, refreshing, fluffs up from the bubbles, a little crisp and fairly clean with just a hint of noble hops lingering
O I think this might be the best alcohol free I've had, tastes like a real beer but with none of the fun
I won't lie, I know I'm an alcoholic and I've struggled the last few weeks with this prescription induced sobriety and can't wait to crack a real beer. I've also come to realize I'm completely addicted to BA as well and I don't think there's a 12 step program for tickers..... yet.
1,109 characters
3.75
/5
rDev
+4.7%
Won't do a formal review (sight/smell/taste) because this is something you knock back rather than savouring anyway (hot day but can't drink, tackling a stack of student essays and can't drink, etc.,)--but Krombacher's NA offering is a shockingly competent beer.
Which doesn't sound like high praise, but is about as high praise as I've ever given a non-alcoholic beer. Tastes like a fairly generic German pils--effervescent, lightly hoppy,malty, bready, crisp, clean. Which, again, is damning with faint praise, but is pretty impressive for an NA beer.
The only catch: I'm not a huge fan of German pils as a style. But beggars can't be choosers.
648 characters

2.63
/5
rDev
-26.5%
look: 3.5 | smell: 3 | taste: 2.5 | feel: 2 | overall: 2.5
330ml bottle. Pilsner glass. Gold color, crystal clear appearance. White froth, slowly dissipated crown & lacing on sides. Sugar, malt & hay aromas. Ripe peach juice at first sip. Medium body. Moderate carbonation. Flavor profile displays artificial flavoured notes, cloying sweetness & very low bitterness. Fruity aftertaste.
326 characters
4
/5
rDev
+11.7%
look: 4 | smell: 4 | taste: 4 | feel: 4 | overall: 4
330ml bottle, (Non-Alcoholic Pils) a single from the local Italian/any other European culture deli. Why are German NA offerings so much more appealing looking than their domestic counterparts?
This beer pours a crystal clear, medium golden hue, with two fingers of puffy marshmallow white head, which leaves a decently thorough, yet awkwardly proportioned pattern of webbed lace around the glass as it duly recedes.
It smells of sweet bready, crackery cereal malt, a soft apple fruitiness, and sedate earthy, floral, leafy hops. The taste is rather impressively big cereal grain malt (Kelloggs would be instantly jealous), a restrained muddled orchard fruit character, and decent noble, old-World hops.
The carbonation plays out as average, and supportive in the same manner, the body a surprisingly decent medium weight, and agreeably smooth. It finishes a tad sweet, though that slowly tapers off as things move along, as the tame noble hops weasel their way into any and all.
If you told me this was a straight-ahead German lager, I would not have blinked - it sure as hell is, no qualms, no questions. Its NA status makes it all the more impressive, especially in consideration of its competitors' inadequacies.
1,219 characters

4.29
/5
rDev
+19.8%
look: 3 | smell: 4 | taste: 4.5 | feel: 4.5 | overall: 4.5
Just a quick one, here - came across this and fear that I may never see it again. Served in a can that reads "Krombacher Non-Alcoholic Pils" -- similar to the label shown above, but could be a different variation.
A -- Can't find anything to pour this into, but am willing to guess it sports the straw yellow tint typical of the style.
S -- Suprisingly neutral for the style. A little bit of grain, but a nice floral hoppiness as well.
T -- A little bit of malty sweetness, but is nicely balanced with a satisfying hopiness.
M -- Nicely balanced. Not too thick, not to thin.
O -- This is hands down the best NA I recall ever having. Even as it starts to warm, it tastes magnificent. Nice hop taste without the syrupy sweetness typical of the style. Balanced and highly drinkable -- no small feat for an NA. If you can find this, give it a shot.
849 characters
3.06
/5
rDev
-14.5%
look: 4 | smell: 3 | taste: 3 | feel: 3 | overall: 3
330ml bottle poured into a pint glass by freshness date.
A:
Transparent bright gold in color, the pour produces thick foamy everlasting white head with good retention and leaves plenty of lacing patches, rather high active carbonation.
S:
The smell is malt sweetness, bread, dry grain and slight floral hop note.
T:
Malty sweet cuts by the edge of grain in making its dryness, acidic flash in the middle leading to slight bitter end by hop.
M:
Light to medium-bodied, smooth, medium carbonated, finish is rather dry.
O:
With alcohol less than 0.5%, this is not bad with more depths than typical NA beer.
608 characters
3.66
/5
rDev
+2.2%
look: 4 | smell: 3 | taste: 4 | feel: 3 | overall: 4
I just bought this beer, so I'm skeptical that it's retired. In any case, I wanted to try some non-alcoholic beers to perhaps watch my waistline a bit.
It pours a light golden lager colour with a nice foamy head that leaves some nice lacing and settles down to a healthy centimeter or so over the beer.
The aroma has a very distinctive cereal grain smell. There are some faint hops going on too, but mostly the grain.
The flavour is slightly sweet and the grain flavour dominates, though it is smooth and not off in any way. It has a soft butteriness that blends with some grassy hops towards the end.
Overall, this is the best low alcohol beer I've encountered. It would pass as a half-decent normal lager.
711 characters
3.98
/5
rDev
+11.2%
look: 4 | smell: 3.5 | taste: 4 | feel: 4 | overall: 4.5
Poured a huge creamy off-white head leaves a nice looking coat of lace. A cloud of carbonation erupts from the bottom of the transparent golden beer. Faint aroma of Pilsner malt sweetness and pungent herbal hops. The malt sweetness carries over into the flavor and is joined by some floral flavors from the hops. There is just a hint of artificial sweetness from the malt, but the flavor is heads of above most NA's. The bitterness kicks up towards the end and eclipses the other flavors in the finish. The body is solid; somewhere between a Pils and a Helles. The faint off flavor is barely noticeable and nothing to complain about. If you're looking for a non-alcoholic beer I would highly recommend this one.
711 characters
Krombacher Alkoholfrie from Krombacher Brauerei
3.58
out of
5
based on
18
ratings.