Porter
| Orchard Street Brewery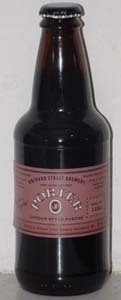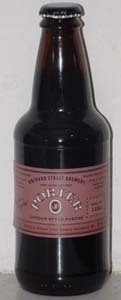 BEER INFO
Brewed by:
Orchard Street Brewery
Washington
,
United States
Style:
American Porter
Alcohol by volume (ABV):
not listed
Availability:
Year-round
Notes / Commercial Description:
None provided.
This beer is retired; no longer brewed.
HISTOGRAM
Ratings: 14 | Reviews: 12
Reviews by mattmaples:
3.66
/5
rDev
+1.9%
look: 4 | smell: 3 | taste: 4 | feel: 3 | overall: 4
Nice well stated burnt malt character. Smooth body, bit thin on the head. Definate licorice flavor to it.
105 characters
More User Reviews:
3.58
/5
rDev
-0.3%
look: 4 | smell: 3.5 | taste: 3.5 | feel: 3 | overall: 4
Appearance – Very dark, almost black, with a strange-looking peach-colored head. It foamed up nicely and showed good retention, it just seemed a little weird.
Smell – Dark coffee bean and roasted malts lead the way here. These are followed by a sweet, hopping kind of scent that seems to be splashed with a bit of lime juice.
Taste – This one if very dark and roasty. I'd give it a solid "4" if it wasn't for that off-style fruity sourness. Some fruit at the end of a good porter is OK, but this is more like a squeeze of lemon and a sprinkle of sugar.
Mouthfeel – This was borderline medium in the body, which was a little thin for my tastes. I did like the bitter coffee feeling in the cheeks, though.
Drinkability – Very drinkable and a bargain at a buck or so a bottle.
794 characters
4.2
/5
rDev
+17%
look: 4 | smell: 4 | taste: 4 | feel: 5 | overall: 4.5
12 oz. brown stubby bottle with no freshness date
Appearance: The head has that frothed latè look, perhaps the darkest brown I have ever seen … almost mistook it for black.
Smell: Roasted twang, suggestions of vanilla and a malt sweetness that does not want to quit … very aromatic.
Taste & Mouthfeel: Smoothness is sublime as it rolls off the tongue, thick medium body. Richly roasted malts layer themselves to throw chocolate, coffee and charred flavour at the taste buds. Hops are at a minimum, they are perceived but not showy at all. Hints of vanilla, woody yeast and malt sweetness are throughout the brew. Finishes with a soft twang of roasted grain.
Notes: By far one of the better and more drinkable porters I have run into in a long time. Went spectacular with a porter infused English cheddar I noshed on.
841 characters

3.55
/5
rDev
-1.1%
look: 4 | smell: 4 | taste: 3.5 | feel: 2.5 | overall: 3.5
Completely opaque and near black pour. Head is medium-bubbled but is reduced to a skim in 45 seconds. Slight sheet lacing. The smell is nicely balanced, malted milk, slight pear, with just a hint of hops. Approached a Stout in roasted malt quality, dark and coffeee-like flavors supply the most bittering. Some oiliness. What's missing is an appropriate body to match the burnt flavors. Starts light and quickly flees to very thin in mouthfeel. Decent taste but a beer trapped in a netherworld of Dry Stout characters and texture more watery than a Sweet Porter.
Source: Liquid Solutions
590 characters
4
/5
rDev
+11.4%
look: 4 | smell: 4 | taste: 4 | feel: 4 | overall: 4
The beer pours a deep brown to black color, flimsy head, decent lace, both a nice beige color. Nose is malt, toasted grains, with slight caramel undertones. The start is malt, the top is middling, the finish has a portly hop spicy bite, adequately carbonated, malt dry aftertaste. A quite good porter, that is definitely worth a try as it is an "Above Average Porter in my humble opinion.
388 characters
2.97
/5
rDev
-17.3%
look: 2.5 | smell: 3 | taste: 3 | feel: 3 | overall: 3
Sweet aroma. Dark deep black cherry color. Not much retention or head for that matter. Extreame tart flavor with lots of bitterness. It will make ya pucker... Not enough on the malt side for my mouth. Medium body. The brew rounds out better as it warms so don't drink it cold!
Cheers to mattmaples for the sample.
323 characters

3.16
/5
rDev
-12%
look: 4 | smell: 3 | taste: 3 | feel: 3 | overall: 3.5
Slight red hue around the edges when held up to light-- not quite opaque. Nice tan head. Slightly smoky aroma, with just a hint of chocolate malt and coffee. Fairly thin body, but with a well balanced roasted malt and hop character. Finishes fairly dry. I would consider this a good brown porter-- it's definitely not robust.
330 characters

3.17
/5
rDev
-11.7%
look: 3 | smell: 3.5 | taste: 3 | feel: 3.5 | overall: 3
Good mix of hops and malt, it seemed as it warmed to room temperature that it got slightly sweeter. Not much of a head.
120 characters
2.28
/5
rDev
-36.5%
look: 3 | smell: 2.5 | taste: 2 | feel: 2 | overall: 2.5
This beer poured with a good head with a little bit of dimpling and a dark color with a minor, minor hint of red. Roastiness was evident in the aroma. No hops were present anywhere (aroma, taste, etc...) Only the slightest roasty maltiness and slight alder-smokiness was evident in the flavor. The body was just too damn thin, and the whole thing was slightly sour (lacto-bacillus infection?) This beer comes on strong but leaves like water. It is ultimately uniteresting, flawed, and out-of character. It is incapable of sustaining interest. Unless someone can convince me that I was the victim of a bad batch, I will not buy it again...
638 characters
3.68
/5
rDev
+2.5%
look: 4 | smell: 3.5 | taste: 3.5 | feel: 4 | overall: 4
Dark brown color, large head. Aroma is malty, chocolatly and sweet. A medium bodied porter. Roasted malts, very smooth, sweet malt flavor. Very nice chocolate taste. Mouthfeel is full and smooth. Finish is clean and smooth. Smooth taste. Finish is slightly bitter.
264 characters

4.65
/5
rDev
+29.5%
look: 4.5 | smell: 4.5 | taste: 4.5 | feel: 5 | overall: 5
Nothing less than superb. Very gentle smoke and prune aromas. Midnight black, with a lacey head. Astoundingly silky on the palate. The body is so ideal, this brew will define what might be perfected balance, this day forward. Soothing graceful texture. Flavor, potent enough to grab your attention, mature enough to not over display it. This brew teems of class and sophistication rarely seen.
400 characters

4.35
/5
rDev
+21.2%
look: 4 | smell: 4 | taste: 4.5 | feel: 4.5 | overall: 4.5
Scott left a bottle of this in my fridge, and knowing he had another 5 at home, I "borrowed" it.
Same elegant and simple OSB labels on a 12oz bottle. Pours a nice flat black color with a oddly brownish-orange head. Nice ripples in the foam make for an attractive pint.
The aroma is great! The slightly acrid aroma of the malt and the nice fruitiness of the yeast create a very authentic porter experience. The first sip confirms the authenticity of the experience. The dry bitterness of the heavily peated malt is wonderful, and the slight, though hackneyed description of nuttiness is accurate. The fullness and sweetness of the beer is perfect for the style, and makes it very drinkable, even after a day of yard work.
727 characters
4.32
/5
rDev
+20.3%
look: 4 | smell: 4.5 | taste: 4.5 | feel: 4 | overall: 4
Bottle picked up at Huckleberry's in Spokane for somewhere between $0.99 - $1.19 (lost the receipt).
Poured a very dark brown with an enormous fluffy tan head. I had to break up my pour into three segments. Very nice lacing left on the sides of my glass.
Smell was the nicest smell I've encountered all day. Very nice roasted maltiness with coffee and chocolate overtones. Some molasses lingering in the background.
Taste is very rich and chocolatey, with some rich coffee hovering in the background. Very tasty. The balance between the chocolate and coffer aspects is perfect, with the sweetness and bitterness wrapped in a slight smokiness.
This is probably the most flavorful non-Baltic porter I've had in quite a while. I'm very curious as to what the abv is for this beer. For this porter freak, I'm sure I could drink this all day. Yet another reason to hang around Bellingham.
899 characters
2.67
/5
rDev
-25.6%
look: 2.5 | smell: 3 | taste: 2.5 | feel: 3 | overall: 2.5
Peculiar, bitter-cherry flavor. There are cola notes, but aside from its opacity, there is little here that resembles a porter. For that matter, there's also not much here that resembles beer. I respect the boldness Orchard Street has shown in their experimentation. If an innovative brewer thinks he can redefine a traditional concept by taking a recipe beyond its customary boundaries, I say, "fine". More power to him.
But when an experiment fails, one should not put it in a bottle and ask one's neighbors to drink it. One must have the sense to recognize a failure, give it a proper burial, and move on. If a chemistry or physics experiment fails, you must go back to the proverbial drawing board. But if you fail at beer, pour it down the drain, not down my f-word throat.
A note to the brewer: In the early stages of your experimentation with this "London Style Porter" you must surely have poured a few pints from your early batches to those in your inner circle. Your real friends in this instance, were the ones who told you, "This sucks."
1,067 characters
Porter from Orchard Street Brewery
Beer rating:
3.59
out of
5
with
14
ratings