Stary Melnik
| Anadolu Efes Brewery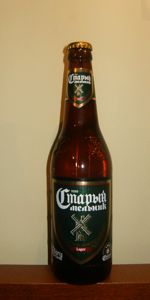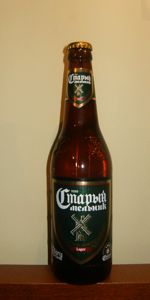 BEER INFO
Brewed by:
Anadolu Efes Brewery
Turkey
efespilsen.com.tr
Style:
American Adjunct Lager
Alcohol by volume (ABV):
4.60%
Availability:
Year-round
Notes / Commercial Description:
No notes at this time.
Added by BeerAdvocate on 07-22-2002
This beer is retired; no longer brewed.
HISTOGRAM
Ratings: 13 | Reviews: 12
Reviews by GCBrewingCo:

3.43
/5
rDev
+29.9%
look: 4 | smell: 3.5 | taste: 3.5 | feel: 3.5 | overall: 3
The beer poured crystal clear pale straw with a huge rocky white head which lasted and then laced the glass. Aroma upon first pouring was Saaz hops. After the head died back it was saaz hops and crisp malt. Flavor is light and malty with good hop bitterness to balance. Finish is crisp and sweet quickly changing to dry. Body is light.
Beer came in a 16.9 ounce bottle (almost read as if it was a 25 ounce bottle, they kinda did a bad job on the .). Bottle had a best before date of 7/5/2004. I guess they give it a year before they worry...
544 characters
More User Reviews:
3.03
/5
rDev
+14.8%
look: 3.5 | smell: 3 | taste: 3 | feel: 3 | overall: 3
Clear, deep gold body topped by a 3/4" thick and densely creamy bright white head that holds OK. The aroma is of softly floral, earthy and lightly spicy hops above a dryish maltiness. The body is light/medium with a very fine and gentle carbonation that's lightly crisp in the mouth. The flavor is a lightly sweet, earthy & grainy malt that's more than adequately balanced by hop bitterness. It finishes short and dry with some bitterness and spicy hops.
454 characters

2.63
/5
rDev
-0.4%
look: 3 | smell: 2.5 | taste: 2.5 | feel: 2.5 | overall: 3
Stary Melnik: From Moscow, Russia. In a traditional half liter bottle. Not a very good example of a Czech style pils. Very light bodied, light color, and light tasting. Has a small hint of skunk that is the most notable part of the beer. Easy to drink, but why bother.
274 characters

2.75
/5
rDev
+4.2%
look: 3 | smell: 3 | taste: 2.5 | feel: 2.5 | overall: 3
This Pilsener poured a white creamy with small-medium bubbles. The body was pale yellow in hue. There was a lot of carbonation observed with this brew. It had a fruity aroma in my opinion. There was bitterness noticed and there also was an aftertaste that lingered. I was not too impressed with this brew and it lacked character.
329 characters

1.64
/5
rDev
-37.9%
look: 1.5 | smell: 2.5 | taste: 1.5 | feel: 1.5 | overall: 1
My 500ml brown bottle of this stuff was brewed in Moscow, Russia. The windmill logo on the front made me mistake it for a Dutch beer at first. This is one of the palest lagers I've ever seen in my life, a combination of straw and water. Watered down, that is the impression it gives me. But it is crystal clear, and has a decent head, of which forms a small dime thin cap halfway down. Aroma is close to that of a pilsner, a watered down pilsner. Sweet metallic biscuity malt, mild trace of chemicals. The flavour is, well, this is no place for politeness, this tastes pretty awful. Harsh grainy taste, metallic aftertaste, it's making me crave even a Silver Bullet right now (shoot it and put it out of its misery). Mouthfeel is caustic and industrial, has a chemical texture. Don't think I'll be able to finish this one. Would water the plants with it, but I don't want to contaminate them.
892 characters

2.94
/5
rDev
+11.4%
look: 2 | smell: 3 | taste: 3 | feel: 3 | overall: 3
Pours a clear yellow brew.
Smell is grain, hay and a bit of perfume.
Taste is mostly grain with a bit of malt, fairly sweet. Finishes kind of dry with a mild hop bite in the end.
Mouthfeel is average.
A decent lager that is a bit on the weak side, but an OK beer.
The bottle I had says it was brewed in Moscow Russia, not Turkey.
344 characters

3.73
/5
rDev
+41.3%
look: 4 | smell: 3.5 | taste: 4 | feel: 3.5 | overall: 3.5
The cellar continues to empty out, one bottle at a time. I will be relieved when the last bottle comes out of there and I CAN return to the business at hand.
Once more, a gentle pour resulted in mere wisps for head. Color was a light amber with NE-quality clarity. BUPGOO! Nose smelled strongly of honey, which was a hopeful sign. Mouthfeel was medium and it had a pronounced honey taste on the tongue. Finish was semi-sweet with the honey flavor continuing to linger well after the swallow. Not bad, especially on this humid night in late July.
546 characters
2.17
/5
rDev
-17.8%
look: 4 | smell: 2 | taste: 2 | feel: 2.5 | overall: 2
16.9 oz brown bottle. Interesting design. Clear best before date.
Beer pours a clear gold. Nice head, very active carbonation. Good lacing for a lager This is an attractive beer!
Beer smell slightly skunky, some definite malt and an off, almost dirt smell (?).
Taste is disappointing given the good looks of this beer. Unfortunately, it tastes like it smells. Some malty sweetness, but that strange taste sneaks in. I let my wife try it and she said it tasted almost old & weak. It was still in the freshness "zone" of the best by date. The good carbonation could not overcome the off-taste. It may be a bad bottle, but I'm not really willing to try it again.
668 characters
2.45
/5
rDev
-7.2%
look: 2 | smell: 2 | taste: 2.5 | feel: 2.5 | overall: 3
This is the first Russian beer I have tried and I wasn't expecting much. The colour is a pale yellow like a faded hilighter with little head that leaves no trace of its existance on the side of the glass.
I detected a skunky, wheaty aroma that is not real pleasing.
Taste is just of a watered down beer flavour.
Not good.
330 characters

2.83
/5
rDev
+7.2%
look: 3 | smell: 2.5 | taste: 3 | feel: 2.5 | overall: 3
It's okay, I guess. Nothing disappointing, to say the least. More of a light beer than a standard pale lager. Faded yellow colour, with a 1/2 finger head that slowly disipated. Perhaps about 97/100 of the way down, the head was gone. No lacing, but that's okay. Their isn't much head to get lace from. Big malt smell, with a skunky hop smell. Saaz hops? Certainly seems like it. Bit bittersweet tasting. It almost tastes like a salad with lettuce and arugula(sp). The sweet and bitter seem to battle it out on the tongue, with neither being the victor. Watery mouthfeel, confirming my belief this should be a light lager. It is drinkable, especially on a miserable day like today.
680 characters
2.69
/5
rDev
+1.9%
look: 1.5 | smell: 2.5 | taste: 3 | feel: 3 | overall: 2.5
This brew poured a medium head of fine to medium sized white bubbles and a transparent wheat yellow body with some carbonation evident. It has a hoppy bitter aroma that made me sneeze. Perhaps I was allergic to one of its components, but I drank it anyway and did not get sick so.... It had no bite of lingering aftertaste. It's flavor was very different, mild and slightly acidic, but not complex.
398 characters

2.23
/5
rDev
-15.5%
look: 3 | smell: 2.5 | taste: 2 | feel: 2.5 | overall: 2
Apple juice yellow with a ton of bubbles happening. Substantial rough white head that settles to about a quarter of an inch. Some messy, soapy-looking lace.
Basic malt smell. Thin and tasteless, some residual bitterness and slight dryness.
Sorry, no adventure here. Try something else. Not offensive, but an uninspired effort.
332 characters
Stary Melnik from Anadolu Efes Brewery
Beer rating:
2.64
out of
5
with
13
ratings