Dos Equis Invierno Winter Bock

Cervecería Cuauhtémoc Moctezuma, S.A. de C.V.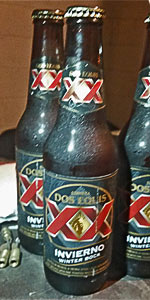 Write a Review
Beer Geek Stats:
| Print Shelf Talker
Style:

ABV:

5%

Score:

Avg:

3.31

| pDev:

12.08%

Reviews:

10

Ratings:

From:

Avail:

Rotating/Seasonal

Wants

Gots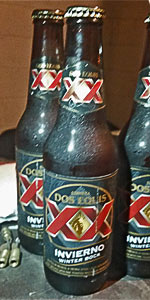 Notes:

YoungMtn52 from New York
3.67
/5
rDev
+10.9%
look: 3.75 | smell: 3.5 | taste: 3.75 | feel: 3.5 | overall: 3.75
Don't know why I'm drinking a Winter Bock on Labor Day Weekend...but I found this poor soldier in the corner of my beer fridge and said 'why not?'...I like this beer! Smooth but complex and not too heavy...has a bready smell and just the right amount of carbonation...was probably part of a combo pack that I bought last winter -- but has aged nicely in it's cold environs...
Sep 02, 2016

woodychandler from Pennsylvania
3.58
/5
rDev
+8.2%
look: 3.75 | smell: 3.75 | taste: 3.5 | feel: 3.5 | overall: 3.5
Just as he is pulling beers out of the box that I gave him just as he headed southward for the winter, I am continuing to drink through all of the bottles that my local, in-person trader, tone77, dropped off for me.
From the bottle: "Crafted in Mexico, a Vienna style Lager with robust body brewed with fine toasted malts and aroma hops."; "A Vienna style Lager crafted in Mexico especially for the season. Brewed with fine toasted malts and aroma hops supporting light toffee notes for a signature flavor."
After Pop!ping the cap, I utilized a gentle pour, followed by a vigorous swirl. This raised a finger of foamy, tawny head with good retention. Color was Deep Amber/Light Copper to Copper (SRM = > 13, < 17) with NE-quality clarity. Nose had a caramel sweetness along with a toasted breadiness underlain by a Noble hops grassiness. Mouthfeel was medium. Taste was more biscuity/bready than caramel, although it was present in the mouth. Finish was semi-sweet with a slight hops twang. I would have to agree with tone77 that this is probably the best Dos Equis beer that I have had. It is a shame that a) it is a seasonal and b) it does not come in a CAN.
Feb 11, 2016

Furlinator from California
3.49
/5
rDev
+5.4%
look: 3.75 | smell: 3.5 | taste: 3.5 | feel: 3.25 | overall: 3.5
Pours from the bottle cherry wood red with a thin khaki head that leaves curtains of lace. Smell is of caramel malt and earthy hops. Taste is caramel malt and crisp hops. Flavors are solid, just a bit watered down and bland.
Thank to Mike Martinez for this one.
Nov 19, 2015

Libeertarian from Montana
3.52
/5
rDev
+6.3%
look: 3.5 | smell: 3.25 | taste: 3.75 | feel: 3.25 | overall: 3.5
Clear, somewhat dull but dark copper with fine tan head of medium retention. Good lacing. Sweet, berry/fruity nose, but grain and honey as well. Flavor is surprisingly weak compared to smell, which I personally deem a benefit as the sweeter German dark lagers are not my favorites. More so caramel, a bit of grain, bread, honey, nuttiness. Less so the dark fruit the aromas led me to expect. Only faintly bitter hops a long ways into the finish. Sticky, syrupy, astringent quality to it. I like that bit. Goes well with flavor. Low to medium in body and carbonation at first, but quickly bordering on watery and flat. An unfortunate turn of events. Still, overall it was better than I was expecting, especially considering I let it get old.
Sep 15, 2015
tone77 from Pennsylvania
3.72
/5
rDev
+12.4%
look: 4 | smell: 3.75 | taste: 3.75 | feel: 3.25 | overall: 3.75
Poured from a brown 12 oz. bottle. Has a copper color with a 1/2 inch head. Smell is sweet, honey, malts. Taste is caramel malts, honey, a bit on the sweet side, very refreshing. Feels light in the mouth and overall is by far the best beer I have had from this brewery.
May 07, 2015
bwood06 from Wisconsin
3.03
/5
rDev
-8.5%
look: 3.75 | smell: 3.25 | taste: 2.75 | feel: 3.25 | overall: 3
12 oz bottle into a pint glass
A - Clear, very dark amber in color with a thick frothy khaki colored head that dissipates moderately quickly. Moderate carbonation. 3.75/5
S - Toffee sweetness (almost a molasses). Toasted white bread. Grassy hops. 3.25/5
T - Toffee and molasses sweetness that is quickly followed by toasted white bread. Somewhat buttery. Very heavy metallic finish. Not really getting any kind of hops. Metallic finish overrides all other flavors. 2.75/5
M - Drying metallic feel to the finish. Medium light body. Very clean and smooth feeling beer until the metallic flavor and drying sensation pick up on the back end. 3.25/5
O - The aroma is nice and inviting and the mouthfeel is where it should be for this beer type but the metallic finish to the flavor overrides everything else about the beer. Everything is fine up until that metallic note kicks in. 3/5
Mar 30, 2015
BrewAskew from Oklahoma
3.56
/5
rDev
+7.6%
look: 3.75 | smell: 3.25 | taste: 3.5 | feel: 4 | overall: 3.75
Pours to a creamy eggshell head that falls to a thin layer and makes light lacing. Color is clear dark amber. Aroma is slightly toasty caramel malt and bread. Flavor is toasted grains and sweet malt. Mouthfeel is thick and warm for the style which makes it mimic a bock even though technically it is a Vienna. Good call.
Mar 20, 2015
puboflyons from New Hampshire
2.81
/5
rDev
-15.1%
look: 3.25 | smell: 2.75 | taste: 2.75 | feel: 3 | overall: 2.75
From the 12 fl. oz. bottle stamped 08084. Sampled on February 20, 2015.
It doesn't look bad with its medium amber-reddish tone but I didn't get much in the way of head.
This aroma is way too sweet and reminds me more of melted caramel and peat moss. Not terribly inviting.
Medium, creamy body.
Like the aroma I get flavors of mushy caramel, peat moss, sweetness, and only the slightest of hop finishes. Although this style is not meant to be hoppy. Not high on my "to try again" list.
Feb 21, 2015
HoppyBastard from Nebraska
3.37
/5
rDev
+1.8%
look: 3 | smell: 3.5 | taste: 3.5 | feel: 3 | overall: 3.25
Poured from a 12 ounce bottler into a Shaker pint glass, there is no date on bottle that I could find.
APPEARANCE: pours a clear copper color with less than one-finger off-white head that quickly dissipated until only a ring of small bubbles remained around the glass, medium carbonation, almost no lacing.
SMELL: the smell is understated, sweet caramel and toasted bread.
TASTE: the taste follows the nose, initially sweet caramel and toasted bread, then a mild hop profile that was a bit metallic.
PALATE: medium carbonation and body, a little watery.
OVERALL: this is a good beer but there are better examples of this style so I would not seek this out again, price was reasonable at $12.99 a 12 pack.
Jan 26, 2015

Brokerbiker from Texas
3
/5
rDev
-9.4%
I agree with prior reviewer - Mexican breweries are not very good at seasonals but it is a good effort. As a Bock, I find it better than Shiner Bock as Dos Equis has more character with a slightly more toast character and hint of caramel.It is perhaps an extension of Noche Bueno which I would like to do a blind tasting. At 5.0% ABV it may be slightly stronger than the Noche Bueno the U.S. used to get versus heavier alcohol content in Mexico. Not bad for an effort from Mexico
Dec 01, 2014
Dos Equis Invierno Winter Bock from Cervecería Cuauhtémoc Moctezuma, S.A. de C.V.
Beer rating:
78
out of
100
with
41
ratings