Hahn White
| Hahn Brewing Co. Pty. Ltd.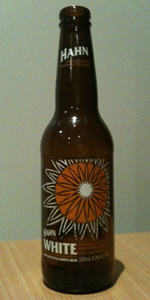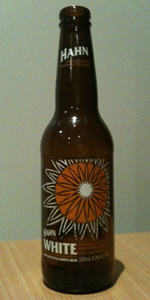 BEER INFO
Brewed by:
Hahn Brewing Co. Pty. Ltd.
Australia
lion-nathan.co.nz
Style:
Witbier
Alcohol by volume (ABV):
4.20%
Availability:
Limited (brewed once)
Notes / Commercial Description:
No notes at this time.
Added by lacqueredmouse on 02-05-2011
This beer is retired; no longer brewed.
HISTOGRAM
Ratings: 11 | Reviews: 11
Reviews by doktorhops:

2.6
/5
rDev
+2.8%
look: 3 | smell: 3 | taste: 2.5 | feel: 2 | overall: 2.5
Hahn White: serve with a slice of orange, like the Belgians... no thanks, I like to drink my beer without adulterants, after all it's not a cocktail.
Poured from a 330ml bottle into a 500ml Stein glass.
A: An excited white 4cm head that fizzles down to a light 0.5cm lacing. The body itself looks a similar shade/colour to the original Witbier "Hoegaarden", however the carbonation looks a bit busier and the cloudiness seems artificial (like it was added to the process rather than a natural occurring by-product of the wheat).
S: The wheat is first and foremost. Cardamon pods, cloves and a hint of Nutmeg, then classic Witbier aromas follow. It has a sharp odor to it (which maybe due to the ingredients added on a macro scale).
T: There are hints of cloves and a slight typical wheat "bubblegum" flavour upfront that let you know that this is a Belgian style Witbier, however the back end of the palate and the aftertaste is distinctly that of a typical Australian macro lager (why Hahn? Why?). It's like being given a glimpse of the Garden of Eden only to have a backdrop collapse revealing a fake sound stage... disappointing.
M: Also disappointing is the light body and fizzy over-carbonation that we've come to expect from all the macro Aussie brewers.
D: I'm overall disappointed, but I'm also encouraged that at least the big brewers in Australia are starting to change their ways from brewing just lagers that they advertise as bitters. It still goes down a helluva lot better than most macros (CUB, Toohey's, XXXX, etc...), so I give them credit for at least trying. If they could take the time to give it some love they might actually be on to something here.
Food match: BBQ meats, garden/Greek salads, Chorizo.
1,732 characters
More User Reviews:
2.53
/5
rDev 0%
look: 3 | smell: 2.5 | taste: 2.5 | feel: 2.5 | overall: 2.5
Schooner on a hot afternoon from the Hero of Waterloo pub in Sydney. Served in a branded wheat beer glass.
Pale golden, nearly clear, visible carbonation. Good frothy head, decent retention on that.
Almost imperceptible nose on this - mild citrus, a bit of wheat malt I suppose. Nothingm much there.
A pretty bland (albeit totally refreshing) attempt at this "macro white" style that's becoming more popular in recent years. There's a bit of citrus, perhaps a touch of wheat malt, but that's it. There isn't anything offensive about it, however, and I powered through it without too much trouble.
Watery, light carbonation.
Better than some of the macro lagers on tap that night, but there are certainly far better choices than this. Hahn's was a predictably boring, 'safe' white beer that really needs about five slices of lemon or orange to get it going. Bland.
868 characters
2.52
/5
rDev
-0.4%
look: 2 | smell: 2.5 | taste: 2.5 | feel: 2 | overall: 3
Pours pale gold with a large, quickly fading head.
Nose shows massive banana notes, as in artificial banana sweets, with orange peel and ginger underneath. There's also a hint of cooked vegetables and lemon. The citrus and ginger is a bit over the top.
Same story with the flavours, lots of ginger, artificial lemon and banana. Very little malt noticeable.
Could use lots more carbonation.
Very sweet stuff, seems to be one step away from a mixed drink. Seems to have a lemonade base rather than wheat beer...
509 characters
2.3
/5
rDev
-9.1%
look: 3.5 | smell: 3.5 | taste: 1.5 | feel: 2.5 | overall: 2
Drank from my Duvel tulip glass.
A - Pours a slightly hazy starw colour with a head that does stay around for a while.
S -= Unusual aromas of cinnamon and raisins
T - Urrgh, terrible. not much else to say.
M - Light body and medium carbonation.
O - Avoid this beer if you are looking for a Belgian wit style, as it will leave you dissappointed. Its not that its bland, its just plain wrong.
395 characters
2.17
/5
rDev
-14.2%
look: 4 | smell: 2 | taste: 2 | feel: 2.5 | overall: 2
I had every intention of being unbiased with this beer but....
"Add a slice of orange and drink it like a Belgian" they say. Add a slice of orange and drink it like metro-sexual douche with no f**kin tastebuds I say.
It looks good. So now that I've said something nice about this beer....it smells like orange cordial. There is the slightest hint of Belgian yeast but it's negligible. It is way more over powered by the banality and lack of depth, character and complexity. Completely lacking any kind of memorable finish. Mediocrity bottled and released for the pink singlet, white-framed, over-sized sunglass wearing knobs that have tattoos of stars on their elbows and a southern cross on their chest. Don't be fooled by the ät least they tried" angle. This is a massive brewery with all the tools, skills and talent to make an exceptional beer if they wanted to. Instead they've cut corners. Hahn, you've hit rock bottom. You had a chance to do something good and you f**kin blew it. Hang your heads in shame.
1,014 characters
2.25
/5
rDev
-11.1%
look: 3 | smell: 3 | taste: 1.5 | feel: 1.5 | overall: 3
An each-way bet from Lion Nathan... trying something new without scaring the low-carb market.
a) Clearish pale yellow/straw. White rocky head that lingers a little, light bubbling. Doesn't look like a wit... wheat haze has been well and truly filtered out of this one.
s) Big hit of coriander and citrus peel, ginger powder, some sulfur which, together, give the impression of a sandwich meat such as devon. No malt to discern.
t) Like home-made lemonade, maybe a hint of lime, falling away to a typical dry-style flavour like Toohey's Extra Dry. No hop or bitterness. All show on the nose, nothing to support on the palate.
m) Starts of spritzy, like softdrink, then disappears. Typical low-carb body.
d) Probably quite good on a hot day, when there's lttle else.
Perhaps this is a good entry point for the young & impressionably.... after this they may head towards a real wit, and give this all-show-and-no-substance offering the flick.
945 characters

2.76
/5
rDev
+9.1%
look: 4.5 | smell: 3.5 | taste: 2 | feel: 2.5 | overall: 3
Pours a very pale straw colour, translucent champagney-look but with big frothy head sunk to a modest white crown, but dense. Leaves massive clumps of lace. Champagne with head? That's what I'm talking aboot. Seriously though, looks great.
Very tangy on the nose. Big native bush plant smell, lemon myrtle I guess but with candied orange peel as well. Slight aniseed astringency on the back, and maybe a touch of Belgian-style funk. Interesting, and quite nice.
Yecccch! Taste has none of the appealing characters of the nose. Starts with a meak citrus character, quite artificial really with none of the intriguing tang from the aroma, with a touch of nectar, then gets quite watery towards the mid and back. Develops some native herb flavours but washed away on a tide of blandness, with a touch of bready grain late-mid. Finish has an unusual and unpleasant taste of raw potato on it. Bland, overall, grainy and bland-citrussy, really quite unimpressed with this.
Foams up quite well in the mouth to add some texture but the body is not full enough to add any interest to a bland palate. Not too bad but certainly not good.
Yeah, well if it's bland, it's inoffensive, right? But I wouldn't drink a lot.
1,209 characters
2.53
/5
rDev 0%
look: 3.5 | smell: 3 | taste: 2 | feel: 3 | overall: 2.5
Seems like a reboot, rather than a rehash of their old "witbier", hence the new addition. Presented in a "to share" 750ml wine bottle with Stelvin style screw cap. The guy at Porters, where I bought it, said that the brewery had wanted them to keep it with the wine rather than the beer. He also said they "recommended" serving it over a slice of orange. I said that's a recommendation I would choose to ignore.
Pours a bright, and relatively clear, but slightly hazed golden yellow colour. Head was frothy at the start, but consistent of large bubbles, which crackle down to pretty much nothing. Lacing is honeycomb-brittle and hard. Looks decent enough, but like a poor imitation of a proper wit.
Nose is sweet with fruity orange characters (why you'd add extra orange is beyond me), almost like Fanta. Seems quite artificial to me. Perhaps a slightly sharper acidity to it, but only a little, and minimal freshness, or spice, or anything else that the classic demands.
Taste is dominated at the front by an orange-bubblegum character, before a slight clove spice comes through. Following is an entirely unpleasant yeast note that screams Aussie macro. It mingles quite unpleasantly with the soda fruitiness to make a mishmash of off-bubblegum (or perhaps Krusty Brand Gum with spider eggs and the hantavirus) and Carlton Draught.
This is a competitor to Pure Blonde White, certainly not to a real witbier. While it has some fruit characters, they taste entirely artificial, and the aftertaste is so off-style and quite offensive. Nope. Not one for me.
1,567 characters

3.14
/5
rDev
+24.1%
look: 3.5 | smell: 3.25 | taste: 3 | feel: 3 | overall: 3.25
Format: a standard 330mL brown bottle with a semi-70s style transluscent label.
Appearance: pours a fairly light yellow colour with decent carbonation. A finger of white head hangs about for a time before dropping to a thick cap. Looks pretty good.
Aroma: quite a lot of orange citrus up front - in fact that is almost the main character in the nose here. A touch of spice, but otherwise just that orange. Smells nice, if a little artificial.
Taste: more orange citrus up front here without all that much backing it up. Funnily enough I'm not picking up much wheat, but a touch of spice.
Aftertaste: a bit sweet on the finish but definitely with a touch of bitterness also.
Mouth feel: light to moderate in feel with a moderate to higher carbonation. Decent.
Overall: this is one of the first beers I ever had that were not a standard Aussie lager, so I recall it being brilliant at the time. It is still a decent witbier, if not as good as the Belgians. Still, I think it does pretty much did for me what it was intended to be: a beginner's introduction to witbiers and into other styles in general. Quite decent for AU$45 a case.
1,137 characters
2.53
/5
rDev 0%
look: 3.5 | smell: 3 | taste: 2 | feel: 3 | overall: 2.5
So I got sucked in by the marketing on this one. The bottle looks good and it claims to be a Belgian Style White Beer. When I got it home I noticed the Low Carbohydrate moniker and became just a little scared.
To be fair, the beer looks okay. For a wheat beer it is a bit clear and the head a touch small but there is nothing actually off-putting about the appearance.
The aroma is very mild with a dull, orangey note and a mild hint of spicy Belgian yeast. Nothing like a good Hoegaarden but a decent start.
There is a whiff of citrus at the start which immediately fades into nothing. This is more like a light lager than anything else with a clean, crisp, nothing flavour.
Very light with moderately-high carbonation. Crisp, refreshing and easy to drink but ultimately disappointing. This really just lacks character and I actually expected more from Hahn.
863 characters
2.53
/5
rDev 0%
look: 3 | smell: 2.5 | taste: 2.5 | feel: 2.5 | overall: 2.5
Appearance - 3.0
Along with the witbier from La Trappe, this is one of the clearest wits I have ever seen. Pours a big fluffy white head that quickly recedes to a patchy layer over a slightly hazy body of pale gold. Good lacing.
Smell - 2.5
Lots of coriander, a little citrus, husky grain.
Taste - 2.5
Rather sweet and shandy-like, reminding of certain 'radler' beers available on the market, though finishing reasonably dry. Big coriander flavour, a little wheaty malt and an artificial citrus note. The bottle recommends adding a slice of orange - I did not - a good witbier should have orange zest flavour to begin with.
Mouthfeel - 2.5
Light bodied and moderately carbonated, lacking in the soft creaminess associated with good witbiers.
Overall - 2.5
Quite refreshing and certainly a lot nicer drink than a Hahn Super Dry. However, as a witbier, thsi is very underwhelming.
882 characters
Hahn White from Hahn Brewing Co. Pty. Ltd.
Beer rating:
2.53
out of
5
with
11
ratings