Dismiss Notice
Tiger Malt
| Banks (Barbados) Breweries Limited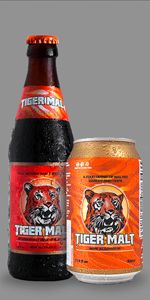 BEER INFO
Brewed by:
Banks (Barbados) Breweries Limited
Barbados
|
website
Style:
Low Alcohol Beer
Alcohol by volume (ABV):
not listed
Availability:
Year-round
Notes / Commercial Description:
No notes at this time.
Added by brewdlyhooked13 on 07-02-2003
Reviews: 8 | Ratings: 8
3.53
/5
rDev
+32.2%
look: 4 | smell: 3.5 | taste: 3.5 | feel: 3.5 | overall: 3.5
Poured from a brown 10 oz. bottle. Has a black color with a 1/2 inch head, well carbonated. Smell is of molasses, very sweet. Taste is the same, malts, molasses, sugary, not a bad flavor. Feels syrupy in the mouth and overall this is an enjoyable drink.
★
253 characters
3.43
/5
rDev
+28.5%
look: 4 | smell: 3.5 | taste: 3.5 | feel: 3.5 | overall: 3
Had this yesterday afternoon.
Poured from a 341ml. bottle.
Appearance: Pours like a stout which means a dark brown body with a thick 3 finger mocha head.
Smell: Black strap molasses and those caramel squares you eat as candy.
Taste: Big time sweet, some brown sugar and not as much molasses as in the aroma. More caramel though it does have a bit of a weird aftertaste.
Mouthfeel: Low carbonation, smooth and full-bodied. It is a little heavy though.
Drinkability: Sweetness makes it a bit of a chore to drink but it's still an O.K. malt beverage.
Overall: These malt beverages are beginning to grow on me and i like this one though it is a bit tough to get through a whole bottle.
★
688 characters

3.78
/5
rDev
+41.6%
look: 4 | smell: 3.5 | taste: 4 | feel: 4 | overall: 3.5
I love Tiger Malt, it's my nonalchoholic drink of choice when visiting Barbados. However, like any malted beverage, its enjoyability depends on one's personal taste for it. Very syrupy & sweet, it's as dark (and carbonated) as a Guinness Extra Stout....and best described as a sweet version of Kaliber, as the malted notes are very comparible. Banks also brews a vanilla version of Tiger Malt as well.
★
401 characters

1.76
/5
rDev
-34.1%
look: 3 | smell: 2 | taste: 1.5 | feel: 1 | overall: 2
Purchased at a local Price Chopper for .77 cents.
341ml twist off bottle, pours (whoa, surprising!) dense black with considerable mocha brown head. Ghastly aroma of strong malt, cocoa, chocolate - EXACTLY like those Malteaser (or 'Whoppers') snacks. Mouthfeel is overly, incredibly syropy! Flavour is this intensely bitter sweet chocolate, with loads of cocoa.
I have found a beer that is too powerful for me to drink. (too bad it's not in a good way)
I could see myself liking this but it would take ALOT to aquiere the taste!!! ..and I just don't see why I'd want to.
★
578 characters

1.47
/5
rDev
-44.9%
look: 3.5 | smell: 1.5 | taste: 1.5 | feel: 1 | overall: 1
I got this malt beverage at Ritz Caribbean food in Toronto. Im surprised its on the BA database.
It pours a near black color with a tan head that lasts a while and deposits decent lace. The aroma is extremely sweet, lactic sweetness, too much for me. The taste is super sweet barley sugar. Theres also some grainyness in their, but the predominance is syrupy sweetness. The mouthfeel is slick and numbingly sweet. This is what I imagine unfermented wort tasting like.
I found this impossible to drink, I had to pour half of it down the sink.
★
548 characters
2.56
/5
rDev
-4.1%
look: 2 | smell: 3.5 | taste: 2.5 | feel: 2 | overall: 2
Over the top ovaltine maltiness. Sticky syrupy and dry aftertaste. Suppose servable to minors. Minimal carbonation. Minimal head, similar to some national brands. Reasonable aroma.
Actually not half as bad as I expected. Will do on a 109 degree oppressive day. Rinse mouth with water after.
★
291 characters

3.21
/5
rDev
+20.2%
look: 4 | smell: 3 | taste: 3 | feel: 3.5 | overall: 3.5
It looks beautiful on the pour -- ruby black with a thick creamy dense head. Actually, it reminds me a lot of Royal Extra Stout.
On the nose, sweet malt (think "ovaltine" malt) with a toasty sweetness. Something in there smells "tropical". What is it??
The flavour is quite sweet and nutty/malty. I don't really taste much in the way of hops. This *definitely* tastes like unfermented wort, but in a very good way. I do love the taste of sweet wort. The taste is good, but it could use a touch more back-end to balance it up a bit. I don't mind the sweet, but we need some bitter or burned or something in there.
It feels light but creamy in the mouth, with the barest hint of carbonation.
Overall, I do like this drink. It isn't a beer, but I don't think it's trying to be. And I certainly like this more than any other dealcoholized beer I've ever had.
★
868 characters
1.58
/5
rDev
-40.8%
look: 2.5 | smell: 2 | taste: 1.5 | feel: 1.5 | overall: 1
Found this in a local grocery store....fortunatly it was a single. so I bought it.
Black, deep black with a medium tan head that very quickly turns to a tiny island lace with moderate glass ring.
Oh so very sweet...had to gargle with salt water to minamize the damage.
Label says manfactured by Stroh's Canada under the direct supervision of Banks(Barbados)Breweries Ltd.
Ingredients listed as water, malt extract, sugar salt and hops.
Wondering what kind of hops??????
★
474 characters
Tiger Malt from Banks (Barbados) Breweries Limited
-
out of
100
based on
8
ratings.