Bayrisch Pale Ale
| Private Landbrauerei Schönram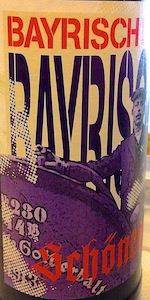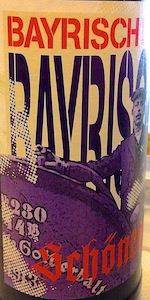 BEER INFO
Brewed by:
Private Landbrauerei Schönram
Germany
brauerei-schoenram.de
Style:
American Pale Ale (APA)
Alcohol by volume (ABV):
5.50%
Availability:
Year-round
Notes / Commercial Description:
No notes at this time.
Added by boddhitree on 10-06-2013
HISTOGRAM
Ratings: 11 | Reviews: 4
Reviews by boddhitree:

4.11
/5
rDev
+9.9%
look: 4 | smell: 3.5 | taste: 4.25 | feel: 4.75 | overall: 4.25
Aroma: mandarin, a slight citrus note, but other than that, nothing.
Flavor:
Up front - a bite of bitterness, but not too much, citrus flavor and some noble hop flavor.
Middle – Pils or pale male flavors with a little sourness.
End - some grapefruit, mandarine, sour citrus and some malts, not exactly pale but not pils malt either, somewhere in the middle. I'm guessing the "bayrisch" in the name comes either from the pils malts or from Mandarina Bavaria hops, or both.
They only list mandarina hops as an ingredient, but it's kind of a mix of a malty pils/pale malt with citrusy flavors. The citrus isn't like an IPA, rather it's more bitter and has the mouthfeel of a typical Bavarian Helles, quite thick and gemütlich. Basically, it's a cross between a pale ale with pils mouthfeel and hints in the flavor with a slightly sour and mandarine/grapefruit aftertaste. Not bad, not wow, but pretty damn good. It's different for Germany, but I wouldn't call it a Wow-great beer.
The best part is the mouthfeel and flavor is reminiscent of a German Helles while still being a pale ale with citrusy notes. Maybe a 4.3, points off for a lack of aroma, and they really could've put more Mandarina hops to give it more umph.
1,232 characters
More User Reviews:

3.52
/5
rDev
-5.9%
look: 4.75 | smell: 3.25 | taste: 3.5 | feel: 3.5 | overall: 3.5
L:
-pours a slightly hazy golden with a big,frothy,white head
-medium carbonation visible
S:
-lemon,tangerine,zesty orange,slight grapefruit
T:
-Follows the nose plus a bready sweetness
-finishes dry
F:
-light body,medium carbonation
O:
Good Pale Ale
250 characters

3.8
/5
rDev
+1.6%
look: 3.5 | smell: 3.5 | taste: 4 | feel: 4 | overall: 3.75

3.16
/5
rDev
-15.5%
look: 3 | smell: 3.25 | taste: 3.25 | feel: 2.5 | overall: 3.25
33cl brown glass bottle from Ambrosetti in Berlin. 5.50% ABV. Best before: 23.12.16.
No carbonation hiss whatsoever upon removal of the pry-off crown cap.
The pour into a pilsner glass does reveal plenty of carbonation though, indicated by an off-white head that fills over half the glass and sticks around for a good 5 minutes before receding. Consistency is nice and frothy, complexion is average. Leaves some lacing as it recedes.
The body is style-appropriate: a clear yellow of average vibrance, devoid of any visible yeast.
AROMA: Soft. Flaked barley, helles/Munich malts, floral and grassy hop notes, slightly estery ale yeast (i.e. saccharomyces), fresh straw. Somewhere between a helles lager and a pale ale in terms of its hop character, but nevertheless suggestive of a pleasant and balanced pale ale with a light malt backbone.
I'm wary of potential simplicity, but it's a nice aroma overall. Intensity is average.
TASTE: Matches the aroma, albeit with more bitterness than initially anticipated. Not unbalanced, but lacking in terms of depth of flavour and intricacy. A bit bready, a lot floral, with a neutral Munich malt backbone with a bit of pale malt filling it out. They didn't overdo it with overly sweet caramalt or anything.
Others have noted that this is brewed with Mandarina Bavaria hops...I find no such character whatsoever, but it's a rather shallow plain brew altogether.
TEXTURE: Medium-bodied (to style). Smooth, wet, unrefreshing, well-carbonated. This texture is a decent complement to the taste, but the two are not in perfect harmony, nor does the former accentuate specific notes from the latter. Slightly scratchy presence on the palate; it might make one a bit hoarse.
Not watery, harsh, gushed, hot, boozy, astringent, or rough.
OVERALL: A drinkable attempt at a pale ale from one of Germany's least traditionally-minded breweries, Bayrisch Pale Ale is a bit rough around the edges. I'm glad I got to try it, but unless I was desperate for a pale ale, I wouldn't buy it a second time. Certainly above average, but ultimately unremarkable, with a hop profile that will underwhelm all but the least experienced pale ale drinkers.
C+ (3.16) / ABOVE AVERAGE
2,203 characters

4
/5
rDev
+7%
look: 4 | smell: 4 | taste: 4 | feel: 4 | overall: 4

3.86
/5
rDev
+3.2%
look: 4 | smell: 4.25 | taste: 3.75 | feel: 3.5 | overall: 3.75

3.72
/5
rDev
-0.5%
look: 3.75 | smell: 3.5 | taste: 3.75 | feel: 4 | overall: 3.75
Pours pale orange, low half finger head that turns to a thin sticky rather fast.
Smell is not too strong, with some tangerines, biscuits and very faint pilsener hops.
Taste is a bit more intense, with lots of sweet citrus mainly (Mandarian Bavaria hops, so duh!), faint lime with a bit of mildly bitter grapefruit too. Some light malts, just a tiny bit of caramel to go along with the biscuits. Faint floral notes. Green noble hops start to rise up towards the end, closing it all with a nice bitterness.
Medium body, low carbonation, a bit buttery.
Nicely balanced, tasty hops, a bit simple.
592 characters

Bayrisch Pale Ale from Private Landbrauerei Schönram
Beer rating:
3.74
out of
5
with
11
ratings