Old Krogh Oatmeal Stout
| Krogh's Restaurant And Brewpub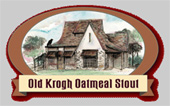 BEER INFO
Brewed by:
Krogh's Restaurant And Brewpub
New Jersey
,
United States
|
website
Style:
Oatmeal Stout
Alcohol by volume (ABV):
4.50%
Availability:
Year-round
Notes / Commercial Description:
No notes at this time.
Added by pezoids on 08-24-2002
Reviews: 8 | Ratings: 18

3.79
/5
rDev
-5.7%
look: 3.75 | smell: 4 | taste: 3.75 | feel: 3.5 | overall: 3.75
9/13....brewery draft. Pours dark brown/black. Low foam. Oaty coffee nose. Very smooth mouthfeel and flavor. Towel dry finish. Can taste the oats amidst the maltiness. Good closer to the visit.
★
193 characters

3.41
/5
rDev
-15.2%
look: 4 | smell: 3 | taste: 3.5 | feel: 3.5 | overall: 3.5
Dark color with a dark brown head that disapears over time. It leaves creamy lacing on the glass.
Roasted coffee and chocalate; I also get a cardboard aroma as well, what's up with that?
The taste is chocalate, burnt coffee, there is a barely sweet oat taste. That's about it.
Very creamy, medium body and carbonation is quite noticeable for a stout.
Overall, not a bad tasting Oatmeal Stout; I've had better for sure. Probably their second best beer that they have.
★
472 characters
4.13
/5
rDev
+2.7%
look: 4.5 | smell: 4 | taste: 4 | feel: 4 | overall: 4.5
A: Nice looking ebony beer with a frothy two shades darker than tan head.
S: Sweetened coffee, cocoa powder, oatmeal with a touch of sugar.
T: The smell, like a Sparknotes page, told the tale -- but the taste let loose the true details and subtle nuances. All the tastes as described above, but intermingled with each other, and each presenting slight changes in each new taste, dark roast coffee, chocolate covered espresso beans, oatmeal cookie sweetness. Brutally good.
M: Velvety with a touch of dryness at the end.
D: Keep 'em coming.
★
543 characters
4.35
/5
rDev
+8.2%
look: 4 | smell: 4 | taste: 4.5 | feel: 4.5 | overall: 4.5
Krogh's- Old Krogh Oatmeal Stout
Appearance- Dark Mahogany brown with a thick head.
Smell- Mild roasted coffee with hints of oatmeal cookie and roasted sunflour seeds.
Taste- Tasty grainy beer with a mild roasted hop. Coffee and oatmeal hints come through. Flavorful throughout.
Mouthfeel- Solid flavor and a great session beer.
Overall- This might be worth the trip alone. A solid flavored Stout. If your at Krogh's you must get this!
★
444 characters
4.01
/5
rDev
-0.2%
look: 4.5 | smell: 3.5 | taste: 4 | feel: 4 | overall: 4.5
This beer comes as a gift from a friend of my wife. I got the growler yesterday and like a good student of the game I followed the directions on the bottle which said to drink within 4 days. This comes from a small brewpub in a non-heavily populated area of Northern Jersey. Why does this matter? I really have no idea.
This beer is smooth and tasty, with a good look and a high drinkability. It's easy going down, which an oatmeal stout should be. The aroma is intriguing but so vague you barely notice it, thus the lower mark there. It's got a thick roasty/nutty flavor with what I suppose could be called coffee hints as well. The flavor fades quickly into nothingness, which is better than a bitter/dry finish. A solid mouthfeel rounds out this well done beer.
If this weren't so far away I might be tempted to go pick up some more. But with 2 of the state's top liquor stores within 20 minutes by car, it's hard to justify going all the way up there to get some. Still, it's a good beer worth the side trip if you're anywhere near the area.
★
1,052 characters
4.68
/5
rDev
+16.4%
look: 5 | smell: 4.5 | taste: 4.5 | feel: 5 | overall: 5
When visiting Kroghs, this is the one beer that must be tried. Consistantly the best beer that they have on tap. Looks great in a pint glass, nice dark brown with a fluffy tan head. Aroma is roasty and clean, with hints of chocolate. Flavor is smooth and full bodied, with malt sweetness and roastiness coming together nicely. This brew can also be said to be a rejuvinator.
★
374 characters
4.16
/5
rDev
+3.5%
look: 4.5 | smell: 3.5 | taste: 4.5 | feel: 4.5 | overall: 4
It's been a long time since I had a beer at Krogh's, and this was a great way to come back to it. Their Oatmeal Stout is pitch black with a thick, creamy tan head that sticks to the glass to the very end. I wanted a stronger aroma, though the coffee and light chocolate aromas were there. Hearty oatmeal flavor mingles with chocolate and coffee and balances well with the dark malty backbone. Mouthfeel is rich and creamy. I could have many of these and hope to next time I'm down at Krogh's. An excellent Oatmeal Stout.
★
520 characters
3.14
/5
rDev
-21.9%
look: 4.5 | smell: 3 | taste: 3 | feel: 3.5 | overall: 3
coming from my hometown, i was psyched to try this one, and it looks like my excitement was justified. pours dark as night with a wondeful nutty coffee aroma. taste is slightly bitter with a toasted coffee flavor with slight hint of chocolate. very rich and smooth. I guess it is cool to have a brewpub with an oatmeal stout in your local area, but when it is thin and the flavor is dull, it can only be an average experience.
★
426 characters
Old Krogh Oatmeal Stout from Krogh's Restaurant And Brewpub
-
out of
100
based on
8
ratings.