DUIPA
| Hoptown Brewing Company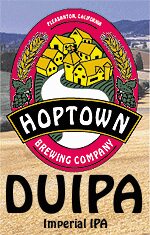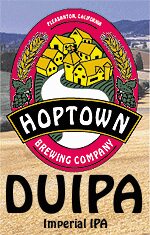 BEER INFO
Brewed by:
Hoptown Brewing Company
California
,
United States
hoptownbrewing.com
Style:
American Imperial IPA
Alcohol by volume (ABV):
9.50%
Availability:
Rotating
Notes / Commercial Description:
No notes at this time.
Added by BeerAdvocate on 09-30-2002
This beer is retired; no longer brewed.
HISTOGRAM
Ratings: 10 | Reviews: 8
Reviews by Boilermaker88:
3.7
/5
rDev
-6.8%
look: 4 | smell: 4 | taste: 3.5 | feel: 4 | overall: 3.5
Sampled at the 7th Annual San Diego Strong Ale Festival at the Carlsbad Pizza Port. This Double IPA was listed at 9.6%ABV. Had a hazy ripe apricot color and a frothy, sticky white head. Some moderate levels of sticky lace remained in the glass. The smell certainly doesn't hide what this beer is all about: lots of hops and a healthy warning about the alcohol content. Aromas of grapefruit rind and pine needles are abundant with only some token caramel scents came wafting to the nose. The taste up front had a quick, passing flavor of caramel malt as if the malt profile was fleeing in terror from the onrushing horde of hops flavors that came charging after. The heavy hops profile – lots of orange and grapefruit rind and a resinous pine – are seriously overpowering and leaves a long-lasting bitterness coating the palate. Lastly, the alcohol deals out a solid slap to the taste buds. The feel was full, smooth and viscous.
This beer can hammer you on a couple fronts – from the massive hops and the high alcohol content. A couple pints of this über-IPA would leave most seriously impaired. I found other big-ass IPA's at the festival to be more balanced and, therefore, more enjoyable. But, if you're a hophead up for a challenge, this could be a worthy opponent.
1,277 characters
More User Reviews:
3.62
/5
rDev
-8.8%
look: 3 | smell: 3.5 | taste: 3.5 | feel: 4 | overall: 4
Tap @ San Diego Beer Fest. Pour was a little out of control, but eventually subsided. Color is dark gold with great lacing. Aroma is obvious hops in the face, grapefruit and grass. Good malt nose as well. Taste is big, lots of hops, with the back of sweet malt. Lots of citrus (grapefruit, mango,pineapple) with a decent caramel back. Got a little sticky at times, but not enough to spoil it. Good beer.
403 characters

3.81
/5
rDev
-4%
look: 4.5 | smell: 3.5 | taste: 3.5 | feel: 4 | overall: 4.5
This poured to a solid combination of amber and yellow with a thick head that lasted very well and left a ton of lace.
The smell and taste aren't quite as great as the best examples of this style, although that may be partially from nitrogen masking. Hops definitely still come through, while malt content is not very prominent. The mouthfeel is nice, and the stuff is very easy to drink.
391 characters

3.6
/5
rDev
-9.3%
look: 3 | smell: 3 | taste: 4 | feel: 4 | overall: 3.5
Originally sampled on 17 May 2003 at Pizza Port's Real Ale Festival. Tasted on draught. This is an unfiltered, big hopmonster w/ lots of citrus overtones. You better be a bona fide hophead before your endeavor to take this puppy on. The ABV is 9.5%, so it can flatten you from that angle too.
292 characters
4.16
/5
rDev
+4.8%
look: 5 | smell: 4 | taste: 4 | feel: 5 | overall: 4
This amber colored douple IPA was topped by a solid white head that left the best lacing I have ever encountered in my career!. The glass was coated by literal solid sheets of foam. I had finished the pint and was admiring the coating that was not going away. Not the most aromatic double, but the hops hit you on drinking. A bit smoother than most, Racer X and Pliny The Elder have a much more pronounced bite to them. I like both styles, this one has more malt balance. A super creamy and thick mouthfeel was another plus, very chewy. A great beer from a wonderful little local brewery that does not get the attention it deserves. A winner.
642 characters

4.5
/5
rDev
+13.4%
look: 4.5 | smell: 4.5 | taste: 4.5 | feel: 4.5 | overall: 4.5
Sampled @ Hollingshead in Orange, CA. Deep tawny. At last, a Double India Pale Ale in Southern California that actually has a substancial amount of malt activity, rather than just a substancial amount of malt with the goal of balancing the insane hops. This was awesome from start to finish. In the aroma, a sugary malty fruitiness is present along with an enormous amount of piney, resinous and grapefruit like hops. The flavor was even better, with an insane amount of hops but also a coating and full bodied malt flavor. Characterful.
537 characters

4.2
/5
rDev
+5.8%
look: 4.5 | smell: 4.5 | taste: 4 | feel: 4.5 | overall: 4
Had this on nitro at Liars Club in San Diego CA. This would have been a dangerous session beer if I wasn't sampling the menu. Has the aromatics of a well-hopped IPA, but with the nitro pour, it has the texture of a Boddingtons. The nitro also hid the alcohol content as well (over 9% I believe). For hopheads, this might not be the first choice as the hops were also buried by the nitro in the taste. I'd like to try this in a bottle or on regular CO2 to taste the difference.
476 characters
3.85
/5
rDev
-3%
look: 4 | smell: 4 | taste: 4 | feel: 3.5 | overall: 3.5
Pours a shade of bronze that reminds one of a two-year-old penny with excellent clarity and a resiny hoppy nose.
Paralyzing hops grip the tongue upon entry and carry through to the midtaste, thereby cancelling out any possibile appearance by the malts.
To my surprise (!), the finish was punctuated by a floral hop fade.
Edit: Many other reviews list this beer as a nitro-tap...a pour which would have raised the score of this particular IPA.
451 characters
DUIPA from Hoptown Brewing Company
Beer rating:
3.97
out of
5
with
10
ratings