Phat Chance Blonde Ale
| Onion Pub & Brewery / Wild Onion Brewing Co.
BA SCORE
79
okay
12
Reviews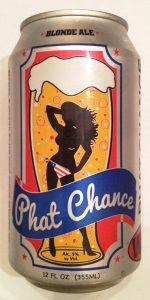 BEER INFO
Brewed by:
Onion Pub & Brewery / Wild Onion Brewing Co.
Illinois
,
United States
onionpub.com
Style:
American Blonde Ale
Alcohol by volume (ABV):
5.20%
Availability:
Year-round
Notes / Commercial Description:
No notes at this time.
Added by TMoney2591 on 03-15-2011
Reviews: 12 | Ratings: 60

3.19
/5
rDev
-0.9%
look: 3.5 | smell: 3.75 | taste: 3 | feel: 2.75 | overall: 3
Very hazy blonde in color with a fluffy white head. The aroma is fruity, with a little juicy citrus scent and a little grass in the background. The taste is mostly balanced, but just a little sweet. There are notable hop flavors, and the continued fruit notes. The body is very light...actually, a little watery, and the finish is thin. All in all, it started well, but went downhill.
389 characters

3.55
/5
rDev
+10.2%
look: 3.25 | smell: 3.75 | taste: 3.5 | feel: 3.5 | overall: 3.5
I have to CANfess a real affinity for the Wild Onion & their beers. I was first there in July 2006, following an excursion out to the now-defunct Dick Tracy Museum in Woodstock, IL and AutumnalDave picked me up and ferried me around upon arrival at the Barrington METRA station. The fact that The Onion has begun CANning their wares just makes them that much more attractive. It's a CANQuest (tm) thing, so you might not understand.
From the CAN: "Est. 1996"; "Blonde Ale"; "Lake Barrington, IL".
You might think that I would know what to expect on the Crack! from these guys and yet, once more, I was startled when I got some light foaming through the vent. I may have finally rendered myself stupid. I gave it some calming time before CANmencing a gentle Glug. A swirl in the glass raised a finger of foamy, bone-white head with modest retention. Color was a very-slightly-hazy Yellow-Gold, but it was so light that the Gelt Gang of Midas, Croesus & Mammon jumped off of my couch and came into the kitchen for a taste. I have satellite TV here at Chez Woody & so they will come over on weekends to watch sports. I don't mind, since they watch what I want to watch without CANplaint. Hockey is huge at this time of year, followed by college hoops. They, like me, really dig the Black & Gold of Pittsburgh. Nose was soft, lightly malty-sweet with a biscuity quality. Mouthfeel was medium. The taste was lemony & biscuity, putting me in mind once again of lemon biscotti. Its relatively low ABV rendered it crushable and I had drank off over half of it without thinking. Finish was semi-sweet, but eminently drinkable. Put this Blonde in your summer cooler & thank me at your leisure!
1,685 characters
2.63
/5
rDev
-18.3%
look: 3 | smell: 2.5 | taste: 2.5 | feel: 3 | overall: 2.75
Single can acquired in a trade and I'm fortunate not to have purchased a 6-pack. The can pours out a very light hazy yellow liquid with minimal soapy-looking foam. Very little smell. Taste is unusually bland even for a Blonde Ale. Seems to suffer from a lack of carbonation. Minimal aftertaste.
I've tried other Wild Onion products with generally much better results. I'm afraid this one is not representative of the brewery's abilities.
439 characters

2.83
/5
rDev
-12.1%
look: 3.5 | smell: 3 | taste: 2.5 | feel: 3 | overall: 3
12 fl oz. can, no canned on date or freshness information present. Another new one to me from Wild Onion Brewing Co., acquired a single can of this stuff as part of a mixed six pack at the local Binny's.
Poured into a clear balloon snifter.
A - Pours a cloudy golden-orange-yellow colored body. Three fingers of airy bubbly white head that settles to a layer of foam. Some okay fat scattered lacing. Somewhat of a weak / watery looking appearance though.
S - The aroma comes off as a bit yeasty and grainy, and that's about it. Some faint muddled notes of caramel & green apple do appear, but it is clearly imparted from the yeast / grain bill.
T - Blahhh. I don't even know how to describe this one. It tastes like plain ol' simple generic "beer", only lacking in any sweetness or hoppiness. Tastes like lots of boring grainy pilsner-ish malt and some dry appley yeast presence. Not "bad", but definitely extremely bland and boring. I struggle for descriptors beyond that.
M - Medium bodied, with a bit of bloating hefty carbonation. Not quenching or easy-drinking. Extremely crisp and dry on the finish. Almost tastes like champagne yeast at times, which I think is weird.
Overall, definitely the worst beer I've had from Wild Onion Brewing so far. Would not recommend this one to anyone at all. Bland. Boring. I would probably take a Corona with a lime over this again. Avoid.
Wild Onion Brewing Phat Chance -----3/5.
1,437 characters
3.4
/5
rDev
+5.6%
look: 3.75 | smell: 3 | taste: 3.5 | feel: 3.5 | overall: 3.5
An uneventful blonde ale that has a pretty decent flavor that strikes me as unfiltered. (No idea if it is or not.) Flavor seems muddled above all else. Can't draw much specifically from it all. Smooth feel. Nice enough to drink. Glad I had a chance to try it. Not a typical blonde ale.
285 characters
3.28
/5
rDev
+1.9%
look: 3.75 | smell: 3.25 | taste: 3.25 | feel: 3.25 | overall: 3.25
A: The beer is hazy dark pale yellow in color and has a moderate amount of visible carbonation. It poured with a thin yet dense off white head that never completely died down and also left lots of lacing down the sides of the glass.
S: Light aromas of pale malts are present in the nose along with notes of lemon and orange citrus; the smell becomes a little stronger as the beer warms up.
T: The malts aren't as prominent in the taste and seem to be balanced off a little by the citrusy hops and a slight amount of bitterness.
M: It feels light- to medium-bodied on the palate and is a little flat (unlike the picture of the woman on the can), having a low amount of carbonation.
O: This beer is easy to drink and seems relatively good compared to other beers in the style. It's not a bad lawnmower type of beer if you are looking for something all-malt that isn't hoppy, but it does seem a little bland.
905 characters
3.55
/5
rDev
+10.2%
look: 4 | smell: 4 | taste: 3.25 | feel: 3.5 | overall: 3.5
The Phat Chance is a good blonde ale. The hoppy floral scent gives one hope for a nice hoppy blonde....but the taste is more malty than expected....in addition there is a metallic twang in the back drop. The beer poured a clear slightly darker golden color with white head that is leaving a spotty lace. The mouthfeel is medium to light with smooth carbonation. Overall it is a good beer and perfect for summer evenings.
420 characters
3.05
/5
rDev
-5.3%
look: 3 | smell: 3 | taste: 3 | feel: 3.5 | overall: 3
Tap takeover at the Village Tap, review from written notes.
This was one of the more forgettable beers of the evening.
Light Centennial hop in the aroma and taste, manifesting as citrus peel mostly. Clear golden orange color, ample carbonation levels, only lightly bitter. Papery malt flavors, dry finish. Overall it's pretty boring, one note with the (presumably) single hop addition, doesn't have enough depth to be interesting.
8/13: Random can, with possibly the worst cheese-ball graphics i've ever seen. Corny topless blonde with a USA bikini in a beer glass, and no less than 5 different fonts. Not sure who they're trying to appeal to here besides the clueless and tasteless.
686 characters

3.45
/5
rDev
+7.1%
look: 4 | smell: 4 | taste: 3 | feel: 3.5 | overall: 3.5
Light hazy straw. Served with a half inch white head. Strong citrus smell. Lemon. Flavor is Likewise strong, but not necessary in a good way: lemon and lemon pith. Grass, herbal. Strong bitterness seems out of place. Dry crisp mouth. Decent. Drinkable
251 characters

3.36
/5
rDev
+4.3%
look: 4 | smell: 3 | taste: 3.5 | feel: 4 | overall: 3
A: blonde, clear, thin head, decent lacing
S: herbal and floral centennial hops are noteable, some background malts are evident a well
T: taste starts off bland with watered down malts with a slight bready character, bitter hops with bready finish
Mf: light body, medium to high carbonation
O: light and easy drinking, hops are present but not as great of a showcase of centennial as say founders centennial ipa
415 characters
2.8
/5
rDev
-13%
look: 3 | smell: 3 | taste: 2.5 | feel: 3 | overall: 3
Figured I'd try it - something new.
A - a typical "beer yellow.."
S - Dull hops creapin through... Not a lot there
T - Didn't really care for it.. kind of a skunky/bitter feel to it. Unfortunately, it was preceded by a Double Jack, which probably didn't help matters...
M - Nothing special.. some carbonation...light bodied..
O - I tried it. Eh, probably won't go out of my way to order it again...
404 characters

3.48
/5
rDev
+8.1%
look: 4.5 | smell: 4 | taste: 3 | feel: 3.5 | overall: 3.5
Served in an Onion shaker pint glass.
Based on last year's ReplicAle, but with a different malt bill. Right on. It pours a clear golden straw topped by a finger of staunch white froth. The nose definitely shows the effects of the single-hopping with Centennial: greens, light lemon zest, and some very light cilantro populate the scent. The taste brings these elements back for a reunion, along with some very light mandarin orange and an extremely light kiss of caramel and honey. After a while, though, the hops start to become a bit much, especially considering the weak malt backbone. The body is a hefty-feeling light, with a light moderate carbonation and a kinda dry finish. Overall, a pretty nice brew, but too one-sided for my complete liking.
755 characters
Phat Chance Blonde Ale from Onion Pub & Brewery / Wild Onion Brewing Co.
3.22
out of
5
based on
60
ratings.