Zirndorfer Landweizen
| Brauerei Zirndorf GmbH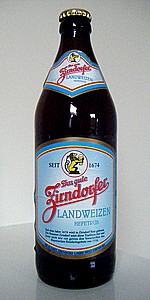 BEER INFO
Brewed by:
Brauerei Zirndorf GmbH
Germany
zirndorfer.de
Style:
Hefeweizen
Alcohol by volume (ABV):
5.30%
Availability:
Year-round
Notes / Commercial Description:
No notes at this time.
Added by HappyHourHero on 12-08-2006
Ratings: 11 | Reviews: 5
Reviews by PhillyStyle:

More User Reviews:
2.15
/5
rDev
-34.7%
look: 2.5 | smell: 2.5 | taste: 2 | feel: 2 | overall: 2
Brown 50cl bottle, the last of the three beers i've reviewed from this brewery. All the bottles were purchased from 'Beers of Europe'.
Poured into one of my Franziskaner Weissbier glasses: It didn't look too good actually, loads of floating sediment racing up and down the glass below a pure white (huge) head. I've never seen a Hefeweizen with so much muck hurtling around before. It wouldn't settle because of the carbonisation of course, some items did rest on the base of the glass eventually, but not much. The body colour was the regular lemon/orange cloudy mix normally associated with Hefeweizen.
I always expect vanilla and banana esters when I smell this style of beer, this had an apple and yeast aroma, not unpleasant but not what I wanted.
The taste was weak and bland for this type of beer, not impressed. Of the 28 Hefeweizen I've had the pleasure reviewing on BA this is the worst.
This brewery has let me down on all three beers I've had, not sure any German brewery has ever done that before. I'll not be having a fourth.
1,043 characters
2.45
/5
rDev
-25.5%
look: 3.5 | smell: 3.5 | taste: 2 | feel: 2 | overall: 2
Brought back home from Franconia, Germany. 500 ml, BBE says 25. Dec. 2010. The off-white head with good retention is scattered with medium to large sized bubbles and underlain by darker than average murky pale orange body with caramel hue. Before the final pour the bottle was swirled to raise the yeast therefore the body is quite viscous with lots of yeasty floaties. Banana is the dominant aroma, followed by bubblegum, bread shows through. Very flaccid flavors of sour dough and yeast - not much going on here. Medium bodied with mild carbonation. The only thing that separates this beer from an average hefeweizen is its dark, almost dunkelweizen appearance.
I'm always keen to look for local beers with limited distribution as they often hide real jewels. This one, unfortunately, is not one of them.
806 characters
4.1
/5
rDev
+24.6%
look: 4 | smell: 4 | taste: 4 | feel: 4 | overall: 4.5
Head as more foamy then creamy, and off-white in color left some good abstract art as it faded. Hazy, almost murky, dark apricot colored beer. Yeasty banana and citrus aroma along with a touch of bubble gum. Really not a whole lot of flavor. Some bubble gum and banana along with a really soft, almost fluffy, mouthfeel. After a few slips the flavor is definitely there. It's just delicate and hard to grasp. I think that if you drink this before other more flavorful beers you'll really enjoy it, but it may taste weak after a stronger beer. For example a Rauchbier.
567 characters

3.71
/5
rDev
+12.8%
look: 4.5 | smell: 3.5 | taste: 3.5 | feel: 4 | overall: 4
50cl bottle poured into weihenstephaner weissbier glass
A- Creamy dense 4 finger head, like ice cream, with very good lacing. Body, is dark hazy amber. Darker than most hefe's
S- Some vanilla, small amount of cloves, a little pine, banana.
T- Flavours are faint, faint bread and cloves in the beginning, with the bubblegum coming through in the finish.
M- Not overly carbonated, light in mouthfeel.
D- A bit light in flavours to be honest, a nice comfortable carbonation makes it a nice thirst quencher though.
515 characters
3.68
/5
rDev
+11.9%
look: 3.5 | smell: 3.5 | taste: 3.75 | feel: 3.75 | overall: 3.75
3.95
/5
rDev
+20.1%
look: 3.5 | smell: 4 | taste: 4 | feel: 4.25 | overall: 3.75

3.33
/5
rDev
+1.2%
look: 3.5 | smell: 3.5 | taste: 3.25 | feel: 3.25 | overall: 3.25
3.83
/5
rDev
+16.4%
look: 4.5 | smell: 4 | taste: 3.5 | feel: 4 | overall: 4
Purchased from the Beers of Europe, a quality online beer shop in Britain. BB 02/01/09, served lightly chilled in a weizen glass.
A: pours a dirty-murky dark amber hue, coming with a super thick, fine and creamy pale-beige froth with superb retention on top of lively carbonation. The colour is relatively darker than most hefe-weizen that I've tasted recently. Lovely.
S: a lively exotic-fruit-estery and lactose-drink like aroma dominates the nose with a dusty edge, showing sour-sweet lemons, mild bananas and unripe green mangos, while the salty-sweet note of wheat-malts, a mild touch of caramel and a lightly spicy note from the yeastiness serve to lift up the overall performance a bit. "Integrated" is my overall comment on the aroma.
T: rather sweet/sugary on the side of maltiness upfront, then settling down with a mild white-gourd-candy-like maltiness to go with a mild taste of soaked wholemeal bread. Slightly dry-ish is the aftertaste, where the exotic fruitiness and clove-ish spiciness reveal themselves discreetly and then give way to the more assertive sour-sweet wheat-ish flavour in the finish.
M&D: soothing and light on the carbonation, well-integrated but understated in terms of the overall flavour, this medium-bodied hefe-weizen is relatively restrained in terms of spicy & fruity yeastiness, but the slightly richer malt flavour on the balance still makes it an enjoyable one to quaff. I agree with the previous two reviewers that the flavour gears towards the weak side, and sometimes this is not necessarily a bad thing~~
1,553 characters

3.25
/5
rDev
-1.2%
look: 3.25 | smell: 3.25 | taste: 3.25 | feel: 3.25 | overall: 3.25
Zirndorfer Landweizen from Brauerei Zirndorf GmbH
3.29
out of
5
based on
11
ratings.