Obolon Mitsne (Krepkoe)
| Obolon Brewery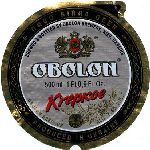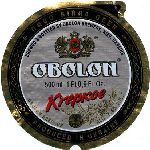 BEER INFO
Brewed by:
Obolon Brewery
Ukraine
obolon.ua
Style:
Euro Strong Lager
Alcohol by volume (ABV):
7.40%
Availability:
Year-round
Notes / Commercial Description:
No notes at this time.
Added by Gusler on 01-13-2005
HISTOGRAM
Ratings: 8 | Reviews: 6
Reviews by RblWthACoz:
3.85
/5
rDev
+40.5%
look: 3.5 | smell: 3.5 | taste: 4 | feel: 4 | overall: 4
Pours a slightly hazed gold with a sizeable white head. Nose is muted with a slight sugary tone. Flavor is a heavy sweet that is constant and steady. It never falls off or drifts to something else. Feel is decent. Small amount of bubble and a thicker body that borders on being syrup like. Pretty damn drinkable I thought. I read the other reviews and I am kind of surprised. I don't understand how I could appreciate this one so much when it was not so well received by others. Sure it is a lager, but I could go for this one quite a bit as I felt it was pretty well done. Maybe since I bought it at a decent place that probably gets them right off the boat it was fresher and impacted my tasting accordingly.
711 characters
More User Reviews:

2.9
/5
rDev
+5.8%
look: 3.5 | smell: 2.25 | taste: 3 | feel: 3.5 | overall: 3
3.1
/5
rDev
+13.1%
look: 3 | smell: 3 | taste: 3 | feel: 3 | overall: 3.5
The beer pours from the green 500ml bottle a typical lager cloudless gold with a perky bright white frothy head that dissolves quickly leaving a thin but covering sheet of lace upon the glass. Nose is the standard lager sweet malt, crisp, fresh and clean to the senses with the start is sweet with an apropos malt presence and the top light to moderate in its feel to the palate. Finish is forcible in its acidity with the hops obliging in their spiciness, quite dry aftertaste with the 7.4 percent ABV not readily apparent, a drinkable strong lager, better than many I have sampled over the years.
598 characters
3.15
/5
rDev
+15%
look: 3 | smell: 3 | taste: 3 | feel: 3.5 | overall: 3.5
Light golden color with a decent head.
The aroma of malts,corn and some hops and alcohol.
The taste is of light malts,fruit hints and hops.
The feel was medium carbonation and medium body.Some spicy feel to it but not much.
Notes: I had no problem drinking this one and while it may have been a boring beer,it was not a horrible beer. It was slightly below average yet tolerable.
384 characters
1.78
/5
rDev
-35%
look: 2.5 | smell: 2 | taste: 1.5 | feel: 2.5 | overall: 1.5
Poured a clear dark straw/light gold color, very big head that fades fairly fast. The smell is very close to an American Malt liquor, very corn scented adjunct with a strong alcohol presence, but there is a little euro style grassy malt in there as well, no trace of hops. Taste is also hop free, with most of the flavor being sickly sweet cereal grain flavors. A little malt present, but this beer's focus is not on quality. Almost undrinkable in a manner that very closely mimicks malt liquor.
495 characters
3.45
/5
rDev
+25.9%
look: 3 | smell: 3 | taste: 3.5 | feel: 3.5 | overall: 4
An obvious successor to the retired Obolon 2000, with slight reduction of alcohol. One of the most acceptable strong lagers. Why acceptable?
First of all, it has a distinctive lager character. There's not a single hint of white spirit in aroma or palate, as with other Strongs from Eastern Europe. Aroma is malty, gentle, it doesn't hit you between the eyes. Start is sweetish and rather nice. Body firm, full, well-balanced. Finish hoppy and altogether feeling surprisingly light - but not thin.
If jnly Obolon will be able to keep the present level of quality and sophistication...
589 characters

1.44
/5
rDev
-47.4%
look: 3 | smell: 1.5 | taste: 1 | feel: 2 | overall: 1.5
My wife picks up every odd-ball euro-lager she sees. Sometimes I am pleasantly suprised. Sometimes I am unpleasantly horrified that this passes for beer. The beer was served in a pint glass.
Appearance: The beer pours a clear golden coloration. The head was a creamy off biege coloration. The head quickly resolves into a ring of foam.
Smell: The beer has a somewhat sickly sweet smelling corn syrup and cereal smell. The alcohol smell is obtrusive and obnoxious.
Taste: The beer taste like a combination of bad mineral water, alcohol, and phosphorus veggetable boiled water with just a hint of corn cereal sweetness.
Mouthfeel/ Drinkability: The beer has a near watery thin body. The beer is well carbonated and this is somewhat helpful. I started with the beer cold and it was somewhat managable; however, as the beer continued toward warmer temps it became undrinkable. I think if you treated this as malt liquor and drank it blazing cold and quickly it would be a bit more drinkable. Thankfully this is the only bottle of this I have. Yuck!
1,057 characters
Obolon Mitsne (Krepkoe) from Obolon Brewery
Beer rating:
2.74
out of
5
with
8
ratings