Wohn's Heller Bock
| Privatbrauerei Frankenwälder Bürgerbräu Naila A. Wohn OHG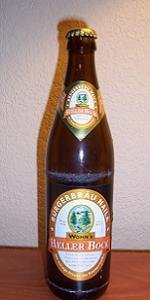 BEER INFO
Brewed by:
Privatbrauerei Frankenwälder Bürgerbräu Naila A. Wohn OHG
Germany
buergerbraeu-naila.de
Style:
Maibock / Helles Bock
Alcohol by volume (ABV):
7.20%
Availability:
Year-round
Notes / Commercial Description:
No notes at this time.
Added by SkeeterHawk on 03-03-2010
Ratings: 8 | Reviews: 6
3.75
/5
rDev
+7.8%
look: 3.75 | smell: 3.75 | taste: 3.75 | feel: 3.75 | overall: 3.75
The nose is bread and spice with a touch more banana than is usual for a Maibock. It pours slightly hazy gold under a 1" foam cap that fairly quickly dissipates to a thick film. It has a bready palate with banana, spice, cardamon, pepper and butterscotch. Medium full body and medium carbonation.
297 characters
2.88
/5
rDev
-17.2%
look: 3 | smell: 2.5 | taste: 3 | feel: 3 | overall: 3
Still on the shelf in some places, peel back the Shelton import label to find its notched 2010 :( good thing it was a bonus.
Poured into a tulip glass it has a murky golden orange hue, some micro sediment hanging in suspension. A feeble skim and ring of foam around the edges, some rising carbonation visible.
Smells musty like wet hay, and also buttery croissants.
Tastes a little dull, mainly buttered bread with some herbal dry astringency and bleh wet paper oxidation in the aftertaste. Medium bodied with a light carb level. Overall not something worth trying, seems like it's no longer imported and there's old stock out there.
636 characters

3.38
/5
rDev
-2.9%
look: 3.5 | smell: 3 | taste: 3.5 | feel: 3.5 | overall: 3.5
"Procrastination is the thief of time."
--Joseph Heller
Golden honeycomb with an impressive amount of swirling yeast that remain in suspended animation for the duration. A thick slice of ivory colored foam looks decent, and leaves a smattering of sudsy lace as it shrinks.
The aroma is less aromatic than it could be. There's a hint of maibock nutty earthiness, though it smells like this will be a more pale version than most. The fact that the beer is yellow rather than orange leads to that impression too.
Wohn's Heller Bock isn't a great helles bock by any means. Nor is it terrible. Sounds like a perfect opportunity to grant an average score. On a good note, it's balanced between malt sweetness and hop bitterness... and is improving somewhat as it warms.
Specifics include lightly toasted and lightly sugary malts, roasted peanuts, and an herbal hop bitterness that is more prominent than is typical for beer of this style. Okay, so it's growing on me as the middle portion of the bottle is breached. In the end, HB is an okay drinker... if you're feeling all Germanic and stuff.
No complaints about the mouthfeel. It's big enough and the bubbles do their thing without feeling too lazy or too overzealous. Definitely not a standout, but then nothing about this beer is.
Privatbrauerei Burgerbrau Naila A. Wohn Heller Bock is a barely above average brew that will scratch that helles bock itch... if you're a fan of the style. For those of us who aren't thrilled with 'em, it's on the forgettable and 'not worth the $2.99 price tag' side.
1,555 characters

3.72
/5
rDev
+6.9%
look: 3.5 | smell: 4 | taste: 3.5 | feel: 3.5 | overall: 4
This is a nice maibock-type but not outstanding.
Faintly hazy pale amber with small-medium off-white head very slowly shrinking to foamy ring and wisps, plus a little weak lace.
Aroma is strong toasty bread, raisiny grain with hay, a lot of strong herbs, general toasty bread with faint fruitiness, hint of mineral. It definitely smells like a maibock, and good.
Taste is a lot of toasty bread crust, raisin, herb, hay, with light, smooth honey-raisiny alcohol. It's briefly fairly complex and balanced up front before soon becoming simpler with a light herbal-raisiny alcoholic bitterness and spice taking over to just barely dominate the finish with light sweetness underneath. It has a mild, lingering aftertaste of honey-raisiny spicey sweetness with mild toast and herbs.
779 characters
3.23
/5
rDev
-7.2%
look: 3.5 | smell: 3 | taste: 3.5 | feel: 3 | overall: 3
Well this one is out there, seems nobody wants to review it though. 500ml brown bottle, my back label is gone, I think it is a Shelton Brothers product but I've only seen it on sale once.
Pours a light gold but one that is rich and deep, the head is foamy and white and really sticks for awhile, it leaves a bit of lacing.
The smell is interesting, the beers of this style always catch me off guard 1 because it isn't one of my favorite styles and 2 they never seem to have a general samey scent. This one smells like mineral water with herbal hops swimming in it, I don't know if it is a bad thing or not but it is odd.
The taste is sweet, with an odd hoppiness to it, there is a bit of metallic flavor. The bitterness is decent, this is just a strange tasting brew.
It is exotic, go for it I say.
802 characters
3.13
/5
rDev
-10.1%
look: 4 | smell: 3.5 | taste: 3 | feel: 2.5 | overall: 3
I am a huge fan of this style and was pleased to see another one to try. I make this beer very regularly, so I have a good standard to judge against.
I picked this beer up at Knightly Spirits and the guy, Allan, mentioned that it had just come in. I guess that is the truth as it isn't even listed on BA. Either way, I am having pizza tonight and I imagine that this will be the perfect beer. Here we go.
Appearance: Pours a clear yellow golden color with a small 1/8" head of small white bubbles after the pour. Within thirty seconds, the head was gone and ended up as a very small ring around the edge of the glass. There are a few bubbles rising through the liquid, but they don't maintain the head.
Aroma: I initially got some fresh graininess from the malt with a subtle honey malt impression in there somewhere. There are lots of toasty notes in here, but it is still coming across as grainy...I am not sure that this is a good thing. It definitely smells fresh.
Taste: The flavor is also somewhat grainy, but the honey is definitely a big player in the flavor as well. It is interesting how the honey impression is one of the cleaner things that I am noticing. The beer itself is medium to light bodied with low carbonation. The low carbonation gives the beer a bit heavier mouthfeel than perhaps was intended. Though it is an obviously well attenuated beer, it leaves the palate covered in an almost syrupy sweetness on the back of the throat that only gets challenged by the alcohol which comes in quite late.
Opinion: Well, overall this is a decent beer, but I have to be critical of the malt bill. I think that the honey impression is too much for this particular beer and the graininess seems more like some kind of mismanagement in the mash than anything...like over-sparging or something. Perhaps it is simply a product of the type or brand of malt used, but it is too much for this beer. I like a strong malt-bill, but this one is out of balance for my taste. That said, I will drink the rest of my beer as it still goes pretty decent with pizza, but it is not one that I will be seeking out any time soon.
2,126 characters
Wohn's Heller Bock from Privatbrauerei Frankenwälder Bürgerbräu Naila A. Wohn OHG
3.48
out of
5
based on
8
ratings.