Cannibal
| Iron Hill Brewery & Restaurant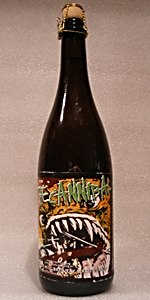 BEER INFO
Brewed by:
Iron Hill Brewery & Restaurant
United States
ironhillbrewery.com
Style:
Belgian Strong Pale Ale
Alcohol by volume (ABV):
7.80%
Availability:
Rotating
Notes / Commercial Description:
Belgian Golden Ale brewed in tribute to one of the world's greatest cyclists, Eddy "The Cannibal" Merckx. Light in color and medium -bodiedy but complex in flavor. Unique Belgian yeast imparts notes of spice and tropical fruit.
30 IBU
Added by BeerBeing on 07-15-2007
Reviews: 9 | Ratings: 30

4.13
/5
rDev
+8.4%
look: 4 | smell: 4 | taste: 4.25 | feel: 4.25 | overall: 4
12/21...pours very cloudy and murky. Pale white/pink gold. Heavy white foam, quite sticky. Fruity esters, bubblegum notes. Yeasty. Fruity flavors. Some citrus. Bright & floral. Subtle peppery background. Complex Belgian flavors, quite good.
240 characters

3.68
/5
rDev
-3.4%
look: 3.75 | smell: 3.75 | taste: 3.5 | feel: 4 | overall: 3.75
For a long time, the only way to get Iron Hill Brewery & Restaurant beers for takeaway were to fill growlers or buy their massive corked & caged bottles, neither of which were CANducive to my purposes. I am glad to see them beginning to make the CANsition over to CANs & it will be even better if they get a Crowler machine in there.
From the CAN: "A golden Belgian-style ale. Its complex flavors and dry finish are accented by a nose of tropical fruit and dry spice." The label seems inCANgruous since the beer is named for Eddie "The Cannibal" Merycx, a Belgian bicyclist and has nothing to do with scuba diving.
The Crack! produced a light spray across my fingertips and since it came in a pounder 16-fl. oz. CAN, I did not feel like CANducting anything more than a gentle Glug. Once I had acCANplished this, I gave it a swirl to raise a finger of foamy, eggshell-white head with moderate retention. Color was Yellow-Gold (SRM = 4 - 5) with NE-quality, prompting a visit from The Gelt Gang of Mammon, Croesus & Midas. Nose was both fruity and musty. It smelled of bananas, tangerines and toasted coconut along with a bundle of old newspapers found up in the attic after many years. Hmmm. Mouthfeel was medium-to-full, but the low carbonation made it seem kind of thick and full on the tongue. The taste was an odd admixture of banana, pineapple, tangerine & coconut along with that yeast-driven mustiness that I caught on the nose. It wasn't bad, per se, just very different from what I both expected & remembered. I am sure that I had it on-tap at one point over the years. Finish was very dry, thanks to the yeast having really done its job. Phew! That may be my last for the evening.
1,691 characters
3.53
/5
rDev
-7.3%
look: 4 | smell: 3.5 | taste: 3.5 | feel: 3.5 | overall: 3.5
A thanks to the reigning champion of canned beer, woodychandler, for this beer. Poured from a 16 oz. can. Has a cloudy golden color with a 1/2 inch head. Smell is of yeast, light fruits. Taste is malts, alcohol, mild fruits. Feels medium bodied in mouth and overall is a decent beer, but a bit on the boozy side for my liking.
327 characters
3.34
/5
rDev
-12.3%
look: 4 | smell: 2.5 | taste: 3.5 | feel: 4 | overall: 3.5
I had this at iron Hill Brewery in Maple Shade, NJ. It came in a tulip glass.
Appearance: The body is a clear dark golden color. The head is a right color, one fingers tall, good retention, not much lacing, and tiny sized bubbles.
Smell: The aromas are yeast, water, and esters.
Taste: The flavors are yeast, citrus, resin.
Mouthfeel: The body is medium, with a crisp clean finish.
Drinkability: This beer is very drinkable.
Don't drink and review.
449 characters

3.75
/5
rDev
-1.6%
look: 4 | smell: 4 | taste: 3.5 | feel: 4.5 | overall: 3.5
Would someone please explain to me why there are 7 listings for this beer? I've never understood that about BA listings... does it really matter whether I bought this bottle from the Phoenixville, West Chester, or Media locations?
Pours a golden yellow, with a decent cream-colored, tight, bubbly head. Lot of carbonation ascending throughout.
Smelled of grapes ... quite champagne-like.
Some bitter bark in the flavor, continued champagne quality, and some lime zest to finish it off.
MF was crisp, very dry, with great carbonation that hangs out on the back of the tongue for a good, long while.
Little too bitter to consider this one highly drinkable, but an enjoyable compliment to an appetizer or dinner nonetheless.
731 characters

3.47
/5
rDev
-8.9%
look: 3 | smell: 3.5 | taste: 3.5 | feel: 3.5 | overall: 3.5
was expecting a lot from this beer. especially for what i paid for it.
appearance: hazy golden color - big head that dissipates quickly
smell: strong malty citrus smell
taste: very crisp initial taste - malty citrus. light and enjoying. not exactly what i would associate with a belgian strong pale ale - but good regardless.
mouthfeel: crisp - yet overall mellow. very back of the mouth taste
drinkability: not too bad.
425 characters
4.32
/5
rDev
+13.4%
look: 4 | smell: 4.5 | taste: 4.5 | feel: 4 | overall: 4
My girlfriend brought this down from Newark for New Years Eve. It was very enjoyable.
A - Gold to copper. Nice an thick like a gold belgium should be.
S - I agree it was very fruity with a little sour aroma.
T- Nice and refreshing Light Belfgium. Sweet with lots of fruit characteristics.
M- Really enjoyable. Light almost like champagne. Lots of carbonation.
D- Sample the large bottle with a couple of friends and it didn't last very long at all.
My first tasting of iron hill and it was delicious. Can't wait to get more.
536 characters
4.2
/5
rDev
+10.2%
look: 4 | smell: 4 | taste: 4.5 | feel: 4 | overall: 4
Thanks to my sis and Brother-in-law for this one!
Poured up a slightly hazy pale-yellow, almost gold color.Lots of bubbles rising. Nice rocky off-white head.
Aroma-grassy, yeasty, some tart fruit.
Mouthfeel-Very carbonated with a prickly champagne feel on the palate. This is a solid Belgian, tastes more like a Blonde. Sweeter with some mild hop flavors. This is very tasty. Grassy with some fruit flavors-apple maybe? Finishes clean. This was my first offering from Iron Hill, very enjoyable.
495 characters
3.67
/5
rDev
-3.7%
look: 3 | smell: 3.5 | taste: 4 | feel: 3.5 | overall: 3.5
Golden,yellow with a clear body.No head and some nice carbonation.Banana,spice,coriander and belgian yeast in the nose.Taste as it smells,very strong taste,yeasty in all aspects.Goes down smooth,the abv is up there so go easy with this one.I think some age on it would help.Good beer none the less.
298 characters
Cannibal from Iron Hill Brewery & Restaurant
3.81
out of
5
based on
30
ratings.