The Great Imperial Pumpkin Ale
| Iron Hill Brewery & Restaurant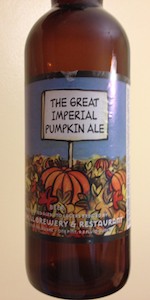 BEER INFO
Brewed by:
Iron Hill Brewery & Restaurant
United States
ironhillbrewery.com
Style:
Pumpkin Ale
Alcohol by volume (ABV):
9.00%
Availability:
Fall
Notes / Commercial Description:
No notes at this time.
Added by beerthulhu on 11-07-2009
Reviews: 3 | Ratings: 33

4.04
/5
rDev
+9.2%
look: 4.25 | smell: 4 | taste: 4 | feel: 4.25 | overall: 4
Bottle was vintage 2009. Very pleasantly suprised, this beer benefited a lot from the cellaring. Poured with a thick tight head. Nice flavor integration with the malty sweetness and the spices. Not too thick on the tongue. Hides the abv well.
242 characters

3.5
/5
rDev
-5.4%
look: 3.5 | smell: 3.5 | taste: 3.5 | feel: 3.5 | overall: 3.5
On tap @ Iron Hill Mapleshade on 9/25/11. Served in a snifter.
Pours a deep clear ruby, with roughly a ½ finger of creamy off-white (maybe even a light tan) head. This retains with a rich ½ of fizzy flare-up, which leaves back a nice looking smattering of spotty lace. The aroma smells of fresh green pumpkin meat on top, with underlying candied sugars giving this a bit of stickiness in the nostrils. Pumpkin spices aren't overdone and actually lend a bit of airiness to the nose and I'm overall digging the emphasis on the green feel here from the pumpkin and maybe a touch of other light hop activity that is present.
The taste has a LOT of sweetness going on with it, with mostly a darker candied character from that Belgian sugar addition really driving this, along with some fruity flavors that I'm assuming are coming from the yeast. Pumpkin flavor seems to sit within the body of the sweetness but I wish that it was as pronounced as it was in the nose. There appears to be a light earthy hop presence to this but that is mostly all of the bitterness that this possesses. Spices are fairly strong across the back, tingling the finish along with some stiff dryness that parches the palate a bit. The mouthfeel is fuller bodied, with a firm creamy feel that blows up in the mouth but there is a touch of underlying slickness here that helps a bit. The high alcohol here isn't stinging but does add extra warm boldness to the body and profile, with added sweetness on top of that which is present from the sugars and malt.
I actually like the concept of this beer, being an Imperialized Pumpkin Ale with a Belgian twist but it's just that I'm not sure that the added character and the high ABV here necessarily work together. There's just a lot going on and it's all intensified by the ABV. If you can get past the sweetness and don't mind digging a bit for the pumpkin flavor then this could a satisfying warm sipper to help take the chill off a cool October day. I've got my thumb in the middle but slightly wavering up on this one.
2,067 characters

3.5
/5
rDev
-5.4%
look: 3.5 | smell: 3.5 | taste: 3.5 | feel: 3.5 | overall: 3.5
On tap at brewery 11-7-09 served in a chalice.
A: The beer poured a medium brilliant ruby color with orange highlights. The head was thin and creamy standing only 1/2 finger tall, beige in color, and dissipated rather quickly after the pour. Visible carbonation appeared near silent with but one broken trail of micro bubbles lazily rising to the surface. The lacing was slight with a sold thin ring encompassing the chalice.
S: The nose had a ligth pumpkin spicing to it, cinnamon, nutmeg and traces of cloves with a light sweet toasted malting. Hints of dry candy sugar sweetness and faint fresh pumpkin were also lightly represented.
T: The flavor started off spicy and warm, with light hints of cinnamon and nutmeg. The body seemed a bit thin at times while the high 9.0% abv nature seemed to distract from the pumpkin spicing. Lightly toasted pumpkins with a dry candi sugar sweetness gives this a warm and spicy holiday feel. It almost seems as if a belgian yeast strain was used and tasted similar to thier caprice and thier triple. A nice touch of spicy alcohol warming endures on the finish and fade leaving light cinnamon/apple cider notes. Overall i think the high gravity and alcohol seemed to distract and take away from the thin pumpkin spicing. I appreciaite the subtleness but the alcohol may have been a bit much and overall just didnt feel like a pumpkin beer.
M: medium with an oily texture and feel. Very smooth from the lack of carbonation as it slides around.
D: Drinkability was fair, probably a one and done beer. Spicy and warm alcohol wise, but lacking in the pumpkin spice department. Again drank similar to thier caprice or triple with a dry feel. Enjoyed thier original pumpkin much better.
1,728 characters
The Great Imperial Pumpkin Ale from Iron Hill Brewery & Restaurant
3.7
out of
5
based on
33
ratings.