Iron Hill Pumpkin Ale
| Iron Hill Brewery & Restaurant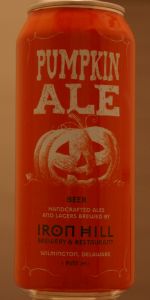 BEER INFO
Brewed by:
Iron Hill Brewery & Restaurant
United States
ironhillbrewery.com
Style:
Pumpkin Ale
Alcohol by volume (ABV):
5.50%
Availability:
Fall
Notes / Commercial Description:
No notes at this time.
Added by Thorpe429 on 11-04-2010
Reviews: 13 | Ratings: 57

3.73
/5
rDev
-0.3%
look: 4 | smell: 3.5 | taste: 3.75 | feel: 4 | overall: 3.75
I always find it amusing when my (usually) local, in-person trader, tone77, beats me to the punch. It is indicative of a) the Bottle Backlog here at Chez Woody & b) the beer backlog in general. He turned into a snowbird in 2014-'15 & did the same thing in 2015-'16 so I am hoping to get caught up before his return.
From the CAN: "Pumpkin Ale: Medium-bodied copper ale, malty sweet with a balancing bitterness. Spiced with traditional pumpkin pie spices and vanilla instead of finishing hops. OG: 1.055; Color: 18; IBU: 30; Alc. 5.5% by Vol."
Before you begin to fret that an approved pic is not in place, rest assured that I have a very photogenic CAN standing by to be recorded for posterity. In the meantime, enough! We drink!
The Crack! offered some resistance and when it let go, it did so with some foaming through the vent that required an immediate Glug. I wound up with three-plus fingers of dense, rocky, tawny head with great retention as the result of my quick-thinking & action! I may be awarded the Medal of Gluggery as a result. Color was Amber to Deep Amber/Light Copper (SRM = > 9, < 13) with NE-quality clarity. Please note that I record SRM while their measurement appears to be degrees Lovibond. Nose was different than many Pumpkin Ales in that it held a perfuminess in terms of its spice. I was reminded of Speed Stick Spice Deodorant (now disCANtinued), which really smelled good on me. It smells pretty good on this beer, also. I CAN appreciate something that is not just the same-old, same-old run-of-the-mill. Mouthfeel was medium-to-full, not quite creamy, but on the approach. The taste was definitely of vanilla! I might not have guessed it on the nose, but on the tongue & in the mouth, there was no question! The finish allowed the spices to begin to come through, rendering it fairly dry. I would not characterize it as "semi-dry" as it was definitely dry, but not as dry as many spiced beers that I have reviewed. It CAN be a very fine line to have to walk/tread, but if the beer is saturated, or worse, oversaturated with spices, it is not at all to my taste. This was decent. Viva The CANQuest (tm)!
2,139 characters
3.32
/5
rDev
-11.2%
look: 4 | smell: 3.25 | taste: 3.25 | feel: 3.5 | overall: 3.25
A thanks goes out to the founding father of the canquest, woodychandler, for this beer. Poured from a 16 oz. can. Has a copper/orange color with a 1/2 inch head. Smell is dominated by spices. Taste is also full of spice, lots of cinnamon, some nutmeg, subtle pumpkin in the background. Feels medium bodied in the mouth and overall is a decent beer, but there are many better pumpkin beers out there.
399 characters
3.97
/5
rDev
+6.1%
look: 4 | smell: 3.75 | taste: 4.25 | feel: 3.75 | overall: 3.75
Had this on tap at the Media location last night. It is a great seasonal offering full of spices and great roasted pumpkin flavor. It really tasted extremely fresh and went well as an after dinner beer. I think everything they do is above par.
246 characters

3.81
/5
rDev
+1.9%
look: 3.75 | smell: 4 | taste: 3.75 | feel: 3.75 | overall: 3.75
11/29...Good pumpkin ale on its way out as the season closes. Medium dark copper colored with some white foam. Clean taste, pumpkin, and applicable spices. Good body, not overly sweet. Tasty.
191 characters
3.25
/5
rDev
-13.1%
(Draft at Maple Shade location) Not overly sweet or overly spiced. Enjoyable, but not one that stands out among all of the pumpkin beers out there during this season.
168 characters
3.11
/5
rDev
-16.8%
look: 3.25 | smell: 3.5 | taste: 3 | feel: 2.75 | overall: 3
Had a recent pint at the Iron Hill Lancaster location. It has a rich brown color with lasting tan head and good lacing. Not much pumpkin, which is to be expected, with a moderate amount of spice on the nose. Mouthfeel is a medium bodied with the light spiciness and minimal sweetness… the way I prefer a pumpkin brew. It's a decent go, but have had better this year.
370 characters

3.23
/5
rDev
-13.6%
look: 4 | smell: 3.5 | taste: 3 | feel: 3.5 | overall: 3
(Maple Shade location)
It looks like a pumpkin ale - the right amber (orange-y) color.
Perhaps smells hoppy. Not so much pumpkin pie spices coming through - a little bit of allspice or cinnamon maybe. But there's something peculiar and, dare I say, unique about what I'm getting here. (At least it's not a straight-up nutmeg bomb)
I take a sip - oh, yes, what is that? It's vaguely nutty, mildly plant-like. Leafy? Vine-y? Wait... "Here, taste this," I say to a friend. "What is that?!" A couple more sips, and it occurs to me what it is...
Have you ever smelled the stem of a pumpkin? It has a dried-out, earthy, dead-leafy, and arguably mushroomy thing going on. Pretty unique for what it is, but fairly indicative of a gourd. I ask this because it occurred to me that this beer totally tastes like a pumpkin stem. Dead on.
Interesting? Sure. Could I drink a bunch of these? Hell, no. Not nearly enough balance or presence of malt, nor is it pleasingly "spicy", as in pie-esque. Believe me, I have a soft spot for examples of this style coming across more "pumpkin" than "pumpkin pie", but this one wasn't quite doing it for me.
1,136 characters
3.5
/5
rDev
-6.4%
look: 3.5 | smell: 3.5 | taste: 3.5 | feel: 3.5 | overall: 3.5
Served in a pint glass.
A: Slightly hazy amber with a very thin, white head that left no lacing.
S: Some malt and pumpkin and spice, but overall, very mild.
T: Similar to the nose. Light sweetness and not much bitterness. Some malt flavor in the finish. Mild pumpkin and spice flavor.
M: Light to medium bodied with soft carbonation. Thin and watery.
O: I was a bit disappointed in this pumpkin ale. I've definitely had better, and I was expecting more from Iron Hill.
473 characters
4.2
/5
rDev
+12.3%
look: 4 | smell: 4 | taste: 4.5 | feel: 4 | overall: 4
On tap at Lancaster, in a tumbler. Shared with ksak.
A: The ale is an auburn color, amber with a warm glow. The thin head, white as snow, comes along for a precarious ride. Too afraid to lace.
S: The nose is spicy, allspice and cinnamon bringing sweet powdery notes. A fuller malt base nicely supports the aromas without becoming to sweet.
T: You know, beers like this make me want to change my ardent opinion on pumpkin ales. Spicy and sweet, it delivers plenty of warming, wintery spices in each sip. Cinnamon and allspice come to mind, the latter providing plenty of nutmeg flavors. The caramel base, bready, does yeoman's work supporting the spices. Rich and starchy, I think that I really like this one.
M: Spices are rich, the nutmegy allspice delivering most of the punch. Big and chewy, I was very impressed.
820 characters

3.75
/5
rDev
+0.3%
look: 3.5 | smell: 3.5 | taste: 4 | feel: 4 | overall: 3.5
A - Served with a clear, copper colored body...you can see some slow carbonation...a one finger, off white head formed and slowly fell to a spotty cap...some lacing
S - You can actually pick out some of the flesh pumpkin...the pumpkin pie spices are subtle...overall, the nose was pretty light
T - Again, there is some fleshy pumpkin that jumps out up front...the spices come in afterwards and are in full force...cinnamon, nutmeg, some clove, and all spice round up the list of pumpkin pie spices that are detectable...they make the finish spicy and some earthy hops help in the depth of the finish
M - Medium bodied...pumpkin pie spices make it a little spicy while the earthy hops add a slight balance
O - Well, this is just another average pumpkin ale for me this year...the nose could have used another dose of spices...but the flavors leaned more towards a spicy characteristic
887 characters
4.18
/5
rDev
+11.8%
look: 4.5 | smell: 4 | taste: 4 | feel: 4.5 | overall: 4.5
Review from notes taken on 10/22/10. Unfortunately I lost many reviews during the "merging" of all the Iron Hill locations. I reviewed this brew at least three times for on tap, growler and cask. Unfortunately I can only restore this cask review since I still have the paper notes.
On cask at the Lancaster location, served in a nonic. This brew appears a clear amber color that is deep with ruby hues. A finger of creamy, patchy head recedes slowly coating the glass in an entire wall of lace.
The aroma is malty sweet, slightly nutty with a touch of citrus and herbal hops. A very light indication of a sweetness almos like vanilla before a final touch of pumpkin spices like cinnamon approach the nose and somewhat overtake the pumpkin flesh aroma.
The tast is smooth and sweet with a forward pumpkin flavor very much unlike many other offerings I have had. It tastes significantly more like pumpkin flesh instead of just the associated spices. A nice mellow flavoring that works perfectly with the malted sweetness. The finish includes an afterthought of light pumpkin spices: cinnamon primarily, nutmeg and more fleshy, earthy pumpkin. A touch of hops are present.
This is a medium bodied offering with a light amount of carbonation. Very creamy in the feel and excessively drinkable. At the time of this review, it was the best pumpkin ale I ever had and luckily having it side by side with the on tap version allowed a growler to go home with me to be shared amongst friends.
1,487 characters
4
/5
rDev
+7%
look: 4 | smell: 4 | taste: 4 | feel: 4 | overall: 4
Phoenixville location
Appearance: minimal head, orange in color, clear, moderate carbonation
Smell: cinnamon, nutmeg, all spice, and clove
Taste: toasted malt starts with the spices creeping in during the middle and an alcohol finish. Spices are cinnamon, nutmeg, all spice, and clove
Mouthfeel: sweet a with a noticeable alcoholic backbone, moderate carbonation, medium-heavy bodied,
Drinkability: This is arguably the most back ended non-hoppy beer I have ever had. The spices are very present but they take until the finish to kick into overdrive. A different beer that I think two is the max in a sitting for me.
622 characters

3.88
/5
rDev
+3.7%
look: 4 | smell: 3.5 | taste: 4 | feel: 4 | overall: 4
Big thanks to mday for sending this out.
Pours a moderate orange color with a little bit of a brownish tint in there. White head and a bit of lacing. The nose is fairly faint with a bit of pumpkin and residual sweetness. The taste is light pumpkin pie with some brown sugar and only a bit of spicing. Good medium body with ample carbonation. Drinks well and is a nice offering.
380 characters
Iron Hill Pumpkin Ale from Iron Hill Brewery & Restaurant
3.74
out of
5
based on
57
ratings.