Benediktiner Pils
| Klosterbrauerei Weissenohe / Klosterbrauerei Weißenohe Wirtshaus
BA SCORE
84
good
12
Reviews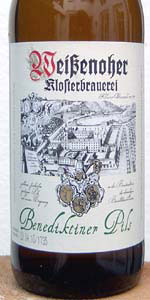 BEER INFO
Brewed by:
Klosterbrauerei Weissenohe / Klosterbrauerei Weißenohe Wirtshaus
Germany
klosterbrauerei-weissenohe.de
Style:
German Pilsener
Alcohol by volume (ABV):
4.80%
Availability:
Year-round
Notes / Commercial Description:
No notes at this time.
Added by HappyHourHero on 07-28-2007
Reviews: 12 | Ratings: 15
4.56
/5
rDev
+22.9%
look: 4.25 | smell: 4.5 | taste: 4.5 | feel: 4.75 | overall: 4.75
On cask at Hay Merchant in Houston, TX
A: Pours perfectly clear, transparent golden/yellow. A two finger white head forms with excellent retention and lace all the way down.
S: Beautifully simple in the nose. Malts shine up front. Bready, biscuit malts that I love. Very delicate fruity aroma, then some grassy, citrus hops and even lighter bitterness. Superb.
T: Like the nose, incredibly simple, but everything shines. Bread and biscuit like malts. A bit of graininess, which I also really enjoy. Mid palate a bit of sweetness. Finishes with a light and delicate fruit balance of citrus with this ever so light grassy bitterness lingering. I say simple, but the more you concentrate, the more nuances come out. Though concentration is certainly not needed to enjoy this. Incredible.
M/D: A light body, which is so supremely smooth, I can't really describe it. Not to mention, even cleaner. Not a hint of off flavors. The definition of easy drinking, and something I wish I could keep coming back to, and did at the bar.
This cask was phenomenal, and on top of that a real treat to find. Nuanced and subtle almost to the extreme. Though, like all amazing subtle styles, the more time you put into it, the more you get out. Every sip reveals something slightly different. I think it says wonders about the quality of Hay Merchant when they put casks and taps on like this. Beyond impressed, I wish this was more the norm instead of the "lets throw everything in the cask" mentality that most American brewers use.
1,539 characters

3.75
/5
rDev
+1.1%
500ml bottle. Pours a pale straw colour with a large foamy white head. Subdued malt aroma with some citrus, grass and honey. Medium sweetness with a semi-dry, citrusy bitter finish. Light to medium body. Pleasant enough.
221 characters

3.5
/5
rDev
-5.7%
look: 3.75 | smell: 3 | taste: 3.75 | feel: 3.5 | overall: 3.5
A: Pours pale golden with a tall white head. Dissipation takes it's time, but leaves nice lacings.
S: Bitter hops and malt, but rather mild. Some citric and grassy notes in the back.
T: Bitter hops, nice maltyness and lots of nettles and fresh cut grass. Citric notes.
M: Aftertaste is not that long, but holds a nice bitterness. Body is medium as is the carbonation.
O: A German Pilsener, a little better than the average.
427 characters

3.8
/5
rDev
+2.4%
look: 3.5 | smell: 3.5 | taste: 4 | feel: 3.5 | overall: 4
500ml bottle served in a Weizen glass.
A: Pours a golden yellow color forming a big, bubbled and aired white head. Absolutely clear. Retention is medium while many lacing are formed and left in the glass
S: Extremely grainy in the nose. Sweet. Metallic with some notes of honey. Hops are flowery giving a refreshing aroma to the beer
T: Slightly sweet upfront. Mainly sweet grains, bready yeasts and smooth hops bitterness. A bit metallic in the mouth too. Hops have a mild citrus profile in the end
M: Light body. Good carbonation. Grainy with a decent citrus hoppy bitterness in the aftertaste
O: Extremely easidrinking beer. Great German Lager. Recommended
664 characters

3.7
/5
rDev
-0.3%
look: 4 | smell: 4 | taste: 3.5 | feel: 4 | overall: 3.5
On tap at Churchkey DC. Served in a snifter. Beer is yellow and clear with a lazy white head of small bubbles. some lacing, low retention.
Aroma is clean and clear with a mild yeastiness and some minimal malt.
Beer is wet and clean with no aftertaste and a mild sweetness in the whole thing that makes it pretty good. There is a bitterness on the backend with a semi-dry finish. I do enjoy it but it is not my favorite pilsner.
429 characters

3.15
/5
rDev
-15.1%
look: 3.5 | smell: 3.5 | taste: 3 | feel: 4 | overall: 2.5
Half litre bottle, pale colour, clear, small head. Had a noble hop aroma, reminded me more of a north german Pils than a franconian one. The first mouthfulls were very promising, had a nice balanced hoppy bitterness with notes of pine. As I drank more it seemed to lose it and got harder and harder to finish. Nice mouthfull with a lot of gas. Overall it promised much but failed to deliver.
391 characters
3.97
/5
rDev
+7%
look: 3.5 | smell: 4 | taste: 4 | feel: 4 | overall: 4
0.5 l. bottle, bought in a beershop in Germany. Nice prices there.
Looks yellow, pale golden, modest head after an agressive pour. Nice carbonation.
Smell is mellow: malts, grassy and floral hops, some citrus too.
Taste is more of herbs and spices. also some citric notes.
Very refreshing carbonation, light body, easy alcohol. The aftertaste is more impressive than i expected: it's quite long, and very balanced in the bittersweetness of hops 'n malts.
A particularly good example of the pilsner style.
506 characters

3.1
/5
rDev
-16.4%
look: 3 | smell: 3 | taste: 3.5 | feel: 2 | overall: 3
A: Served on tap in the Porterhouse pub in Dublin, Ireland. Pours a clear gold with a one finger, thin head. Kind of appealing.
Sm: A clean, light note of barley. Appealing.
T: Well built and balanced with a crisp finish. Very clean barley taste. The finish is wonderful.
MF: A bit too wet. Too smooth. It's be nice coarser.
D: I'd have another if it weren't for the price.
381 characters
3.8
/5
rDev
+2.4%
look: 3.5 | smell: 3.5 | taste: 4 | feel: 3.5 | overall: 4
A: Perhaps slightly light for a pilsner. Thin golden color with a healthy head, however very little visible carbonation activity through the liquid.
S: Distinct German malts, a bit sweet and hair smokey.
T: Something about this doesn't strike me as so pilsenery, or maybe I'm just off my rocker today. It's on the flavorful side of pilseners, and the German maltiness is the most dominant trait. As well as a grassy flavor. My descriptive capabilities are shot today....;
M: Medium body with soft carbonation.
D: Yea, it's a nice and kind of interesting one. Different and above average.
592 characters
4.5
/5
rDev
+21.3%
look: 4.5 | smell: 4.5 | taste: 4.5 | feel: 4.5 | overall: 4.5
a fantastic pilsner that hit all the bases and had a great character in the yeast. nice golden body with a tight head of lace... quite firm. bubbles slowly coming up minutes after the pour. head didn't dissipate... actually grew out of the glass. to about 3 fingers. nose was simple but perfect. apple and straw must. palate of apple, pollen and grassy straw. a funk in the yeast that gave it a extremely broad ester range. apple, plum, and the earth of a pear. fantastic. in the top 1 percent of german pilsners.
one of the best finds in poland. ask if you're looking for it.
578 characters
4.06
/5
rDev
+9.4%
look: 4.5 | smell: 3.5 | taste: 4 | feel: 4.5 | overall: 4.5
Pours white gold with a meringue-like stiff white head that clings and sheets. Spicy hops on the nose with a bit of sour proofing bread dough. Corn and white bread malts with grass and lemon sorbet hops. Bitter linger. Amazingly soft and round, light bodied.
Flavors are solidly typical for the style; it the luscious body that makes this disappear fast.
356 characters
4.03
/5
rDev
+8.6%
look: 4.5 | smell: 4 | taste: 4 | feel: 4 | overall: 4
Tall, whispy, bright-white head floated like a cloud above the sunshine colored beer. Pathces of lace clung to the glass above the bubbled filled beer below. Sharp herbal hop aroma with a faint pale malt sweetness hanging beneath. Light crisp mouthfeel with a nice dose of carbonation. Grassy hop flavor with a mild bite that holds throughout. Finishes quick and clean. A nice Pils. Give it a go.
396 characters
Benediktiner Pils from Klosterbrauerei Weissenohe / Klosterbrauerei Weißenohe Wirtshaus
3.71
out of
5
based on
15
ratings.