Kloster-Sud
| Klosterbrauerei Weissenohe / Klosterbrauerei Weißenohe Wirtshaus
BA SCORE
84
good
15
Reviews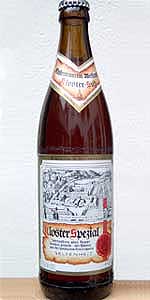 BEER INFO
Brewed by:
Klosterbrauerei Weissenohe / Klosterbrauerei Weißenohe Wirtshaus
Germany
klosterbrauerei-weissenohe.de
Style:
Kellerbier / Zwickelbier
Alcohol by volume (ABV):
5.40%
Availability:
Year-round
Notes / Commercial Description:
No notes at this time.
Added by HappyHourHero on 07-29-2007
Reviews: 15 | Ratings: 20
3.72
/5
rDev 0%
look: 4.25 | smell: 3.5 | taste: 3.75 | feel: 3.75 | overall: 3.75
L:
-pours a rich amber with a medium,foamy,quickly dissipating,off-white head
-low-medium carbonation visible
S:
-bready,very nutty,roasty touch
T:
-nutty,toffee,chocolate,slightly roasty
F:
-light-medium body,medium carbonation
O:
Really different for a Lager.I enjoyed it.
★
274 characters
3.47
/5
rDev
-6.7%
look: 4 | smell: 3.25 | taste: 3.5 | feel: 3.5 | overall: 3.5
Poured from the bottle into a pils glass.
Deep orange amber body color. Crystal clear, with minimal carbonation rising. Head is a bit soapy and minimal swiss cheese like retention in its creation, at a simple two fingers barely tall. Settles though to a very thick and elevated collar on the ring, soapy, ans simple white in color.
Aroma is just weird and unexpected. Mud. Dirty earth, but at least with a toasty brown bread quality. Very unexpected, the dark color seems to hint at some different malt quality and it seems to show. It improves over time, and more of the toast quality dominates, but the first whiff is actually not pleasant.
Palate comes very lightly. A slight wet and watery palate, mish mashes with a faint caramel. Very dry brown bread crusty flavors that finish nicely on the mid palate, but leave an odd astringent bitterness. Hop toast brown bread a bit, but this really seems to come off wet and like a dull Marzen.
It's an ok beer to drink, probably a bit special in it's own realm, but this has very little appeal to me personally.
★
1,071 characters

3.37
/5
rDev
-9.4%
look: 3 | smell: 3.5 | taste: 3.5 | feel: 3 | overall: 3.25
500ml bottle. Bavaria footed lager glass. Reddish amber color, clear appearanc. Off-white head shows shy retention. Noble hop & caramel aromas rounded by hints of toffee. Toasted & sweet malty upfront with herbal notes. Light body. Soft carbonation. Toffee & fudge chocolate flavors touched by low hoppiness lingers into a sweet –chocolate infusion-like- finish. Herbs on the aftertaste. A delightful & easy drinkable beer.
★
425 characters

3.97
/5
rDev
+6.7%
look: 4.5 | smell: 3.75 | taste: 4 | feel: 4 | overall: 4
A: Copper pour with lots of small bubbles under an off-white very compact and thick medium-tall head. Slow dissipation leaves rich lacings.
S: Roasted malt, somewhat sweet. Bitter hops. Some dark dried fruits, but not sweet. Some dark rye-bread, almost like pumpernickel. Very mild; smoked ham.
T: Sweet creamy full malt, bready. Some bitter hops lures in the back. Dark syrup. This one is all about the malt.
M: Aftertaste is sweet and slightly roasted, medium long. Body is very creamy and full. Carbonation is surprisingly low, considering all the bubbles.
O: Nice and well crafted. I'm having this with BBQ - works perfectly.
★
636 characters
4.55
/5
rDev
+22.3%
look: 4 | smell: 4 | taste: 5 | feel: 4.5 | overall: 4.5
Poured into a glass mug. Pours clear dark golden with a thick white head and plentiful tiny streaming bubbles. Some lacing is left on the side of the glass during consumption. I pick up aromas of bready and sweet malts with some grassy and floral hop aromas. The malt flavor of this beer is of biscuit, brown bread, and caramel. The floral and grassy hop flavors are there. There are also some slight spicy notes. There's also some possible yeast notes here. This is a medium bodied beer with moderate carbonation. The beer is smooth and very drinkable. This is an excellent beer.
★
580 characters

4.13
/5
rDev
+11%
look: 4.5 | smell: 4 | taste: 4 | feel: 4 | overall: 4.5
500ml bottle served in a Weizen glass.
A: Pours a beautiful dark orange/copper color forming a huge bubble and fluffy light yellow head. Absolutely clear. Excellent retention and tons of lacings formed and left in the glass
S: Strong toffee and caramel malts upfront followed by brown bread, earthy Lager yeasts. Notes of oak and nuts. A bit fruity and nice flowery hops in the end
T: Slightly sweet upfront. Toffee and caramel malts, mainly. Nuts, brown bread and oak. Smooth hoppy bitter end
M: Medium and bit molasses body. Quite creamy. Good carbonation. Aftertaste is mainly made of toffee, caramel and light hops bitterness
O: Excellent drinkability. Great beer. Recommended
★
685 characters

2.81
/5
rDev
-24.5%
look: 4 | smell: 3 | taste: 2.5 | feel: 3.5 | overall: 2.5
Half litre bottle, ruby colour when it came out of the bottle but it faded and looked more copper at the end. Medium taned head which dissapeared fast. Smelled malty with a hint of vanila. Tasted lots of roasted malt with notes of cola. Long bitter finish, smooth texture, slightly oily. Found it hard to finish, not my thing.
★
326 characters

3.67
/5
rDev
-1.3%
look: 3 | smell: 3.5 | taste: 4 | feel: 3.5 | overall: 3.5
500 ml bottle poured into a generic goblet. Reviewed from notes.
A: 1.5 finger head of good cream and thickness. Decent retention. Non-transparent amber colour.
Sm: Amber malt, standard barley. Some estery fruit hops - maybe raspberry?
T: Amber lager barley body with a hoppy estery climax and lovely finish. Esters bleed into the finish, forming the highlight of the beer. A darker note emerges in the climax, but I can't quite place it - maybe a nutty note? Complex and nicely built, though there's really no template for the altbier style. A bit buttery and on the climax, with a hint of raspberry.
Mf: Nicely coarse, though a bit too wet.
Dr: Expensive but worth a go for ye beer loving lads. 5.70 Euro is not equivalent to this beer's quality.
***
02.21.2016 2nd impression:
C+
★
794 characters
4.17
/5
rDev
+12.1%
look: 4 | smell: 4.5 | taste: 4 | feel: 4.5 | overall: 4
kloster meaning monastery and sud meaning stock, barrel or storage.
a surpriseingly broad flavored keller for something that was such a clear look. this is a keller that seems to have a character all its own in the distinction. its quite fruity for a style. the nose is quite proper basement in quality. nose of apple crisp. palate of apple, pear earthy, and parsley. not a sour itch. but not a malty aged quality like an alt. something to have for the keller community. a beer with character.
★
495 characters
3.75
/5
rDev
+0.8%
look: 4 | smell: 4 | taste: 3.5 | feel: 3.5 | overall: 4
0.5 l. bottle.
In my experience, most of these beers from Germany, when bought in Germany, are excellent value for money: usually about 1 euro (1.3 dollar) per pint bottle, even from the small breweries.
Not extremely complex or great, but good and decent beer, like this one.
Colour is orange copper, thin head, decent carbonation, good lacing.
Smell is grassy and floral hops, honey. Very malty and yeasty.
Taste is similar. Mild bitterness, with some spice.
Clean finish. Light mouthfeel, refreshing.
★
507 characters
4.38
/5
rDev
+17.7%
look: 4.5 | smell: 4 | taste: 4.5 | feel: 4.5 | overall: 4.5
A: Although I poured it correctly, the head took up half the glass before I could finish. Cartoonishly perfect head though. In this glass, it reminds me of the Peanuts cartoons. It has a light transparent amber color.
S: Unique malt smell, grassy with a edge of sweetness.
T: Semisweet caramel malt. Uncomplicated and well executed.
M: Quite soft and smooth. Nice sting of carbonation. Medium body.
D: This one caught me off guard. I've had a few others from Weißenoher but this one stands far above the rest.
★
514 characters

4.5
/5
rDev
+21%
look: 4.5 | smell: 4.5 | taste: 4.5 | feel: 4.5 | overall: 4.5
Had on tap and served in a lager glass at Deep Ellum in Boston. Served at cellar temperature.
A-beautiful, white and fluffy head; golden body.
S-clean with some cereal smell.
T-mineral and grain, light floral finish.
M-very light
D-very drinkable beer. I would drink this again (if I could find it). Great with food.
★
321 characters
3.75
/5
rDev
+0.8%
look: 4 | smell: 4 | taste: 3.5 | feel: 3.5 | overall: 4
Pours bright auburn with a puffy loose white head that fades but trails. Nose is funky malt syrup, spice and stewed apricot. Flinty and earthy, some pear and creme brule, with a touch of Noble hops bite to finish. Dry metallic end. Little fizz, crisp feel, light to medium body.
This drinks easy, without as much cellar tang as other kellers. Whether that makes it a better or worse example of the style, I'm not sure, but I enjoyed it.
★
437 characters
2.66
/5
rDev
-28.5%
look: 3.5 | smell: 2.5 | taste: 2.5 | feel: 2.5 | overall: 3
Poured into a Seidel glass. I was a little surprised by the copper color that was produced, but it was a pleasing appearence. The smell had a little maltiness, but overall it smell rather metallic and somewhat bitter. The taste by far was the most disappointing part. At the start, it made an attempt to have some spice that vaguely resembled a beer like Gose ohne Bedenken. However, this quickly turned into bitterness and a really poor aftertaste. For a Kloster beer this was pretty bad.
★
489 characters
3.98
/5
rDev
+7%
look: 4 | smell: 3.5 | taste: 4 | feel: 4 | overall: 4.5
Poured a tall, foamy, pale cream colored head that left a few strands of lace. Deep copper colored beer has a bit of a glow to it. Light caramel malt in the aroma with metallic note to it. Rich malty flavor like a Maibock. Watery, but full mouthfeel. A nice beer with a good dose of flavor. Simple and easy drinking.
★
316 characters
Kloster-Sud from Klosterbrauerei Weissenohe / Klosterbrauerei Weißenohe Wirtshaus
3.72
out of
5
based on
20
ratings.