Scheyern Kloster-Weisse Dunkel
| Klosterbrauerei Scheyern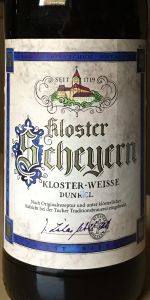 BEER INFO
Brewed by:
Klosterbrauerei Scheyern
Germany
Style:
Dunkelweizen
Alcohol by volume (ABV):
5.50%
Availability:
Year-round
Notes / Commercial Description:
No notes at this time.
Added by stcules on 01-16-2006
Ratings: 14 | Reviews: 8
Reviews by Radome:

3.63
/5
rDev
+4.9%
look: 4.5 | smell: 4 | taste: 3.5 | feel: 3 | overall: 3.5
Tasted from a 500 ml Munich.
A - Beer is a medium brown color and very clear for a wheat beer. Head is off-white, thick, sticky and long lasting.
S - Aroma restrained, but is all about the yeast. It is dominated by banana and spice notes. Some wheat as well. No hops or alcohol present.
T - Bananas, spices and some wheat. Clean and smooth tasting, but a bit too sweet for me.
M - Medium to heavy body. Smooth carbonation. Finishes with a chalky taste/feeling that is distracting.
O - An authentic dark wheat beer, but not the best I've had.
547 characters
More User Reviews:
3.53
/5
rDev
+2%
look: 4 | smell: 3.5 | taste: 3.5 | feel: 3.5 | overall: 3.5
Thanks to bu11zeye for sharing this bottle.
The beer pours a brownish-yellow color with a white head. The aroma is toffee, orange, wheat and spices. The flavor is grapes, toffee, bready malt and some citrus notes. Medium mouthfeel and medium carbonation. Not too bad, but nothing too exciting.
294 characters

4.5
/5
rDev
+30.1%
look: 4.5 | smell: 4.5 | taste: 4.5 | feel: 4.5 | overall: 4.5
3.06
/5
rDev
-11.6%
look: 4 | smell: 3 | taste: 3 | feel: 3 | overall: 3
Exp May 5th, 2013
A: Like a dark hazy rootbeer with an obscene amount of slow rising carbonation and head (more than 4 fingers. Difficult to pour.
S: Yeastiness which cuts directly through your nasal passages. Almost a sweet malt underneath. But it's pretty weak.
T: Surprisingly sour. Very lemony and that dominates heavily. I guess there's a hefe/dunkelweizen underneath, but the sourness is 70%+ of the flavor, like Flemish sours. Okay.
M: Low carbonation (because its slow rising?), but soft
O: Okay, but the sourness dominates so it's hard to call it a weizen.
567 characters
3.68
/5
rDev
+6.4%
look: 4.5 | smell: 4 | taste: 3.5 | feel: 3.5 | overall: 3.5
Cloudy, brown with an off-white dense head. Head persists the entire time and leaves a good bit of lacing.
Taste starts out a bit thin.Maybe too cold. Let it sit and a lightly sweetened coffee taste appears, very dry, lightly hopped.
A bit of carmel in the mouth, remains dry. Not real complex, yet very pleasant.
Finishes a bit grainy, sweet and dry. Would go great with a light meal on a warm day. Good for the type.
418 characters
3.08
/5
rDev
-11%
look: 4.5 | smell: 1.5 | taste: 3.5 | feel: 3.5 | overall: 3.5
BBE date on the label says 09.12.2010. Off-white moussy head scattered with bubbles is underlain by hazy, dark coppery-marooney brown body. Tilts produce short lived delicate lacings on the walls. Aromas are dominated by intense metallic odor with banana & clove underneath. Some wheat is perceived too.
Bready flavor with hints of caramel and somewhat muted citrusy tartness from suspended yeast and/or carbon dioxide. Light to medium bodied with delicate carbonation. The beer would be quite decent one but the unfortunate metallic component ruins the overall impression.
573 characters
3.18
/5
rDev
-8.1%
look: 4 | smell: 3.5 | taste: 3 | feel: 3 | overall: 3
A - clear dark red color with brown tone
S - smells like delicate wheat and damped oranges and caramel. The smell is not so intensive like other weizens.
T - nice taste of yeast on the top of my tongue. Medium to lower body. Not so bitter.
M - medium to lower carbonation
D - not so much drinkable at all, but outstanding on 11,3%
Serving type: bottle - 0,5l
360 characters
3.87
/5
rDev
+11.8%
look: 4.5 | smell: 3.75 | taste: 4 | feel: 3.5 | overall: 3.75
3.65
/5
rDev
+5.5%
look: 4 | smell: 4 | taste: 3.5 | feel: 3.5 | overall: 3.5
Pale russet with big puffy tan head.
Apple, brown bread, banana and a touch of clove on the nose.
Spiced apple and whole wheat loaf then a waxy cloved yeast hit and some grassy hops.
Fresh apple finish and cinnamon linger.
Creamy, thin, a bit of chew.
A bit simple and watery, but all the flavors are in the right places. Nice winter spice and plenty of fruit. Still a baseline of quality in even average German brews.
419 characters
3.84
/5
rDev
+11%
look: 4.25 | smell: 4 | taste: 3.5 | feel: 4.25 | overall: 4

3.69
/5
rDev
+6.6%
look: 3.75 | smell: 3.5 | taste: 3.75 | feel: 3.75 | overall: 3.75
2.98
/5
rDev
-13.9%
look: 3.5 | smell: 3 | taste: 3 | feel: 2.5 | overall: 3
Cocacola color, clear; beige head, creamy, compact and persistent: OK.
At the smell cloves, very strong; caramel, but light and not boring.
At the taste caramel, roasted malts, wheat. More weisse than in the smell. Cloves again.
Average body, a little too fizzy.
Caramel in the aftertaste, some banana, cloves, and a slightly citric finish.
344 characters
Scheyern Kloster-Weisse Dunkel from Klosterbrauerei Scheyern
3.46
out of
5
based on
14
ratings.