Bison Organic IPA Single Hop Series - Summit Hop
| Bison Brewing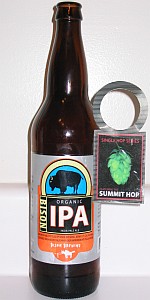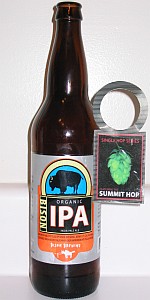 BEER INFO
Brewed by:
Bison Brewing
California
,
United States
bisonbrew.com
Style:
American IPA
Alcohol by volume (ABV):
6.80%
Availability:
Limited (brewed once)
Notes / Commercial Description:
No notes at this time.
Added by ElGordo on 01-21-2007
This beer is retired; no longer brewed.
HISTOGRAM
Ratings: 13 | Reviews: 11
Reviews by ctdfalconer:
3.32
/5
rDev
-10.5%
look: 3 | smell: 3.5 | taste: 3.5 | feel: 3 | overall: 3
I had one other of this series of single hop IPAs, which I think I liked better. This one was good but it had a rather fruity aroma and was quite a bit overcarbonated. I poured into an imperial pint glass and even so I got two inches of clear beer under a full glass of foam. It took some perseverance to get the rest of the bottle poured, since my dinner was getting cold, I didn't really want to wait for it. Slurping and pouring, I finally emptied the bottle. I have to say it went well with my exceptionally spicy North-African braised lamb shanks. Beyond the fruity aroma, I found the beer to be slightly cloying, but with just enough hops to cut down on that somewhat. I like what Bison is doing with this series, though, showcasing the ingredients and catering to the beer-geek crowd. It makes for an interesting beerscape. I'm all about trying new stuff. I'll probably try the next ones if they continue the series.
923 characters
More User Reviews:
3.85
/5
rDev
+3.8%
look: 4 | smell: 4 | taste: 4 | feel: 3.5 | overall: 3.5
22oz bomber bottle. This one pours into my glass a wonderful hazy orange hue with a billowing head of foam that seems to last for days. Even if I pour carefully the head explodes in the glass leaving sticky lacing as it falls. Lots of active carbonation here. Aromas start out with citrus, tangerine and herbal, earthy hop tones. A light caramel in the background with a mellow malt aroma. Hops smell really green and earthy here..almost dirty in a way.
First sip brings a blast of big hop bitterness with plenty of tangerine laced citrus flavors alongside green, herbal, earthy characteristics as well. Mellow caramel tinged maltiness lays in the background. This brew is fairly bitter throughout. It flows down with lots of resinous hop flavors and ends a touch dry. Overall, a tasty IPA.
Mouthfeel is medium bodied with lots of carbonation that I would have liked to see toned down a little bit. Overall, it's fairly easy to drink apart from waiting awhile to let the head settle after the initial pour. An interesting brew that showcases the Summit hop. I'd like to try more of these single hop brews in the future. Thanks to blitheringidiot for allowing me the chance to sample this one.
1,198 characters
3.92
/5
rDev
+5.7%
look: 4 | smell: 4.5 | taste: 3.5 | feel: 4 | overall: 4
The second in Bison's single hop IPA series, it is differentiated only by a neck tag featuring a picture of the summit hop. Pours a golden-orange color topped by a smallish, creamy white head. Aroma of piney, resiny hops. Lots of grapefruit, a sweet malt profile that has notes of caramel and a whiff of sweet wedding cake.
Palate is well-balanced up front, with a nice blend of lightly sweet caramel malt and acidic, floral hops. The hops become more pronounced after a few sips, with a bit of grapefruit and other citrus notes and a touch of pepper. Finish is mildly bitter and lingers for quite a while.
Mouthfeel is a little syrupy, very appropriate for such an assertively-hopped ale. While I would maybe prefer a more robust blend of hops, this series is an interesting experiment in really teasing out the characteristics of particular varieties. I look forward to trying it side by side with a few other varieties.
926 characters
3.97
/5
rDev
+7%
look: 3.5 | smell: 4 | taste: 4 | feel: 4 | overall: 4
A 650 mL bottle from a recent trade with limesmut.
A: The IPA has an orange-brown color, fairly light, looking almost like a glass of water and scotch. The head is quite large, over two fingers of compacted, thick foam that laces all around the mouth of the glass.
S: The nose is floral, full of tangerine citrus notes with a softness that is a stark departure from the bitter pungency of other citrusy hops.
T: The floral nose segues straight into the taste. The hops dominate the malty body, so much so that there isn't anything to say about the malt. The hop character is quite nice. While I'm sure that I've had Summit hops before, having them on their own is interesting. The body is tangerine sweetness, jumpy without scarring the tastebuds. The finish adds some grassy herbal elements that fail to detract from the tangerine.
M: The hops are a real star, never once yielding to any other flavors. The sweetness is disarming, as you'd expect a much more bitter body.
D: The abv is not noticeable, making the beer dangerous. The single hop concept is great and the results in this beer are surprisingly food.
1,118 characters
3.88
/5
rDev
+4.6%
look: 4 | smell: 3.5 | taste: 4 | feel: 4 | overall: 4
22oz bottle with a little neck tag stating this one is the Summit Hop version of their IPA.
A: Cloudy amber with a fluffy white head that sticks around nicely.
S: Some citrus and earthiness - a bit lacking for an IPA.
T: Surprisingly, not bad. This is a nice, balanced IPA. Fresh sweeter fruits with a nice touch of grapefruit hoppiness. A slight bit of pepper in the background. Semi-bitter finish. All around, pretty tasty. Only downside? This could use some more hops, especially for something that's supposed to showcase a hop varietal.
M: Very nice carbonation level - leads to a very creamy smooth mouthfeel, which is nice for such a balanced IPA.
D: Very drinkable. The balance and mouthfeel make this exceptionalyl drinkable.
Overall, recommended. On the less hoppy side of IPAs, for sure, but still a well done beer. And honestly, the only beer from Bison I've had that could be called good. Oh, and also - one of the best organic beers I've had!
974 characters
3.67
/5
rDev
-1.1%
look: 4.5 | smell: 2.5 | taste: 4 | feel: 4 | overall: 4
Good lord, tangerine.
So this beer pours slightly hazy deep orange/hay with a gorgeous head that sticks around... well, it might still be there. Amazing head retention, moderate lacing... kinda how I wish more beers looked, except for the haze. I'm not anti-haze, but this beer looked to me like it wanted to be.... not hazy. Your welcome for that astounding insight.
The tangerine is mixed, there's some sharp funk... almost like an onion ring sitting in a box of snuff. The tobacco, not the film. Never mind. It's interesting at first, but as you go along... it gets old. Fast. Apparently summit hops should not be used for aroma. I'm making that note for my own home brew experiments, and so should you.
Body is medium, carbonation clean and light, smooths as it warms, no perceivable alcohol, a little sweetness, maybe even a faux peppery-ness. I don't know what that means really, either, except that it sounds like what I'm tasting.
Drinkability would be higher, but really, how can you want to keep reaching for a beer whose aroma you don't want to be inhaling?
Interesting experiment, interested to try the Columbus and whatever else they spring up, the malt profile is subdued and relatively neutral, allowing the hop to show off, and while the sweet citrus is great on the palate, and the bitterness solid (maybe a little light), I agree with the note on the tag accompanying this beer: it's a hop that needs to be mixed with others.
1,458 characters

3.73
/5
rDev
+0.5%
look: 4 | smell: 3.5 | taste: 4 | feel: 3.5 | overall: 3.5
This bottle is part of the Single Hop Series I had the Columbus now the Summit. Nice dark burnt orange ,semi-murky beer, nice sized light tan head. Strong sherbert like hop aroma slight citric too. Fruity ,hoppy flavours, sweetish grapefruit, very drying at the end, sticky. Hints of caramel and something else..peppery, chives? Mouthfeel is alright, like the lingering bitterness. Over all a good IPA, I liked this slightly better than the Columbus.
450 characters
3.87
/5
rDev
+4.3%
look: 3.5 | smell: 4 | taste: 4 | feel: 3 | overall: 4
Nice floral aroma and sweet orange peel. A little spicy with a little caramel malt aroma underneath. I also get a nice fruity yeasty aroma. Very nice all around.
Nice amber colored, nice fine lacy head that fades to thin lasting layer. Good rising carbonation. A little cloudy.
First sip starts off sweet then there's a pretty powerful hop bitterness. There's a whole lot of citrus hop flavor in there too. Aftertaste is malty with some lingering citrus hop. Good fruity yeast character too. Very well balanced between malt and hops.
Medium bodied with biting carbonation level.
Very nice IPA. I'm not really familiar with summit hops but it seems like a good variety for a lot of uses. Definitely worth a try.
723 characters

4
/5
rDev
+7.8%
look: 4 | smell: 4 | taste: 4 | feel: 4 | overall: 4
22 oz'er for $3 smackers from Hi-Time in Costa Mesa, CA.
Pours with a bright sunset auburn hue topped with a splotchy head cap. Second pour holds a firm dense khaki lace infused offering.
Peach cobbler nose with delicate citrus floral air. Some cantaloupe really seems to be the focus.
First swigs: Well balanced IPA of of light fruit and malt. Peachy cantaloupe fruit essence greets a ginger bread snappy malt sugar cookie backing.
Feel is a cushion of soft carbonation and a linger of melon.
Last swigs: Clean balanced melon meets ginger IPA. Worth seeking for a tasty IPA and the single varietal hop addition of Summit. $3 is a bargain. Here's some props for being organic!
Beer is good. Happy Summit beering.
732 characters
3.28
/5
rDev
-11.6%
look: 4 | smell: 3.5 | taste: 3 | feel: 4 | overall: 3
Foggy pumpkin with an impressive amount of uprushing carbonation. Thankfully, the bubbles begin to slack off within minutes, but not before creating a pastel orange crown of whipped creamy beauty. I love the sticky, 'wind-shaped rock formation' look that it assumes as it melts. This is a classic IPA where appearance is concerned.
The nose is chock-a-block full of tangerine and sweet orange, with an undercurrent of ganja inspired, herbal-earthy funkiness. I don't mind the aroma, but the flavor better be a whole lot cleaner or I won't be happy. Some decent hop flavor manages to survive, which is the only thing keeping the taste score from dipping below average.
What an oddly flavored beer. An earthy funkiness (I can't think of a better way to describe it), sets up shop on the taste buds and comes close to completely ruining things. The beer also tastes like tangerine-scented soap, although I can't recall ever seeing such a thing, much less tasting it.
The malt profile is primarily caramel with a sweetness that fights bitterness to a draw. It's obvious that this IPA isn't anywhere close to clean enough for me to be able to identify the single hop in use. Here's hoping the Columbus version is more recognizably Columbus-like.
I don't mind the mouthfeel one bit. Rather than being overcarbonated, as I'd feared, it feels undercarbonated now that I'm in the second half of the bomber. That gives it a medium-full smoothness that is right up my alley.
I didn't think too highly of the standard Bison Organic IPA and it looks like these guys haven't improved their IPA brewing skills in the interim. I'm reluctant to chalk my disappointment up to the fact that the beer is organic, expect that a huge amount of organic beer is dominated by any number of odd flavors. So far, this experiment is a failure. My hopes aren't high that the Columbus Hop version will be much better.
1,903 characters
2.98
/5
rDev
-19.7%
look: 3.5 | smell: 3 | taste: 3 | feel: 2.5 | overall: 3
Appearance: Pours a hazy orange body with a thinnish, off-white head.
Smell: Musty grapefruit aroma with a faint, faroff hint of caramel.
Taste: A small dose of caramel malt flavor with even less sweetness before you get the citric grapefruit flavor with a pungent pithy bitterness. Finishes quite dry.
Mouthfeel: Medium-bodied. Fizzy carbonation.
Drinkability: I gotta say, the overabundant carbonation is displeasing. As a beeriment showcasing the Summit Hop variety it's fine, but as a beer I'd pass on it.
513 characters
Bison Organic IPA Single Hop Series - Summit Hop from Bison Brewing
Beer rating:
3.71
out of
5
with
13
ratings