Cannabia (Hemp Beer)
| Kronenbrauerei Rudolf Wahl KG
BA SCORE
74
okay
10
Reviews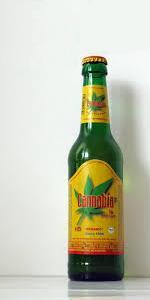 BEER INFO
Brewed by:
Kronenbrauerei Rudolf Wahl KG
Germany
Style:
German Pilsener
Alcohol by volume (ABV):
4.80%
Availability:
Year-round
Notes / Commercial Description:
No notes at this time.
Added by jdhilt on 06-22-2007
Reviews: 10 | Ratings: 19
1.23
/5
rDev
-53.9%
look: 1 | smell: 1 | taste: 1.25 | feel: 1.75 | overall: 1.25
Pours a golden color, with almost non existent head. Aroma of grass, nuts and nothing more here. Medium body, nothing special in the palate. Taste of grass and nuts. Just like any other cannabis beer I've tasted, it wasn't worth the while. Neither the money.
258 characters

4.1
/5
rDev
+53.6%
look: 2.25 | smell: 4.75 | taste: 4 | feel: 4.25 | overall: 4
Light golden colour, with a good amount of carbonation and head, mouth feel is top notch.
Aroma has nuttiness from the hemp, really inviting, very organic and herbal.
Very bitter with an overall crispness. Quite refreshing. Could easy drink lots of this. The hemp flavour is there, though is quite subtle, and adds a herbal crispness, that gives this beer a different character from commercial beers that often have a more chemical taste. This tastes natural and organic.
Which it is.
488 characters
2.39
/5
rDev
-10.5%
look: 1.5 | smell: 2.5 | taste: 2.5 | feel: 2.5 | overall: 2.25
From Hipercor. In Ikea's lager glass. Playing Bardbarian. No foam. Odd aroma and taste. Im not sure if I like it or dislike it, but im more inclined to think that in the long it may be tiresome.
194 characters

2.56
/5
rDev
-4.1%
look: 2.25 | smell: 3.75 | taste: 2.25 | feel: 1.75 | overall: 2.25
Scratch with finger beneath top reveals onion / fresh cut grass smell. Not cannabis sativa, but regular yard, field grass, opening the bottle and smell not nearly intense. Slightly lighter that usual store beer, taste comparable, not a bit oily and sweet. Evaporates fast in cup. Only 5% alc, but due to contents much stronger, comparable with 8% alc content. Slightly disappointing.
383 characters
2.25
/5
rDev
-15.7%
look: 2.25 | smell: 2.25 | taste: 2.25 | feel: 2.25 | overall: 2.25
Saw some 33cl bottles of this lurking in the fridge of a Giros joint in Mykonos Town while on holiday (early May 2013): had to try it.
Murky, cloudy lagerish yellow colour, what head arrived soon left the area.
The taste and aroma were a bit strange: not sure what flavour 'hemp' actually has, anyway this beer definately had something different about it, Guava?
I can't say I really enjoyed my bottle, but I do things like this sometimes just to annoy the wife (hunt down new beers, then pay over the odds and don't like them).
531 characters
2.65
/5
rDev
-0.7%
look: 3 | smell: 3 | taste: 2.5 | feel: 2.5 | overall: 2.5
Saw this beer available at an Indian Restaurant during a vacation in Greece and decided to try it. Did not realize that it was a hemp beer until I read the label. Looks, feels and tastes like an average lager. I don't think there is much else to be said about it.
263 characters

3.2
/5
rDev
+19.9%
look: 3 | smell: 3 | taste: 3 | feel: 5 | overall: 3
Green glass bottle served into a plastic cup at Cafe Nemoland in Christiania, Copenhagen, Denmark (though Christiania itself really isn't considered part of Copenhagen depending on who you believe). It took me a lot of googling and searching to verify that what they call "Hemp Beer" in Christiania is just Cannabia imported by a company called Alumen with different labels on it. The label used in Christiania shows a yellow diamond with a hemp leaf and the word "Turn."
Best before date was 08/05/2012. I had it in July 2011. Reviewed live.
A: Pours a three finger head of soft foam, slight cream, and fair thickness. Retention is good. Colour is a cloudy dark yellow.
Sm: Cream, barley, and light cannabis. Not hemp in the rope or seed sense, but more fresh. A moderate strength aroma.
T: Hemp seed, honey, cream, and full barley. Very pleasant and refreshing. The hemp taste is very restrained - probably more a marketing ploy than a serious flavour consideration. It's complex for the style, and well built and balanced.
Mf: Adorably smooth and wet. Amazing, actually. I didn't expect this level of fullness and refreshment from a seemingly gimmicky beer. I'm blown away. Perfectly complements the light pleasant flavours of the body.
Dr: The flavours are a bit muted, but the mouthfeel alone makes her one worth trying. A very refreshing beer meant for a summer's day.
1,386 characters

3.51
/5
rDev
+31.5%
look: 2.5 | smell: 4 | taste: 3.5 | feel: 3 | overall: 3.5
Appearance: The beer pours a cloudy straw color with a foamy one finger head.
Smell: A sweet malt aroma is noticeable at first. A slight hemp smell becomes stronger as the beer warms; very interesting.
Taste: A watery yeast taste found in many Euro lagers is apparent at first but there are no floral hints as found in many good pilsners. The aftertaste has a touch of spice from the hops and there is an "earthy" finish I can't put my finger on, maybe from the hemp seeds?
Mouth feel: Very light and easy to drink. There really is not much to note.
Overall: The hemp seeds provide an interesting aroma and aftertaste but the beer lacks complexity. I'm glad I had it but the experience was not spectacular. It was nice to have something different. By the way, the site claims the beer is retired but I was able to find quite a few bottles in Tokyo, of all places.
868 characters
3
/5
rDev
+12.4%
look: 3 | smell: 3 | taste: 3 | feel: 3 | overall: 3
Reviewed from notes:
appearance: dark copper orange with off white head
smell: malts, caramel, sweet
taste: sweet malts, caramel,
mouthfeel: mild carbonation, medium body,
overall: interesting beer but nothing outstanding. glad I got to try it but nothing I'm going to hunt down.
Cheers,
The CPJ
301 characters

2.52
/5
rDev
-5.6%
look: 2 | smell: 2.5 | taste: 2.5 | feel: 3 | overall: 2.5
From my notes 5/26/07 - Pours a two-finger off-white head that fades slowly leaving some lace. Clear pale amber color. Resin/spruce nose. Light carbonation and light-medium bodied. Flavor is almost sour, piney, clean finish. Drinkable but nothing to go back to or get high on. Flavor is from cannabis seeds. €4 ($5.48) 330ml green bottle from Supermarket Amsterdam Amsterdam, NL. Best by Sep 30, 2007.
402 characters
Cannabia (Hemp Beer) from Kronenbrauerei Rudolf Wahl KG
2.67
out of
5
based on
19
ratings.