Hoppy Little O
| Flossmoor Station Restaurant & Brewery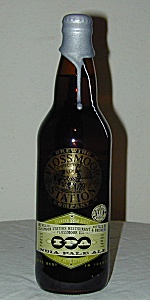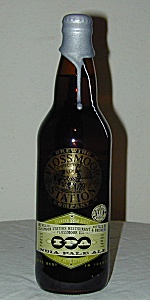 BEER INFO
Brewed by:
Flossmoor Station Restaurant & Brewery
Illinois
,
United States
flossmoorstation.com
Style:
Belgian IPA
Alcohol by volume (ABV):
10.00%
Availability:
Rotating
Notes / Commercial Description:
Silver grey wax.
Added by Bitterbill on 10-18-2007
This beer is retired; no longer brewed.
HISTOGRAM
Ratings: 14 | Reviews: 10
Reviews by jaydoc:

More User Reviews:
4.14
/5
rDev
+1.2%
look: 3.5 | smell: 4.5 | taste: 4 | feel: 4.5 | overall: 4
Flossmoor Station's Hoppy Little O is currently on tap at the brewpub. It was served at colder than desirable temperatures, but properly presented in a tulip shaped glass. This hoppy hybrid is a cross between an American IPA and a Belgian Tripel. It's an organic variation of their previously popular Hoppy Little Gnome brewed with 100% organic pale malts & a "slightly different hopping schedule." This version was recently put on tap which may explain the lighter carbonation that barely created a wisp of a whitish head atop a hazy, burnt golden-orangish colored body. The hugely woodsy (piney) aroma was filled with a good intermingling of earthy (grassy/mushroom) , spicy (coriander/grains of paradise), fruity (apricot/bubblegum/pear) & citrusy (lemony-orange) characters. These were complimented by a nice sweetbread graininess with just a hint of tangy yeastiness hidden under a mountain of fresh Northwest hops (Amarillo/Columbus?). The flavor starts off rather flat with lots of grainy sweetness, but eventually carries into a huge, resiny bitterness that completely takes over to deliver a surprisingly dry, bitter clean finish with surreptitious alcoholic warmth. This medium-full bodied Belgian IPA wasn't nearly as balanced as the Hoppy Little Gnome and also lacked the complexity of the earlier version, but it still makes for a wonderful sipper at the end of a long day's journey and shows great diversity in the brewer's art. Recommended to all Belgian beer fans who appreciate bolder, hoppier beers. Try this one as a digestive or paired with the house fried mini Brie cheese or sautéed Portabello mushrooms. Yum, yum!
CHEERS! Beertracker
1,659 characters
4.25
/5
rDev
+3.9%
look: 4.5 | smell: 4.5 | taste: 4 | feel: 4 | overall: 4.5
Saturated orange, with intricate lacing that descends from the initial ring of foam left behind from the first pour. Slow languid bubbles float to the surface.
Grassy hop field aromas mingle with sweetish candied orange peel in the background. Very pleasant, subtle without getting too crazy.
Soft and malty feel, dry herbal finish, but resiny hop oil flavors hit first with mild citrus sweetness. Some light savory/spicy notes in there also. Medium bodied, not as robust as a DIPA, but it still holds it's own against Belgian interpretations like Houblon Chouffe. The 22 oz. disappears in no time. Another tasty, unique IPA in this consistent series from Flossmoor.
669 characters
4.25
/5
rDev
+3.9%
look: 4 | smell: 4 | taste: 4.5 | feel: 4.5 | overall: 4
Poured from a silver wax sealed 22oz bomber into a 20oz imperial pint. Thanks to Heidi & Tom Morris for the hook-up. Extra special thanks to HeatherAnn for the assist!
A: Pours the color and hazy appearance of peach nectar. Capping that is an eggshell-colored, creamy, and bubbly head that leaves some sticky lace in its' wake.
S: Aromas of apples, pears, earthy/floral hops, spicy yeast, dried wildflowers, and peaches. Definite Belgian IPA characteristics done up Flossmoor style.
T: Spicy/earthy hops, fresh orchard fruit (red apples/Bartlett pears), white pepper, dirty yeastiness, and peaches.
M: Juicy and fruity with a distinct spicy dryness.
D: Another winner from Flossmoor. Here's hoping that their next Brewmaster and assistant can do what Matt and Andrew have done!
783 characters

3.88
/5
rDev
-5.1%
look: 4 | smell: 3.5 | taste: 4 | feel: 4 | overall: 4
Pours a cloudy light amber with a long lasting white head and some lacing. Aroma is very sweet, fruity and yeasty. The flavor is nicely hopped with pine and citrus yet is balanced by crystal malt. Typical tripel sweetness is also apparent. Very smooth mouthfeel, peppery aftertaste.
282 characters

3.5
/5
rDev
-14.4%
look: 3.5 | smell: 3.5 | taste: 3.5 | feel: 3.5 | overall: 3.5
From a 22oz bottle - Pours a clear light orange with small quickly dissipating head. Below average carbonation. Smells sweet with a nice hop presence and yeasty notes. First sip is nice and smooth with citrusy hops meshing with the malts and Belgian yeasts. Very nice, very drinkable.
284 characters

4.33
/5
rDev
+5.9%
look: 4.5 | smell: 4 | taste: 4.5 | feel: 4 | overall: 4.5
I got this bottle in a trade with TATTORSO. Thanks Jeff!
Ahhh..another IPA from Flossmoor.
Silver waxed bottle...it pours a clear light gold with a 2 finger head of foam. Nice lacing.
The smell is big hoppy goodness with strong notes of citrus and pine with an underlining candy sugar sweetness and some spice, mostly corriander. Very nice.
The taste is bittersweet overall. Broken down, Iget lots of sweetness from candy sugar, some corriander, some earthy malt and...on the flip side, some citrus and pine bitterness. The flavours are many but the overall impression I get is that they work very smoothly together and would be a good one for hopheads and non hopheads alike. The alcohol is up there but I can't say I notice it much. Very well hidden indeed and finishing the bottle will be the easiest of chores. And a pleasurable one.
The mouthfeel is medium, the carbonation is light, and it finishes with both sweet and lightly bitter tones. Hehehe...another top notch brew from Flossmoor! I don't like to go into a review with the preconception that I'm going to like a brew because of who the brewer is but these "guys" have yet to not impress me. Keep it up!!
Btw, second pour and the brew takes on a hazy look and head retention is very good. Fancy that.
1,268 characters
4.55
/5
rDev
+11.2%
look: 4.5 | smell: 4.5 | taste: 4.5 | feel: 5 | overall: 4.5
I picked up this bomber at Armanetti in Chicago over the holidays for $9.99, along with 4 other "Brewer's Whim" series bottles. No "Hoppy Little O" name on the bottle, only identified by the silver wax. The beer is clear and golden colored with a thick yeast cake of wet foam that clings to the glass in solid chunks. The beer smells hoppy in a floral way, and has the characteristic "it" aroma of Flossmoor IPAs that I am seriously starting to love (sweet malt background and delicate hops). I'm no good at identifying hop strains but could tell this was prepared in a "Belgian IPA" way, reminiscent of Urthel Hop It or Chouffe Houblon but in a distinct Flossmoor way. The taste is sublime, just a little bitter in the aftertaste but mostly sweet and balanced. Low carbonation, flirting with a cask mouthfeel, another absolutely stunning beer from Flossmoor.
859 characters
4.35
/5
rDev
+6.4%
look: 4 | smell: 4 | taste: 4.5 | feel: 4.5 | overall: 4.5
bomber from armanettis in chicago, il
A: Pours unfiltered hazy orange with a yellow tint, lots of white head that reduces down with lots of lacing
S: hops, sweet citrus.. not very powerful aroma but what is there smells good
T: sweet hops and citrus but at the same time a slight bitterness, the bitterness lasts throughout the whole finish, but this tastes VERY well balanced between the sweetness and bitterness.
M: Pretty creamy for an IPA, frothy carbonation
D: seems very drinkable because it goes down easy and the well balanced flavors...had no problem drinking the whole bomber
590 characters
4.28
/5
rDev
+4.6%
look: 4.5 | smell: 4 | taste: 4.5 | feel: 4.5 | overall: 4
Picked up a bottle today from Armanetti's Wine and Beverage Shoppe for $9.99. It was in the fridge so hopefully hasn't lost that hoppy goodness. Drank from my Stone India Pale Ale flute.
Silver Wax.
Flossmoor IPA 1 of 10
Appearance- Pours a super hazy/cloudy yellowish orange with a huge two finger off-white head. The head recedes to about a half finger creamy cap that leaves layer upon layer of thick sticky lacing.
Smell- Nicely hoppy with some really mellow fresh orange juice. Other light citrus tones in there as well with the usual grapefruit and lemon zest but there is something slightly different in this one that reminds me of banana. Slight bit of malt that is somewhat sweet and bubblegummy. Coriander in here maybe? Definitely not a crazy huge nose but nice none-the-less.
Taste- Slightly bitter upon the first sip with a big orange and pineapple aspect. This beer is pretty nicely balanced though with a bit of sweetness from the biscuity malt. Red licorice and cotton candy intermingle with the fruitiness of the hops nicely. Slightly spicy as well with some clove, coriander and banana hiding in the background. I'd be curious to see what yeast they use in here. Finsihes with a bit of bitterness and some lingering fruit.
Mouthfeel- Pretty heavy body that is creamy and oily and deceptively smooth. The carbonation is light and tingly.
Drinkability- Honestly when I grabbed this off the shelf I had no idea which Flossmoor IPA this was. I was hoping I'd get a nice crazy hoppy one but instead I got a Belgium IPA that I REALLY enjoyed. It was a nice change of pace and terrifically balanced.
1,612 characters
3.7
/5
rDev
-9.5%
look: 3.5 | smell: 3.5 | taste: 4 | feel: 3.5 | overall: 3.5
This is a bottle of the smaller 6.5% ABV batch of Hoppy Little "O".
Appearance: Pours a clear, golden body with a small, white head.
Smell: Punchy citrus and bubble gum aroma with a distinct grilled fresh pineapple note.
Taste: The flavor jumps straight to a mixture of fresh pineapple, bubble gum, and citrus fruits. Not too much apparent sweetness. Floral, citrusy hops with a moderate bitterness. Fruity fruity fruity lingering beyond the drying, bitter finish.
Mouthfeel: Medium-bodied. Medium-low carbonation.
Drinkability: Hmm, well, it's definitely different, but also quite tasty and drinkable.
607 characters

Hoppy Little O from Flossmoor Station Restaurant & Brewery
Beer rating:
4.09
out of
5
with
14
ratings