Welly Mammoth Winter Stout
| Wellington County Brewery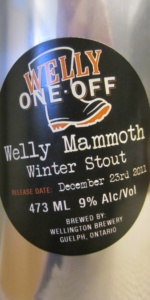 BEER INFO
Brewed by:
Wellington County Brewery
Ontario
,
Canada
wellingtonbrewery.ca
Style:
American Double / Imperial Stout
Alcohol by volume (ABV):
9.00%
Availability:
Limited (brewed once)
Notes / Commercial Description:
Welly Mammoth is a huge and complex winter stout with subtle hints of balsam fir and a refreshing peppermint finish. With a huge body and rich chocolate malt this full bodied stout embodies the majestic presence of this pre-historic beast. Brewed using balsam fir boughs and peppermint, this massive winter stout is black in appearance and is heavily fortified with 9% alc/vol . Welly Mammoth Winter Stout is sure to bring some warmth to fight off the deep chill of winter.
Added by hopsolutely on 12-25-2011
This beer is retired; no longer brewed.
Ratings: 7 | Reviews: 5
2.55
/5
rDev
-23.7%
look: 3 | smell: 3 | taste: 2 | feel: 3.5 | overall: 2.5
Got this one as a gift from Hopsolutely. Cheers!
From a 16oz can into a snifter
Released 23 December 2011
APPEARANCE: Black pour yields a 2 finger, loose, fizzy, mocha colored head with lousy retention. Head fizzes down to a light wisp and ring. Black body and zero carbonation evident. Ring remains leaving touches of lacing down the glass. Good body, but lousy head.
SMELL: Roasted malts, dark chocolate and some prominent mint aromas, though not overpowering. Some light notes of oats and vanilla, but the mint is edges them out. Shows promise, but could also be disasterous.
TASTE: Mint is way more forward in the taste. Some roasted and milk chocolate flavors, but the mint definitely steals the show. All mint really. Aftertaste is medium but persistent with some light chocolate and vanilla sweetness, but the mint is certainly the star of the show. Not as agreeable as the nose.
PALATE: Medium body and medium carbonation. Heavy enough on the palate, moderately creamy, goes down fine and finishes lightly mouth-coating on the palate. Decent feel.
OVERALL: This was tough to drink. Drain enjoyed most of it. The mint in the flavor is a little too forward for my tastes. I know that chocolate, molasses or bourbon forward stouts usually do pretty well, but I don't think mint can claim the same fame. An interesting experiment, but ultimately a failed one. Cheers for the brews Hopsolutely. Glad I had a chance to try these while they were around.
1,465 characters
2.53
/5
rDev
-24.3%
look: 3.5 | smell: 3 | taste: 2 | feel: 3 | overall: 2.5
Thanks to Soods for this one. Poured in to Duvel tulip.
A - Poured black with one finger of fluffy light brown head.
S - Roasted, almost charred malts, smoke, chocolate, licorice and a touch of mint.
T - Mint is noticeable up front with roasted malts and molasses. The mint returns in the finish and becomes very off-putting. After a while all I can taste is the mint.
M - Light to medium body with moderate carbonation. A little too much carbonation for me.
O - This one didn't work at all for me. Didn't finish the can.
530 characters
2.93
/5
rDev
-12.3%
look: 4 | smell: 3.5 | taste: 2.5 | feel: 3.5 | overall: 2.5
Not to drinkable minty beverage that tasted like mould though fresh. Could have been a decent stout without the above ingrediant. Unimpressive stout, still thanks fo getting one and a fresh one at that Stephen. Certainly not worthy of the RIS style and needs to be retooled.
274 characters

4.02
/5
rDev
+20.4%
look: 4 | smell: 4.5 | taste: 4 | feel: 3 | overall: 4
Opaque and oily black in complexion, Welly Mammoth Winter Stout does indeed look like a beast, especially when its head, which was of a wickedly dark chocolate brown colour, was still around. Due to a soda-pop like carbonation, however, it fizzed out quickly. Still, the almost entire lack of highlights instills a bid of confidence.
Oh, I like the aroma of this one very much. A liquid 'After Eight' or 'York Patty', it smells of chocolate and just the right amount of peppermint. As an obvious precondition, one must enjoy those flavors to appreciate it. To my tastes, it's a wonderful blend of roasty, smoky black malt and (as they say) the "cool, refreshing taste" of mint.
Not mentioned in the aroma was the balsam fir, although it was noticeable and is even more so on the palate. It imparts a dryness as well as bark-y and pine-y tastes that, alongside a few prunes, black licorice and a twinge of alcohol, pretty much round out the flavour. Roasted malt and peppermint ring out on the finish.
As well as the flavors are balanced, lovers of the rich and powerful will be disappointed by the beer's weak texture. Ultimately, another bag or two of malt is needed for a beer this strength; the malt-and-dried-fruit sweetness (though pleasant) should instead be a chocolate-and-coffee bitterness, so far as I'm concerned anyhow.
The only other point to be critical about is the carbonation, which was at first far too high and by the half-way point had all but died off. Plus, at times it tastes more like a Schwarbier, owing to the lack of bitter hop or roasted texture and its suspiciously smooth, easy-going lightness. I had expected chocolate but this is almost cookie-like.
Here is a Christmas beer that really tastes of Christmas. Like most people, I was skeptical that there could ever be such a thing as a balanced peppermint beer - Wellington has proved it's possible (and hopefully they do so again next year!) This stout, while quite mild, is perfect holiday fare and delicious cold weather comfort. Thanks Jeff!
2,037 characters
4
/5
rDev
+19.8%
look: 4 | smell: 4 | taste: 4 | feel: 4 | overall: 4
Pours an inky black with coffee-coloured head. Although it looks oily and viscous during the pour, the mouthfeel is pleasantly silky and not cloying.
Aroma of roasted and toasted malts with peppermint and chocolate undertones. Delicious! The taste is that of a well balanced imperial stout. Caramelized malt sweetness followed by a delightfully lingering, bitter finish. Nice combination of flavours without overt "Christmas spiciness".
All in all, an excellent "winter warmer" and perhaps this year's best Christmas present!
538 characters
Welly Mammoth Winter Stout from Wellington County Brewery
3.34
out of
5
based on
7
ratings.