Märzen Madness
| Indian Wells Brewing Company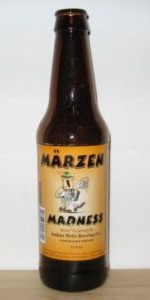 BEER INFO
Brewed by:
Indian Wells Brewing Company
California
,
United States
mojavered.com
Style:
Märzen / Oktoberfest
Alcohol by volume (ABV):
5.50%
Availability:
Year-round
Notes / Commercial Description:
Marzen means "March" in German. This was the traditional time to begin brewing beer for Oktoberfest in Germany. Our Marzen is a traditional marzen style beer made with Munich malt and three kinds of hops. We suspect this may be one of the best beers you'll ever drink. Just pure spring water, hops, malt and our special yeast makes this a finely crafted and high quality brew.
Added by EgadBananas on 11-10-2009
Reviews: 9 | Ratings: 18

3.5
/5
rDev
+16.3%
look: 3.5 | smell: 3.5 | taste: 3.5 | feel: 3.5 | overall: 3.5
I had this at the Indian Wells Lodge, restaurant fro the brewing company. It is a fairly good and enjoyable beer, but simple, and really basically just a lighter Vienna.
Dark golden amber, it has a creamy medium off-white head, slowly shrinking to foamy ring.
Aroma is caramelised barley, grass, pepper, simple but enjoyable and solid.
Taste is nice minerally toasted grain sweetness, lightly caramelly, with light flowery-grassy hop bitterness. It is zesty and lively, light and crisp, fairly dryish.
504 characters

3.03
/5
rDev
+0.7%
look: 3.5 | smell: 3 | taste: 3 | feel: 3 | overall: 3
Poured from a bottle into a Pint glass.
Look - copperish in color, a little murky, with good carbonation and about two fingers' worth of light khaki-colored foam that dissipates somewhat slowly.
Smell - very grainy-smelling and bitter, a bit more like a cereal lager.
Taste and Mouthfeel - a little malty tasting, but mostly kind of plain. There is a hint of "cereal" qualities, but it's not quite as pronounced as I would have thought. A little bitter in the finish. Texture is more on the watery side.
Overall - not a terrible brew, but not amazing or intriguing either. Also, it doesn't seem/feel like it's very close to the style.
638 characters
3.5
/5
rDev
+16.3%
look: 3.5 | smell: 3.5 | taste: 3.5 | feel: 3.5 | overall: 3.5
Picked up a single from a Whole Foods. It's a bit watery for the style, but otherwise it has a basic caramel bread with a very mellow herbal hop finish. There might be a touch of diacetyl, but otherwise its a clean and drinkable amber lager with a German touch.
261 characters

2.35
/5
rDev
-21.9%
look: 2 | smell: 2 | taste: 2.5 | feel: 2.5 | overall: 2.5
Appearance: Pours amber/orange. 1 finger of white head made up of large bubbles that disperses quickly and leaves very little lacing.
Smell: Really light on the nose to me. Bready malt and syrup.
Taste: Sweet malts and dry biscuit. A good bit of syrup.
Mouthfeel: Fair carbonation and a medium body, something of a bite on the tongue. Not as smooth as I like.
Drinkability: Just kinda meh. It's not unpleasant, but nothing I would want to buy again.
455 characters
2.81
/5
rDev
-6.6%
look: 3.5 | smell: 2.5 | taste: 3 | feel: 3 | overall: 2.5
Served on tap in a pint glass from the brewery. The beer itself had a nice, clear amber color to it with a healthy head. The aroma was pleasantly strong of hops to the nose. The beer had a good initial flavor, with hops on the tongue and a smooth, crisp finish. In mouth, the feel of the beer was very similiar to Indian Wells' IPA, which is not unpleasant, but fairly average. The beer was easy to drink all-around, and I would likely order it again if I was at the Brewery, but I don't think it would hold up overall in a head-to-head with other Marzens and Oktoberfests...once again, I think this is a beer that has a lot of potential, but maybe needs to be a bit more strong and bold. I would be interested to see a reincarnation with a little more attitude.
762 characters
3.23
/5
rDev
+7.3%
look: 3.5 | smell: 3 | taste: 3 | feel: 3 | overall: 4
Consumed July 11th, 2010. Bottle obtained directly from brewery on May 30th, 2010. Consumed in "special" Samuel Adams glass.
The last of the Indian Wells mixed 6 pack!
Marzen Madness pours a clear medium gold. A one-finger tan head forms and rapidly reduces to a fine, patchy foam skin that provides respectable lacing. Well-carbonated throughout consumption.
Beer is more aromatic than expected; sweet malts, honeysuckle, fleeting trace of banana (more like a Popsicle than a real banana) and a lightly mineral aroma. While different than most Oktoberfests I've had, it's not unpleasant.
The flavor is close to style: moderately sweet malt up front with bready, lightly spicy notes give way to a banana bread finish with a dash more bitterness than expected. Odd for an Indian Wells beer, there are no notable flaws or mineral water components.
Beer has medium mouthfeel and is ever-so-slightly dry. Not really to style, but didn't bother me.
While not one of the better Marzens I've had, it's a reasonable enough beer. Might best be described as a Marzen Lite.
1,069 characters
2.83
/5
rDev
-6%
look: 3.5 | smell: 3 | taste: 2.5 | feel: 3 | overall: 3
Appearance: Poured an orangish light amber; slightly cloudy. 1.5 finger white bubbly head with okay retention. Visible carbonation. Some lacing, but not much.
Smell: Bready and nutty malts, with mild spices. Mild sweetness. A slight apple smell.
Taste: Bitter biscuity/bready malts and a mild apple flavor. Moderate sweetness.
Mouthfeel: Medium bodied, nice carbonation.
Drinkability: A decent beer, but nothing too special. Little too much apple flavors, but a good malt body.
Buy Again? Maybe
499 characters

2.68
/5
rDev
-11%
look: 3 | smell: 2.5 | taste: 2.5 | feel: 3 | overall: 3
12 oz. bottle pours pale golden color with white head that recedes fairly quickly. Light quasi-skunk is noted on the nose, with a light hop element. Clean malty character across the palate, with some malt sweetness as the focus. Light bodied and easy drinking. Much lighter than most examples of the Marzen style.
313 characters

2.75
/5
rDev
-8.6%
look: 2.5 | smell: 2.5 | taste: 3 | feel: 2 | overall: 3
Decent offering for an Oktoberfest. Nothing spectacular, though nothing I've had from I.W. has been... Amberish color, rather malty in the nose and taste, a tad thin, but smooth none the less. Theres better out there...lots better. Theres so many better offerings that I may not be even worth the trouble.
305 characters
Märzen Madness from Indian Wells Brewing Company
3.01
out of
5
based on
18
ratings.