Geary's 20th Anniversary Wee Heavy
| D.L. Geary Brewing Company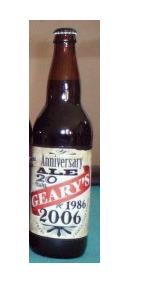 BEER INFO
Brewed by:
D.L. Geary Brewing Company
Maine
,
United States
gearybrewing.com
Style:
Scotch Ale / Wee Heavy
Alcohol by volume (ABV):
not listed
Availability:
Limited (brewed once)
Notes / Commercial Description:
No notes at this time.
Added by BillyBrew on 12-31-2005
This beer is retired; no longer brewed.
Ratings: 10 | Reviews: 10
Reviews by gotbeer:
4.08
/5
rDev
+3%
look: 4 | smell: 3.5 | taste: 4.5 | feel: 4 | overall: 4
This one was poured from a 22oz bomber. I've been drinking Geary's for a long time, so this one was very intersting when I found it.
The appearance was dark amber with a light head that faded quickly.
The smell had a hint of butter with some butterscotch and caramel. I thought the worst of Ringwood at this point, but thankfully I was quite wrong.
The taste had huge chocolate and caramel presence. Huge malt with vanilla, butterscotch, and a touch of diacytle that contributes quite well. There is not much of a hop presence. The maltiness is incredible.
The drinkability is good. A great dessert beer, or a nightcap.
This one is worth trying for sure. A great Scotch ale, and a great beer.
708 characters
More User Reviews:

3.85
/5
rDev
-2.8%
look: 3.5 | smell: 3.5 | taste: 4 | feel: 4 | overall: 4
Had this at a bar in Camden, ME. A nice dark amber color with a medium-sized head and some lacing. It had a sweet, sugary smell to it. The taste was malty, accompanied by caramel. There was some nice hoppiness that showed up also. A robust beer. Very drinkable, unless you overdo it.
283 characters

4.07
/5
rDev
+2.8%
look: 3.5 | smell: 4 | taste: 4 | feel: 4 | overall: 4.5
I had the pleasure of a pint of this tasty brew a few weeks ago at the Ginger man in NYC. Poured dark honey almond, with ruby notes. Bold looking brew with a creamy tan head, leaving a tiny bubble film. Nice scattered lacing. Nose of brown sugar and malt. This is a smooth and pleasantly malty brew. Smoky, notes of peat, maple and whisky. Waves of malt wash over the tongue and around the mouth. Classy sipper. Nicely done by Gearys, congrats. on 20 years of worthy brewing.
475 characters
3.83
/5
rDev
-3.3%
look: 3.5 | smell: 3 | taste: 4 | feel: 4 | overall: 4.5
Presentation: 4-oz. sampler glass. Unlike another reviewer (who probably sampled this at the same location 2 nights earlier), I didn't notice the glass to be chilled / frozen.
Appearance: Dark copper going on brown; the head is ecru to tannish and resolves to a thick ring and a bit of a lid.
Aroma: Almost nothing. I smell a bit of malt, but maybe only because I know I'm supposed to.
Taste: Very malty upfront; a strong base malt and some subtle crystal flavor that I'm digging. Hops and alcohol come in late in the sip and finish out the sip along with the subtle carbonation.
Mouthfeel: Very thick and not strongly carbonated, which really lets the malts shine. Alcohol is a bit warm, I can definitely notice it, but there is no "hot" fusel taste at all.
Drinkability: On a cold night, I could take a couple too many pints of this one; I'd keep drinking quickly because I love the initial taste and mouthfeel. Probably on my face by pint #3, however.
970 characters
3.97
/5
rDev
+0.3%
look: 3 | smell: 3.5 | taste: 4.5 | feel: 3.5 | overall: 4
Almond/Chesnut colored. Not much of a head to speak of. Thin watery ring of lace on the rim.
Chocolate and brown sugar aroma.
This is a very sweet brew. Very malt heavy with not much hops to speak of. Taste like maple syrup and brown sugar with just a splash of honey.
The mouthfeel is slightly light for the style and flavor profile.
I don't normally consider a Wee Heavy to be a session brew but I think this one is very sessionable.
Thanks to bjohnson and BA Fantasy Football for the beer.
498 characters
3.91
/5
rDev
-1.3%
look: 4.5 | smell: 3.5 | taste: 4 | feel: 4 | overall: 4
I am drinking a cellar temp bottle poured into a snifter. The bottle has been in my cellar for about a year since I bought it.
Even with a gentle pour a fluffy beige head of 3 cm foams up very easily. The color of the beer is very dark mahogany, very little light passes through the bottle.
Aroma is deep sweet caramel malt and brown sugar no hint of hops or booze anywhere on the nose. The scent is a little mild but pleasant.
First sip reveals very fine spacious yet tingly carbonation and a thinner body than expected. Flavor is as nose advertises, lots of malt profile here. Caramel and brown sugar mix effortlessly with hints of molasses and general sweetness, maybe some dark fruit like raisins too.
The finish is a little dry and makes me smack my lips a little. Not a lot of lingering flavor but overall a decent beer. I wonder if thearoma and flavor have faded just a little? A good beer, that I wish I had sampled about 6 months ago.
943 characters

3.97
/5
rDev
+0.3%
look: 3.5 | smell: 4 | taste: 4 | feel: 4 | overall: 4
Pours a one finger cream head that fades slowly to a ring leaving traces of lace. Deep mahogany color. Light-medium carbonation and medium bodied. Vanilla nose. Flavor is brown sugar and vanilla, not cloying, smooth, vanilla finish. $6.00 for a 22oz bottle from Tully's Beer and Wine Wells, ME. This is really a strong ale and not the Wee Heavy.
345 characters

3.85
/5
rDev
-2.8%
look: 4 | smell: 4 | taste: 4 | feel: 3.5 | overall: 3.5
Notes taken from a pint poured from a cask at Collins bar some time this past winter:
A- Dark brown, and I mean really dark hints of amber and a very minimal head...light bubbles....no lace.
S- Thick sweet whiskey , caramel, and nuts...almond and walnut. Light toffee and coco...and a bit of lingering alcohol.
T- Caramel and whiskey...toffe undertones, and a big almond nuttiess. Light hop bitterness, and a slightly stronger alcoholic bitterness. The alcohol lingers a bit in the finish.
M/D- Thick, smooth, sweet, and mouth coating....no carbonation...a great find.
573 characters
3.65
/5
rDev
-7.8%
look: 3.5 | smell: 3.5 | taste: 4 | feel: 3 | overall: 3.5
First, the caveats. I got this beer as part of a four-beer sampler, so I didn't get a full pint to really dig into it. Also, the glass was chilled, which noticeably imparted a bit of wateriness to the taste and mouthfeel.
Appearance: the color was a really lovely dark, dark brown, but with disappointly thin and mottled head. This shortcoming is probably due to the glassware more than anything else.
Smell: I could barely detect any hops in the aroma, but was tempted by the sweet aroma of caramel or treacle.
Taste: the smell was no illusion. I was walloped with caramel, caramel and more caramel. It was a bit cloying up front, but soon gave way to a wonderful moment where the sweetness lingered and joined really well with the taste of roasted grain. At the end, the hops finally showed up, with a a really soft bitterness that balanced the other flavors perfectly. I was served this sampler along with paired appetizers, and this was the one that complemented its counterpart (a potato skin stuffed with bleu cheese, black olives, and tomatos) the best.
Mouthfeel: as previously stated, this was smooth, although unfortunately watery. Despite the aqueous texture, rolling the beer around the mouth pricked several different areas, but subtly, as the sweetness of the caramel threatened to overshadow them.
Drinkability: I loved drinking it, but could probably only handle a couple of them before I switched gears to something a bit more refreshing. I can certainly see enjoying one with dessert.
1,519 characters
4.45
/5
rDev
+12.4%
look: 4.5 | smell: 4.5 | taste: 4.5 | feel: 4 | overall: 4.5
I did not know this beer existed. Bartender ran of the the list of drafts to me and ended with 'Geary's 20th.' I said, 'make that two!'
Dark brown with a shade of red and a fine head that reduced to thick, everlasting, sticky ring.
*Full Disclosure* -I had a fairly stuffy nose, so my sense of taste and smell were dulled*
The nose was fairly hopped, to me. It was chocolatey and malted to my fiance. Either way, we both dug it.
There was great balnce in this brew. Big malty body with a strong, but unoffensive, hop backup. The strong malt and hop profile complimented each other, not just making a big, garbled mess.
Smooth and fine medium-full body, but a little oily on my numbed tounge.
Wish this beer was not discovered so late in the night. However, I now know where it lives. I typically do not really enjoy such strongly malted beer, but the equally present hops made this a real pleasure. Would make an excellent session brew, so order an armful.
Cheers!
985 characters
Geary's 20th Anniversary Wee Heavy from D.L. Geary Brewing Company
3.96
out of
5
based on
10
ratings.