Red Ale
| Gamla Slottskällans Bryggeri AB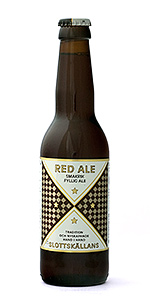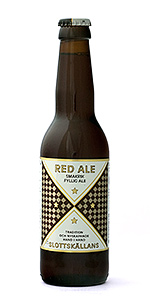 BEER INFO
Brewed by:
Gamla Slottskällans Bryggeri AB
Sweden
slottskallan.se
Style:
American Amber / Red Ale
Alcohol by volume (ABV):
5.00%
Availability:
Year-round
Notes / Commercial Description:
Introduced in October 2009.
Reviews: 8 | Ratings: 11
3.63
/5
rDev
+10.3%
look: 4.5 | smell: 4 | taste: 3.5 | feel: 3 | overall: 3.5
Slottskällans Red Ale, ABV: 5.0%.
330 ml bottle, 17.70 SEK at Systembolaget.
A: The colour is beautiful, dark copper. The head is beige and leaves plenty of good lacing.
S: A mix of fruity hops and roasted malt, with hints of brown bread, red grapes, flowers and dark Swedish forest.
T: Distinct flavours of hay and earth, with big notes of roasted malt, hops, grainy bread, red wine, herbs, spices and butterscotch. A big, complex, but rather unbalanced taste.
M: The body and bitterness are both medium to large. I somehow get a feeling of country air with all of these tastes.
O: Well, some odd flavours, but I kind of like it. It probably needs a rich, meaty stew or something to go with it. Interesting, nonetheless.
727 characters
3.86
/5
rDev
+17.3%
look: 4.5 | smell: 3.5 | taste: 4 | feel: 3.5 | overall: 4
Beautiful copper red color. Foam is almost white, disappears fast but leaves lots of lacings.
Smell is loaded with hops. Some esters get through, and a little caramel.
Flowery hops dominate the taste. Some metallic notes. Fruitiness is there, maybe a bit overdone. Bitterness, too, is on the strong side for a beer this light.
Fruitiness and bitterness combine to lighten the body. Very drinkable. But a little less bitterness would make it more balanced.
A perfect beer for a warm sunny day. Should go great with medium heavy food too.
540 characters
2.99
/5
rDev
-9.1%
look: 4.5 | smell: 3 | taste: 3 | feel: 2 | overall: 3
Picked up a bottle from the Systembolaget today marked best before 09.02.11.
The pour into my goblet was really gorgeous - a nice ruby and mahogany hue. No head.
The smell was subdued - I had to dig to hint the hops or any maltiness.
The initial taste was of overwhelming bitterness - not at all what I was expecting from this beer (tried to go into this blindly with only expectations of what little swedish I could read on bottle). But unfortunately the bitterness washed into an overwhelming metallic taste I had a hard time getting over. That metallic taste eventually washed out and I was left with the bitterness holding on even after swallowing. As someone else mentioned, it is a refreshing bitterness but does overwhelm the malty undertones I got here and there. Those undertones got stronger and more pleasant as the beer breathed a bit.
As for the mouthfeel - very thin - almost too watery.
This is a nice hoppy jolt compared to most beers you'll find on draft in Sweden, but I'm not sold on the metallic undertones and the thinness in the mouthfeel. Maybe for a hot day? (not that you have many of those around here...)
1,138 characters
3.8
/5
rDev
+15.5%
look: 3.5 | smell: 3.5 | taste: 4 | feel: 3.5 | overall: 4
The beer is foggy red amber with a generous off-white colored head with rather loads of lacing.
A smell of sweet brown bread and a hint of molasses, citric aromas from bitter oranges.
A body with much bread sweetness, raisins, grape-fruit juice and peel.
The carbonation is medium, a fresh texture, a good body. and a dry finish.
Good bitterness, more refreshing than expected. This was actually their unfiltered cask version, don't know if it should be an own beer (it's subtitled "Bread beer"). Anyway different and better than the filtered version.
555 characters
3.85
/5
rDev
+17%
look: 4 | smell: 4 | taste: 4 | feel: 3.5 | overall: 3.5
Appearance: Slottskällans Red Ale pours a beautiful rufous colour along with a dense and foamy buff-toned crown of high stature and vitality, eventually leaving the inside of the glass covered with layers of lacing, like the rings of a tree or the sedimentation of a really nasty bathtub, if you will...
Smell: A deep sweet dough-yeastiness comes forth, with some molasses 'n' cocoa hiding behind it, followed by oats, figs and possibly almond and cream-based ice -- duh! -- cream. In other words, plenty of malt domination but the hops do pop up for some papaya, pineapple and citrus.
Taste: The bitterness is way more evident here, a -- quite powerful -- dry hop/dark cocoa sensation with an acidic touch is interlaced with that of burnt malt and nuts. However, it plunges down in the ashes and gets gradually maltier as it goes, the aforementioned burnt notes does a good job as they get to be charcoal-like and helps bring forth a tiny hint of chocolate milk-sweetness towards the end.
Mouthfeel: The viscosity is a bit on the thin side. Other than that it's a bit coarse and with a lingering dryness, while the carbonation isn't low it's still somewhat subtle.
Drinkability: Plenty of treats in this one, the burnt characteristics were more puissant and forefront then I'd expect. Nonetheless, they turned out to be a nice touch!
1,339 characters
2.78
/5
rDev
-15.5%
look: 4 | smell: 3.5 | taste: 2.5 | feel: 3 | overall: 2
Pours a nice clear brown amber. I'm not quite sure what is going on here. At first I was thinking that there might be some level of infection here. But it might just be that the beer tastes dirty. Metallic and crusty is what comes to mind. Whatever the issue is in reality, it makes for a weak production.
305 characters

3.65
/5
rDev
+10.9%
look: 4 | smell: 4 | taste: 3.5 | feel: 3.5 | overall: 3.5
A: This beer pours dark red, with hints of brown. The large rich white head stays for quite some time. When it dissipates it leaves great lacings.
S: Somewhat sweet light roasted caramell malt. Nice floral hops, american style. Citric notes.
T: Floral and bitter hops, very american. Light roasted caramell malt, citrus and coffee.
M: Long aftertaste mostly dominated by bitterness and dryness, but there is sweetness as well. Both body and carbonation are medium.
D: Nice beer, but dominated by american hops - there is amlost nothing else. I'm really into the american hoppyness - if you're not this is probably not a beer for you.
638 characters
2.9
/5
rDev
-11.9%
look: 4 | smell: 4 | taste: 2.5 | feel: 3 | overall: 2
The colour is deep red with a tint of brown; the firm two finger thick head leaves massive amounts of lacing.
The smell is fresh and hoppy. American bitter notes of grapefruit, cookies, digestives, roasted nuts, müsli, cocktail cherries and a tart hint of tomato twigs.
The taste is lightly roasted with notes of nuts and rolled barley. Lots of hops, some American with hints of bitter citric fruits and quite a lot of a tart bitterness. The dry malt gives a sour background. There is a metallic-bitter flavour in the aftertaste and some light earthy notes of somewhat roasted malt. The finis is metallic.
The carbonation is medium strong with fresh medium sized bubbles. The liquid is dry and a little thin.
I don't say this too often, but this was too hoppy, dry and unbalanced.
789 characters
Red Ale from Gamla Slottskällans Bryggeri AB
Beer rating:
3.29
out of
5
with
11
ratings