Svart
| Gamla Slottskällans Bryggeri AB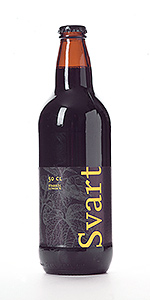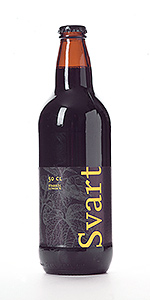 BEER INFO
Brewed by:
Gamla Slottskällans Bryggeri AB
Sweden
slottskallan.se
Style:
American Porter
Alcohol by volume (ABV):
5.50%
Availability:
Rotating
Notes / Commercial Description:
Retired in 2005. Back in production in 2008, mainly aimed for local pubs.
Reintroduced as an organic beer in spring 2011.
Pilsner malt, pale and dark crystal malt and black malt. Hops: First Gold and Sovereign. Yeast: S-04.
Added by rastaman on 10-23-2002
HISTOGRAM
Ratings: 15 | Reviews: 6

3.32
/5
rDev
-3.5%
look: 3.5 | smell: 3.25 | taste: 3.25 | feel: 3.25 | overall: 3.5
3
/5
rDev
-12.8%
look: 3 | smell: 3 | taste: 3 | feel: 3 | overall: 3
3.69
/5
rDev
+7.3%
look: 3.75 | smell: 3.5 | taste: 3.75 | feel: 3.75 | overall: 3.75
3.55
/5
rDev
+3.2%
look: 3.75 | smell: 3.75 | taste: 3.5 | feel: 3.25 | overall: 3.5

3.85
/5
rDev
+11.9%
look: 3.5 | smell: 3.5 | taste: 4 | feel: 4 | overall: 4
The brew is black, very black, has a tan high head that settles slowly leaving good lacing, no curtains.
The smell is dark toast, sweet dried forest fruits, nuts and cold coffee.
Tasting of sweet brown almost burnt bread (the crust mainly), dark toffee, dried fruits, cold coffee, dark chocolate.
Low carbonation, the texture is soft with small bubbles, slightly sticky, a good body, a dry finish.
.A good porter, if I might say very well balanced, more English character.
476 characters

2.79
/5
rDev
-18.9%
look: 4.5 | smell: 3 | taste: 2.5 | feel: 3 | overall: 2.5
Appearance: A robust porter, pitch black to dark brown brew depending on how the light falls through the glass. A beige airy head about a finger tall with very good retention span. Some foamy curtains gliding the the side of the glass.
Aroma: I get sawdust to roasty notes with a sulfury ashiness paired with a vague sweetness like Julmust or Svagdricka (both traditional Swedish malt soft drinks sold mainly during Christmas). I'm also taking a trip down memory lane here, something like searching through grandma's attic breathing in old and stale air filled with damp and moldy clothes and rottening wooden beams in the ceiling. My wise buddy Johan Sjöberg summed it up in a sentence that goes something like this: It's like having the 17th century warship Vasa sailing into my nose. I tend to agree with Johan. This is an aroma that easily sticks and stays on the walls of your nostrils through out the entire drinking experience.
Flavor: An extremely dry, not too bitter but dry porter. There's a very weak sweetness coming through too. It's got a dryness that's on the verge of causing paralysis of the tongue and later on the larynx. "Nearly fatal" as Marcus Andersson puts it.
I get faint notes of caramel, burnt malts, hints of coffee notes and extremely dark chocolate. All these flavor are suppressed by the dominant ash.
To sum it up I'd say it feels a bit like having a ping-pong ball of fatty and sulfury nature (like a striking match) stuck in my throat box.
Mouthfeel: A light medium body with lots of fresh carbonation. The aftertaste is DRY, seriously dry and somewhat bitter. Most recognizable is still the lump in my throat, which has a tar profile.
Overall impression: The descriptive text on bottle reads Torr (read Dry) Porter and boy are they right about that one! Any other given day I would swear myself being a big fan of Gamla Slottskällans products but on this one I'm really honestly perplexed. If you're a fan of, well a bit over the top, super dry porters, this brew's for you. If not, then you'll probably find it an unbalanced beer with too much ash flavor and dryness, lacking some malty sugars to balance it out with.
2,187 characters

3.79
/5
rDev
+10.2%
look: 4.5 | smell: 3 | taste: 4 | feel: 4 | overall: 4
A: Pours pitch black with an enormous pale brown creamy head. Slow dissipation leaves rich lacings.
S: Surprisingly light smell; holds heavily roasted dark malts a bit smoked. Rather dry than sweet. Strong black coffee.
T: Taste is stronger than smell; sweet marzipan-like malt, heavy roast and smoked. Strong black coffee and some dark dried fruits in the back. Kind of bready.
M: Medium full body as well as medium carbonation. Aftertaste stays for some time and holds a smoked roasted bitterness.
O: A nice balanced Porter.
531 characters
3.81
/5
rDev
+10.8%
look: 4.5 | smell: 3.5 | taste: 4 | feel: 4 | overall: 3.5
The colour is deep brown, almost black (60 EBC), the liquid is clear. The firm finger thick head is compact and warm brown. It leaves some lacing on the glass.
The smell is heavily roasted and semi-sweet. Dark chocolate, pumpernickel, hay and a hint of stable. And coffee. Quite a lot of coffee.
The taste is dry and roasted. Coffee, cocoa, chocolate, pumpernickel and just a slight hint of smoke in the background. Medium bodied. The aftertaste brings more of the roasted flavours and a light sweetness. The bitterness is clean with hints of earth and wood. The finish is dry and robust.
The carbonation is medium strong, the small bubbles very fresh. The liquid is dry.
A dry and robust porter. I like.
711 characters
3.88
/5
rDev
+12.8%
look: 4.5 | smell: 4 | taste: 4 | feel: 3.5 | overall: 3.5
(500 ml bottle, in Sweden). Pitch black (= very dark brown) colour, low head. Aroma of liquorice, coffee and roasted malts. Extremely dry (not even a hint of sweetness) roasted and well rounded flavour, good bitterness - perhaps slightly too tart and salty in the finish. Not easy drinking, but a good beer.
307 characters
3.94
/5
rDev
+14.5%
look: 3 | smell: 4 | taste: 4 | feel: 4 | overall: 4
Quite a different porter, heavily burnt flavour, more ashy than roasty, a touch smoky. some coffee roastyness and some choclate, quite bitter, and even a bit salty. Lots of yeast left at the bottom of the bottle, i reckon this is tops.
235 characters
Svart from Gamla Slottskällans Bryggeri AB
Beer rating:
3.44
out of
5
with
15
ratings