Alvinne Chelmsford Oak Smoked Porter
| Picobrouwerij Alvinne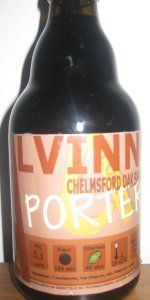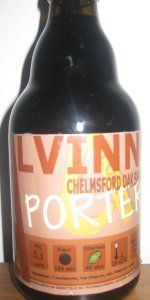 BEER INFO
Brewed by:
Picobrouwerij Alvinne
Belgium
alvinne.be
Style:
Smoked Beer
Alcohol by volume (ABV):
5.10%
Availability:
Year-round
Notes / Commercial Description:
No notes at this time.
Added by thepeter on 05-01-2010
HISTOGRAM
Ratings: 9 | Reviews: 8
Reviews by thepeter:
3.01
/5
rDev
-8.2%
look: 4 | smell: 3 | taste: 3 | feel: 3.5 | overall: 2.5
This beer is nothing like I thought it would be. At first look it is quite nice. but once from the moment I took a sniff I was baffled, but curious.
A - Dark brown with a slight red hue when held to the light. Very nice light fluffy head with peaks and intermixing medium and small bubbles. Left very nice lacing as well as the head turned to a film that lasted quite a while.
S- Surprise number ONE! Root beer and bubblegum seem to dominate, yeah, that's what I wrote! Some dark fruit slight sourness, wood, metal and a hint of smoke round it out.
T- Dry Wood with a slight hint of smokiness to it, old dry grass, Pale malts and a bit more of charred wood at the end. Very dry all the way through.
M&D - Much lighter bodied than expected, I would say light bodied beer and again just not what I was expecting. Very smooth throughout and light on the tongue. Very nice feel to it. Although it is fairly drinkable, just not what I am looking for. The Dryness may allow for a clean after taste but The wood is a stronger flavor than I like.
Just not anything like I expected it to be. I was looking for a malty, full bodied smoked beer and this is not it. Still a pretty good beer on its own but by no means a great beer. I would not trash this beer, but I will not be buying it again. I could actually see some people liking this very much, just not for me.
1,363 characters
More User Reviews:
4
/5
rDev
+22%
look: 4 | smell: 4 | taste: 4 | feel: 4 | overall: 4
Thanks to bu11zeye for sharing this bottle. A smoked porter from a Belgian brewer? Very interesting.
The beer pours a reddish brown color with a tan head. A little lighter than I expected.
The aroma is toffee, nuttyness and oak, with a tad bit of tartness mixed in. I don't get much, if any smoke in the aroma but I can tell that the beer is oak barrel aged.
The smoke is definitely present in the flavor, but it is more subtle than in other smoked porters. I also get quite a bit of toffee and oaked notes, as well as some nuttyness. One of the best parts of the beer is the Belgian yeast character that compliments the smoked porter aspects. Very interesting.
Medium mouthfeel and medium carbonation.
707 characters

3.23
/5
rDev
-1.5%
look: 4.5 | smell: 4 | taste: 3 | feel: 2 | overall: 3
Been getting alot of German beers lately fom digita7693. Thanks man
pours a nice brown color with a nice tan head that stayed the whole duration. A little bit of lacing.
Aroma of rootbeer and some funk. Little bit of typical porter aroma.
Tastes very thin and watery. Kinda Brett funky. Little bit of roast. Not much going on.
Mouthfeel is way too thin. Nice carb.
Overall I probably won't want to try this one again but I'll be looking for other beers this company makes.
477 characters

3.03
/5
rDev
-7.6%
look: 3.5 | smell: 3 | taste: 3 | feel: 3 | overall: 3
330 ml bottle with FEB 2012 stamped on the bottle cap. Served in a DFH Signature glass, the beer pours dark brown/black with about an inch frothy tan head. There's a decent amount of lacing. Aroma is light, it smells like tart dark fruit, oak, and roasted malt. Don't pick up any smoked aromas at all. There isn't any smoke that I notice in the taste either. It tastes like roasted malt, grapes, and a bit of wood, apples and coffee. Mouthfeel/body is light/medium, with moderate carbonation. This isn't a bad brew, but if you're expecting smoke in this one you're going to be disappointed. I know I was.
604 characters
2.96
/5
rDev
-9.8%
look: 4 | smell: 3 | taste: 3 | feel: 2 | overall: 3
Bottle: Poured a clear amber color ale with a nice off-white foamy head with good retention and some good lacing. Aroma of medium sweet Belgian malt base with notes of oak. Taste is dryer then expected with notes of semi-Belgian malt backbone with dry notes of oak and no smoke to speak of. Body is about average with good carbonation. I am not sure I can figure out what the brewer was going for but this is surely not a smoke beer nor a porter.
446 characters
3.03
/5
rDev
-7.6%
look: 3.5 | smell: 3 | taste: 3 | feel: 3 | overall: 3
33cl brown dumpy bottle, poured into a Westmalle chalice.
The beer was obtained from the shop at the Pre-Zythos Fest organised by the Alvinne brewery (and what a great little fest they organised!).
Deep, dark ruby red, dirty brown body, with a tan coloured head, which sadly faded to a thinner covering far to swiftly.
The Chelmsford Oak bit, I am sure comes from my old mate Podge, who is a friend of Alvinne, well Glenn C, anyway, and he likes to get involved with brews when asked or if he can. Not too sure what the pair of them are up to on this project though!
The beer does look like a Porter, but it has a distinct smokey aroma, not overly powerful, but it does over ride all other smells.
The taste is strange, smokey, yes, Porter, no. Watery, yes. Weak flavoured, no, weak bodied, yes.
Reminded me of a Bamberger Rauch Bier, which is lager based, more than a Porter, which should be ale based.
Overall, glad I've had one. I am meeting up with Podge in Brussels soon, I'll question him on his involvement and not alter my scores, but maybe add something to the review content.
Edit bit: Podge didn't make it to Brussels, so we didn't get to chat about his involvement.
1,185 characters

3.53
/5
rDev
+7.6%
look: 4 | smell: 3.5 | taste: 3.5 | feel: 3.5 | overall: 3.5
330ml bottle. Snifter glass. Enjoyed on may´12. Dark brown. Tan, creamy, lasting crown. Roasted malts, burnt malts, wine notes both in flavor & aromas & . Smoke, wood & acidic fruit in the middle lingers into the finish. Slightly bitter with grape zest astringency touch. Medium body, moderate carbonation. Easy drinkability. Comment: first time I tried Morpheus yeast flavor & aroma I was´nt pretty sure if I liked it but now I could say, after many different beer with Morpheus inside tasted, that its peculiarity makes it worth to try.
540 characters
4
/5
rDev
+22%
look: 4 | smell: 4 | taste: 4 | feel: 4 | overall: 4
Pours a light brown with a thin head. Aroma is some roasted malt, oakiness, and mild fruit -- perhaps grape -- with hints of juniper and some hops. Flavor is more of the grape and juniper with a citrus component, and a strong tea-like astringency. An interesting beer.
268 characters
Alvinne Chelmsford Oak Smoked Porter from Picobrouwerij Alvinne
Beer rating:
3.28
out of
5
with
9
ratings