Morpheus Tripel
| Picobrouwerij Alvinne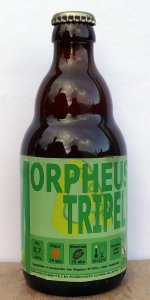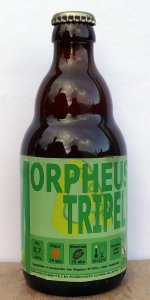 BEER INFO
Brewed by:
Picobrouwerij Alvinne
Belgium
alvinne.be
Style:
Tripel
Alcohol by volume (ABV):
8.70%
Availability:
Year-round
Notes / Commercial Description:
No notes at this time.
Added by Phyl21ca on 05-10-2011
HISTOGRAM
Ratings: 15 | Reviews: 8

3.71
/5
rDev
+7.8%
look: 3.75 | smell: 4 | taste: 3.5 | feel: 3.75 | overall: 3.75

3.97
/5
rDev
+15.4%
look: 3.5 | smell: 4 | taste: 4 | feel: 4 | overall: 4

3.44
/5
rDev 0%
look: 3.5 | smell: 3.25 | taste: 3.5 | feel: 3.5 | overall: 3.5
3.3
/5
rDev
-4.1%
look: 4 | smell: 4 | taste: 3.5 | feel: 1 | overall: 3
Pours amber with a massive head.
Nose shwos funky Brett, lemon notes, soft malt and confectionery.
Flavours include more Brett, some sweet malt and a herbal character.
Massively overcarbonated.
193 characters

2.85
/5
rDev
-17.2%
look: 2.25 | smell: 2.75 | taste: 3 | feel: 3 | overall: 2.75


2.46
/5
rDev
-28.5%
look: 2.5 | smell: 2.75 | taste: 2.5 | feel: 2 | overall: 2.25
Unlike most tripels, this one has no blond, but an almost amber colour. When openning the bottle, part of the beer foamed out of the bottle., not the first time this happens with a Morpheus beer. Not amazed by the beer, it has an untypical taste that I can't quite put my finger to, something smoky maybe. Doesn't taste like a Belgian tripel, but not like a regular amber beer either.
384 characters
2.75
/5
rDev
-20.1%
look: 3 | smell: 3.5 | taste: 2.25 | feel: 2.75 | overall: 2.75
Al abrirla pensé que estaba contaminada de la cantidad de espuma que salió de la botella, parecía un mini Heiser, pero después de leer opiniones de más gente veo que es algo muy común de esta cerveza...
El olor me ha gustado es algo complejo y recuerda a frutas cítricas y caramelo, incluso seguro que me equivoco, pero parece que lleve algo de trigo :S.
El sabor es muy potente, sus 8.7º le dan un gran dulzor, y debido a 35EBUS destaca bastante el dulzor, algo empalagosa pero termina gustándome.
Apariencia, es cierto que vierte muchos restos de levadura al vaso, y al final del trago ves un buen poso de levas.
Probarla ha estado bien, pero no creo que repita jejej
680 characters

3.33
/5
rDev
-3.2%
look: 4 | smell: 3.5 | taste: 3 | feel: 3.5 | overall: 3.5
A 330ml bottle with an illegible BB date (worn off the cap). I've been sitting on this for a long time, possibly more than 18 months, and it is probably out of date. I'll just have to see what it's like. Purchased from a Belgian webshop. Morpheus yeast inside!
Poured into a Duvel tulip. Bit of a gusher. A deep golden-amber hue with plentiful carbonation and chunky yeast sediment. Yields a massive head of creamy white foam with superb stability; this eventually subsides to a surface layer. Nice lacing on the glass. Aroma of intense yeast esters with notes of spicy phenolics, clove, faint cinnamon, nondescript fruitiness and stewed leaves. Slightly sweet and very dry. A faint hint of green apples in the background, along with a solventy whiff of alcohol.
Tastes of bone-dry yeast esters with a harsh bitter finish. Notes of phenolics, spice, clove, fruit and stewed leaves. The flavour is dominated by an acrid, almost chemical astringency. A dry, spicy bitterness upon swallowing, with a hot alcoholic 'burn'. Mouthfeel is very dry and astringent, with decent body and a smooth spiciness . Tingly carbonation adds texture, though not as much as you might expect. Dries the palate. Aftertaste of yeast esters.
This is pretty old, so I suspect it's character may have deteriorated to a degree (despite the high ABV). The yeast has had enough time to thoroughly attenuate the beer. That said, it could probably be worse. Looks OK, and the smell is dominated by yeast esters - as one might expect for a tripel. The flavour is a let-down - quite harsh and hot, while lacking in subtlety. Bit too chemical and solventy. Body is alright but very dry. Not badly made, but I reckon I'll have to try a fresher one at some point to properly grasp its potential.
1,762 characters
3.54
/5
rDev
+2.9%
look: 3 | smell: 4 | taste: 3.5 | feel: 3 | overall: 3.5
Bottle 330ml. Color dark orange with large creamy lasting white head. Aroma malt, hop, lemon, yeast, fruits, spicy. Taste sweet, bitter, yeast, spicy, dry finish. Body is medium, texture is oily, carbonation is soft. A very odd Tripel, but I quite like it.
256 characters
3.77
/5
rDev
+9.6%
look: 3.5 | smell: 4 | taste: 4 | feel: 3 | overall: 3.5
Man am I sick of these beers going down the drain!
Figured it would be a gusher and it was, a slow one at least. Pouring it was a problem though; even with care it ended up having a 5 inch head on it that worked it's way out of the glass.
Anyway...
Pours a light golden color and has floral aromas with notes citrus and coriander.
Nice flavor that matches the nose; simple and straightforward, the alcohol is well hidden...as it should be.
Would have liked to have a tighter carbonation/crisper mouth feel considering how effervescent it was.
Overall; pretty decent actually wish that I would have been able to drink more of the bottle.
Not sure what's up with Alvinne but so far I am less than impressed...
713 characters

3.8
/5
rDev
+10.5%
look: 4 | smell: 4 | taste: 3.5 | feel: 4 | overall: 4
MTR Dec 2012
Lot:532
A: Copper-blond with an off-white head, good retention & lace.
S: Earthy mineral is quite strong, spicy phenols, clove, mango
T: That earthiness is right up front in the flavour as well, unfortunately I'm not overly fond of it. Clove & phenolic spicing, mango & papaya, orange-rind, grainy biscuit and a hint of light caramel. Balanced to the bitter side and the alcohol is subtle.
M: Fairly full body has a hint of residual sweetness with a slightly drying alcohol finish.
D: A decent drinker and overall good brew.
543 characters
4
/5
rDev
+16.3%
look: 4 | smell: 4 | taste: 4 | feel: 4 | overall: 4
Bottle: Poured a dirty beige color ale with a large off-white foamy head with good retention and some lacing. Aroma consists of spicy yeast notes with delicate sweet malt base. Taste is a nice ix between some spicy yeast notes with light peppery undertones and a delicate and floral semi-sweet Belgian malt base. Body is quite full with limited filtration and great carbonation with no apparent alcohol. Very nice rendition of the style with nice touch of the yeast strain.
473 characters
Morpheus Tripel from Picobrouwerij Alvinne
Beer rating:
3.44
out of
5
with
15
ratings