Redor Pils
| Brasserie Dupont sprl
BA SCORE
83
good
14
Reviews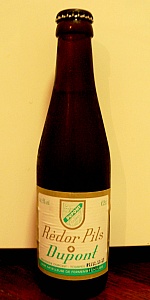 BEER INFO
Brewed by:
Brasserie Dupont sprl
Belgium
brasserie-dupont.com
Style:
Czech Pilsener
Alcohol by volume (ABV):
5.00%
Availability:
Year-round
Notes / Commercial Description:
No notes at this time.
Added by TheLongBeachBum on 05-15-2004
Reviews: 14 | Ratings: 41
3.97
/5
rDev
+10%
look: 4 | smell: 3.75 | taste: 4 | feel: 4.25 | overall: 4
On-tap 5/24/2015 at Doherty's Ale House, Warwick, RI served in a snifter glass.
A: The beer is a light gold color, with a short white head that fades slowly and leaves a thin lace on the glass.
S: The aroma contains lager yeast, light caramelized malts and some hops.
T: The taste starts out bready with flavors of lager yeast and a light malt character. Then a good hops bitterness comes in along with some mild sweetness creating a good balance. The after-taste is slightly bready.
M: Crisp and smooth, medium body, medium carbonation, finish is clean.
O: Tasty, goes down easily, not too filling, mild kick, good representation of style, this is a solid beer to drink for a while if you're in the mood for the style.
728 characters
3.53
/5
rDev
-2.2%
look: 4 | smell: 3.5 | taste: 3.5 | feel: 3.5 | overall: 3.5
On tap at Lucky Baldwins Trappiste in Pasadena, CA.
Pours a clear orange-yellow with a foamy bone colored head that settles to a film on top of the beer. Foamy streaks of lace form around the glass on the drink down. Smell is of malt, fruits, and grassy aromas. Taste is much the same with a fruity flavor on the finish. There is a mild amount of hop bitterness on the palate with each sip. This beer has a lower level of carbonation with a slightly crisp mouthfeel. Overall, this is a pretty good beer that is drinkable but nothing too special.
546 characters

3.77
/5
rDev
+4.4%
look: 3.5 | smell: 4 | taste: 3.5 | feel: 4 | overall: 4
Pour is a pale yellow and perfectly transparent with a tight pure white head. The nose is light but refrehing. Pilsner grain up front, a touch doughy, light spice with stale bread and a hint of lemon. Herbal hop behind. Taste is more grainy than the nose, the dough seems more toasted bread now mid palate, the finish is herbal and lightly bitter. The body is very light and refreshing with lower carbonation and a clean crisp finish. Easy drinking.
449 characters
2.95
/5
rDev
-18.3%
look: 3 | smell: 3 | taste: 3 | feel: 2.5 | overall: 3
A: Poured a rather mundayne yellowish color; not much in the way of the billowing white cap, bubbles as you would expect from this style
S: Pretty much some grass, grains and a whiff of biscuit
T: Some light biscuit, grass and a little bit of sweetness with a grain and booze combo on the finish. Not really, crisp or refreshing in my book
M: A bit more body than I want or expect, lowly carbonated pils leaves it feeling heavy to me
O: The body was a bit much, the booze was to as 6.2 is above the BJCP guidelines. Not bad, not great either.
546 characters
3.58
/5
rDev
-0.8%
look: 4 | smell: 3.5 | taste: 3.5 | feel: 4 | overall: 3.5
Drank from my Gulden Draak Tulip
A - Pours a hazy straw colour with a pure White head that retains quite well and laces.
S - Bread and yeast aromas and some nice grassy hops
T - Up front some nice malty notes with bread and yeats dominant. The hop kick in mid palate and has a nice dry finish.
M - Light body with medium carbonation, with a crisp finish.
O - Felt more like a German Pils than a Czech Pils but nonetheless, its nice to see a Belgian brewery trying non-belgian styles. Recommended.
501 characters
3.67
/5
rDev
+1.7%
look: 3.5 | smell: 4 | taste: 3.5 | feel: 4 | overall: 3.5
Appearance - 3.5
Pours a centimetre of tight, white foam head that quickly settles to a thin layer over a hazy body of straw yellow to pale gold with a tinge of green.
Smell - 3.5
White bread, plain cracker, powdery malt character, followed by attractive herbal hop aromas.
Taste - 3.5
Sweet, bready pale malt backbone is more than countered by a strong dose of bitterness, herbal and leafy hop flavour, finishes bone dry. Alcohol becomes apparent with any increase in temperature.
Mouthfeel - 4.0
Light to moderate carbonation - significantly less than other beers by Dupont. Light bodied, very crisp and dry.
Overall - 3.5
I'm not sure of the hop variety, but I'm more inclined to think of this as a north German style pils, rather than a Czech. It was very enjoyable straight out of the fridge, but after less than 10 minutes, the alcohol became very apparent and the balance (firmly towards the dry and bitter) became less pleasant. Still a good pils, but not as drinkable as the best.
993 characters

3.8
/5
rDev
+5.3%
look: 3.5 | smell: 3.5 | taste: 4 | feel: 3.5 | overall: 4
SF Toronado. Served in a tulip. Pale hazy light yellow, dense pure white head, ok lacing.
Aroma is fairly faint, hints of citrus and honey. Creates no expectation of the flavor.
Taste is all about the buttery smoothness, this is how to shape diacetyl. Surprising delicate fruitiness surrounds the heart, Julie Child would approve. Very mild bitter, zero dry. Light bodied. Evaporates from the tongue effortlessly, simply vanishes allowing it to pair well with food. refreshing
Nothing about this brew suggests Brasserie Dupont.
cheers
jd
540 characters
3.7
/5
rDev
+2.5%
look: 4 | smell: 4 | taste: 3.5 | feel: 4 | overall: 3.5
On-tap at the Brick Store.
Pours a clear golden-straw color with a bright white head leaving solid lacing.
Smells of crisp pilsner malts with good amounts of leafy and slightly citrus hops. Also present are moderate amounts of diacetyl.
Tastes similar to how it smells, though the diacetyl is a bit more prevalent. Smooth pilsner malts up front are joined quickly by buttery notes. Midway through the flavor profile turns more bitter with leafy hops that carry through to a mildly bitter ending. Mouthfeel is good, with prickly carbonation.
Overall I was expecting a crisper version of the style from such a great brewery, although to be fair that may not have been what they were trying to achieve. A decent enough beer, but not worth seeking.
748 characters
4
/5
rDev
+10.8%
look: 4 | smell: 4 | taste: 4 | feel: 4 | overall: 4
I liked this beer, and I think it is fairly put in the Czech style with its softer hop profile. I'm a little surprised the reviews aren't a little higher. For what it is it's quite good. I had this on-tap at the Brick Store Pub. Pours a straw color with a slight haze and a nice head with some lacing. The aromas are soft, but there is a nice hop bitterness there, and a somewhat grainy finish. The taste is creamy with a nice herbal note, a nice earthy bitterness, and a somewhat grainy finish. Soft, somewhat creamy, but with nice hop bitterness. A bit softer in the mouth than the style, but not really in the taste.
619 characters
3.6
/5
rDev
-0.3%
look: 3.5 | smell: 3.5 | taste: 3.5 | feel: 3.5 | overall: 4
On-tap at Beachwood BBQ,
A: Pours a clear yellow with a soapy average white head. Solid lace.
S: Grass and hay-like notes, hint of farmhouse.
T: Solid bready malt flavour, with an earthy raw hop flavour. Light hints of lemon and apple.
M: Crisp, light-bodied, fairly clean, easy going.
O: I love the Dupont saisons so I was interested in what a pilsner from them would taste like. Nothing too drastic, a solid representation of the style.
443 characters
3.65
/5
rDev
+1.1%
look: 3.5 | smell: 3.5 | taste: 4 | feel: 3 | overall: 3.5
coined at Spuyten Duyvil as Dupont belgian pils. i love pilsners at this time of year so it was a must. if you want a pilsner this is solid but if you're wanting to bedazzled then don't pay this much for a pils.
A pretty solid render with a disappointing carbonation that would otherwise put it on par with something great. Looks is light golden yellow with about a finger of head. no bubbles coming up really. i think the keg may not travel well. Nose is brisk but not punchy crisp. Hay and bubblegum undertones. Mild apple hints. Palate is nice and balance with a dry finish. A bit sweeter... But not czech sweet. Feel is flop by the time i get to the get.
659 characters
3.53
/5
rDev
-2.2%
look: 4 | smell: 3.5 | taste: 3.5 | feel: 3.5 | overall: 3.5
On tap at Max's today.
The beer pours a solid gold color with good head retention and pretty decent lacing. Don't get much on the nose, just some light straw, light honey, and that's pretty muc it. The flavor profile replicates the nose, but with some light butter popcorn and a hint of bitterness as well. Mouthfeel is fairly light, with a moderately long, somewhat bitter finish.
Mehhhh....
394 characters
3.37
/5
rDev
-6.6%
look: 3.5 | smell: 4 | taste: 3 | feel: 3 | overall: 3.5
No freshnessdate.Nose is fresh, citrussy fruity and with good hops that are quiet flowery. Some malts to detect aswell as litle alxohol and some farmhouse but litle.Taste is quiet hard cause of bitterness and has this ink taste together with some iron. Further quiet dry and litle maltyness. Astertaste is bitter but also metallic again. Gives off course no plesant mouthfeel but good carbonation and the high bitterness make some up. Cause of dry and bitterness quiet easily drinkable and enjoyable but far from a good german or czech pils.
541 characters
3.6
/5
rDev
-0.3%
look: 3.5 | smell: 3.5 | taste: 3.5 | feel: 3.5 | overall: 4
Presentation: Sampled on draft at the Le Fourquet Restaurant and Café that sits directly opposite and over the road from the Farm Cottage that houses the Brasserie de Blaugies. After a recent tour of the Farm Cottage based Blaugies Brewery, and several Glasses of the 3 regular Blaugies beers, we all headed over the road to the Le Fourquet for the last 40 minutes before our Coach was due to leave. Le Fourquet is also owned by the same family that owns & operates Brasserie de Blaugies; in effect it is closest thing to a 'Blaugies Brewery Tap'.
One of the draft beers on sale in Le Fourquet was Redor Pils, a 6.2% 'Pilsner' that I did not instantly recognize. Checking Tim Webb's Guide revealed that it was from Brasserie Dupont – WTF??? – A Pilsner from the farmyard funky boys?! Wonders never cease. I had never seen this before, so I was nicely surprised to see it and eager to try a Pils from the brewers of the more traditional Saison and Artisanale style ales.
Served in a straight sided 33cl tumbler so reminiscent of the ubiquitous Jupiler Glasses seen all over Belgium, but without the logo.
Appearance: Looks pretty good actually. A lovely albeit slightly dark golden body, lots of carbonation and streamers, assisted no doubt from the CO2 dispense from the Tap. The head is a Czech like white expansive mass, frothy but always a controlled collar topping that sits above the brew throughout unless you leave it longer than 20 minutes when it starts to collapse. Decent carbonation but not 'fizzy'.
Nose: Light on the senses but it has a lovely crisp clean Saaz hoppiness with some lightly toasted grain bill, oh and it has just the merest farmyard hint, or is that just me??
Taste: Very clean and, surprisingly – very good. Nowhere near a classic Pilsner, don't get me wrong, but certainly above average for a Brewery not noted for this generic and wide-spread Belgium favorite. Quietly impressed.
Mouthfeel: Joe Average, plus a little bit – far from watery as per the usual Jupiler, Alken-Maes crap, but it never really extends much beyond what it needs to. This is a Belgium Pilsner after all.
Drinkability: Like most of Belgium's Pils and Michael Jackson's Beer Reviews, it is extremely inoffensive. Easily imbibed to excess, only your quest for the restrooms and the amount of dissolved CO2 that your stomach can handle will ever hinder the quaffability of this one. Yet it remains a shoulder above the cheaper more wide-spread versions with the fact that it has a very clean Saaz bitterness in the finish, giving this one a little bite.
Overall: I enjoyed this, it's an easy going reasonably clean tasty Pils that is easy to drink, especially as it was only around midday and we had already sampled many glasses of the 3 regular brews from Blaugies already. I would not seek this out, but given the choice of this Pils, or many of the other bland watery pissy versions – it's no contest.
Checking Tim Webb, apparently this brew makes for a quarter of all production at Dupont. Whilst I am not questioning the Lord Almighty Belgium Guru, I do find this incredibly hard to believe – it's not even listed on their Website (are they ashamed of it?) and, after visiting Belgium for 10 years this is the first time that I have ever seen it, let alone try it. Still, this is a quality Pilsner that really benefits from the extra percentage of alcohol than most of the other 'run-of-the-mill' 5% offerings that you typically see.
Maybe this is why Brasserie Blaugies decided to sell this Pilsner in their new Restaurant Café, rather than the thin watery stuff from the Big Boys. If you're going to put a Pilsner on sale next to the excellent Blaugies brews, you might as well make it one that is half decent and from a fellow Artisanale Farmyard Brewery!!!
3,819 characters
Redor Pils from Brasserie Dupont sprl
3.61
out of
5
based on
41
ratings.