Marks & Spencer Genuine Irish Stout
| Carlow Brewing Company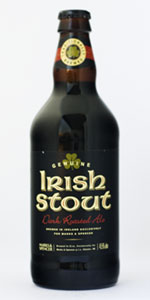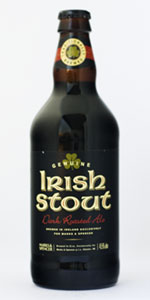 BEER INFO
Brewed by:
Carlow Brewing Company
Ireland
carlowbrewing.com
Style:
Irish Dry Stout
Alcohol by volume (ABV):
4.50%
Availability:
Year-round
Notes / Commercial Description:
No notes at this time.
Added by bark on 11-18-2007
HISTOGRAM
Ratings: 14 | Reviews: 8
Reviews by EmperorBevis:

3.92
/5
rDev
+14.6%
look: 3.5 | smell: 4 | taste: 4 | feel: 3.5 | overall: 4
Pours a rich dark brown almost black body with a really thick tan head that halves but still remains fairly impressive.
The aroma is subtle hints of coffee regular, chocolate and hops mash but I really had to put my nose in, good though.
The taste is rather good big buttery expresso kisses coupled with roast malts perfect charcoal tinges finishing with a ickle hoppy bitter kick all nice and dry.
Superb carbonation stumbles slightly on a lighter than expected mouthfeel
far better than expected 8 thumbs up!
515 characters
More User Reviews:


3.68
/5
rDev
+7.6%
look: 4.5 | smell: 4 | taste: 3.5 | feel: 3.5 | overall: 3.5
Finally decided to pick this one from Marks & Spencer after reading some favourable newspaper reviews. Pours nicely into a pint glass with a fresh looking sizable head. It reduces to a thin whisp afrer a while. The smell is roasty, with a bit of cocoa / chocolate / malt. Medium carbonation (not as much as guinness original). This is quite a nice brew. It reminds me a little of the plain porter from the porterhouse, but I think this is a better beer. There is a slight bitterness in the mouthfeel, but it doesnt have a bitter / stouty aftertaste to it.
I recommend this one to those who like stout.
602 characters
2.47
/5
rDev
-27.8%
look: 2 | smell: 2.5 | taste: 2.5 | feel: 2.5 | overall: 2.5
Bought this one in Dublin
Pours dark brown/almost black with small fizzy off-white head than dissipates fast, no lacing. Aroma is fruity coke, weak sweetish caramel malt with hints of alcohol - it is not unpleasant, but not something I would expect from a Stout. Taste is sharp bittery roasted, slightly sourish, hints of citrus fruit, feels watery; not much of aftertaste. Thin mouthfeel, rather high carbonation.
Overall, I was surprised how bad this beer was - finally I poured it down the drain. Although the "best before" date is fine, I will try another one before writing this beer off.
595 characters

3.65
/5
rDev
+6.7%
look: 4 | smell: 4 | taste: 3.5 | feel: 3.5 | overall: 3.5
Tasted this over the Christmas period 2007. "Brewed in Éire and bottled in the UK" is what it says on the bottle.
As this is brewed by the Carlow Brewing Company, it has to be compared to their flagship brew: O'Hara's stout. It compares well, being (in my opinion) more flavoursome than O'Hara's. It has more toasted malts/roasted coffee notes with a nice finish. It is also slightly higher in alcohol content than O'Hara's.
A good example of an Irish dry stout.
463 characters
3.1
/5
rDev
-9.4%
look: 4 | smell: 4 | taste: 2.5 | feel: 3 | overall: 3
Brewed by Carlow for the British retailer chain Marks & Spencer as part of their line of bottle conditioned ales.
The colour is black with a brown red edge. The finger thick head sinks slowly to a beige lid leaving some lacing.
The smell is roasted with sweet notes of grains and cream. Some fresh bitter flavours and a sour hint of dough.
The taste is… Compared with Guinness, it is stronger, sourer and bitterer: It starts with some roasted/burned malt that is complemented with sour notes of dough and bitter hops. There are some fruity/flowery without any sweetness. Medium body. The aftertaste is sour-bitter with some hoppy flavours and roasted dry malt.
The carbonation is medium to strong. The bubbles are small; the liquid is a little watery.
I think this beer is too bitter for a stout, giving it less focus on the roasted malt.
857 characters

4.05
/5
rDev
+18.4%
look: 3.75 | smell: 4.25 | taste: 4 | feel: 4 | overall: 4

3.74
/5
rDev
+9.4%
look: 4 | smell: 3.75 | taste: 3.75 | feel: 3.5 | overall: 3.75

3.07
/5
rDev
-10.2%
look: 2.5 | smell: 3.5 | taste: 3 | feel: 2.75 | overall: 3
3.04
/5
rDev
-11.1%
look: 3 | smell: 2.75 | taste: 3.25 | feel: 3 | overall: 3
500 mL brown bottle poured into a pint glass tumbler.
A: dark brown (not quite black) with a distinctively brown head almost root-beer coloured. Rather than made of dense, tiny bubbles, the head was fizzier, much more like a cola, and thus dissipated very quickly and left no lacing whatsoever.
S: try as I did, I couldn't really pick much up in the nose on this beer other than some roasted grains (which isn't really saying anything in a stout).
T: not outstanding, but not bad either. Mild hints of cola, and the typical roasted barley flavour coming through but nothing that really sticks out.
M: much fizzier and carbonated than I expected for the style.
O: while I enjoyed this and wouldn't turn another down, I was overall unimpressed with this.
757 characters
3.71
/5
rDev
+8.5%
look: 4.5 | smell: 3.5 | taste: 3.5 | feel: 4 | overall: 4
BB 04/09, served cool in a straight imperial pint glass.
A: quite black in colour, topped with a tan-hued foamy head keeping its 2cm thickness throughout the drink... NOT the work of a nitro-tap, mind you!
S: refreshing aroma of hops and mildly sour tinge of dates come together, on top of a little biscuity note of malts and also (of course) dark malts, Chinese grassy-jelly like brown-sugary herbal scent and random walnutty hints. Pretty mild and pleasant.
T: tart-bitterness manifests itself from the very beginning, ensued by a soothing touch of spicy/tangy touch of hops, walnutty bitter-sweetness, an exotic edge reminiscent of leather, and of course burned malts. The finish is chewy, herbal, somewhat aromatic with a moderate-level bitterness lingering for as long as I could remember...
M&D: moderately fizzy with a very smooth texture, while the body is medium and never goes thin until the end of each sip (not like much thinner Guinness). For a M&S commissioned beer, this one certainly is a very smart choice. I haven't got abundant experience with Irish Dry Stout, but this one surely ticks most boxes in my book!
1,129 characters
3.7
/5
rDev
+8.2%
look: 4 | smell: 4 | taste: 3.5 | feel: 4 | overall: 3.5
Very dark brown body, topped with rocky beige foam. Stretchy lace.
Deep intense inviting roast coffee aroma.
Taste begins with deep roast coffee. Next is a wave of chocolate. Earthy hops at the swallow, with a good bite.
Medium-full mouthfeel with a good bit of chew.
A tasty example of classic Irish Stout.
311 characters

Marks & Spencer Genuine Irish Stout from Carlow Brewing Company
Beer rating:
3.42
out of
5
with
14
ratings