Humdinger
| Joseph Holt Group plc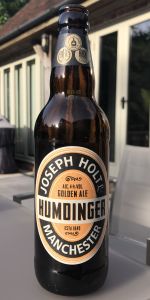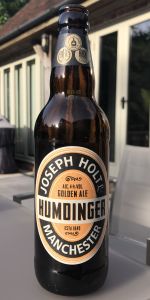 BEER INFO
Brewed by:
Joseph Holt Group plc
England
,
United Kingdom
joseph-holt.com
Style:
English Pale Ale
Alcohol by volume (ABV):
3.50%
Availability:
Year-round
Notes / Commercial Description:
No notes at this time.
Added by BeerAdvocate on 08-31-2004
HISTOGRAM
Ratings: 12 | Reviews: 9
Reviews by MM3:
3.13
/5
rDev
+3%
look: 3.5 | smell: 3 | taste: 3 | feel: 3 | overall: 3.5
Appearance: The color is blonde, yellow. The beer has a small head that stayed untill the beer was gone.
Smell: The aroma's are a bit grainy.
Taste: The taste of the beer is honey sweet. The hop gives a nice bitterness.
Mouthfeel: The beer is very smooth. A bit to smooth for my liking.
The smoothness makes it very easy to drink.
336 characters
More User Reviews:

2.7
/5
rDev
-11.2%
look: 3 | smell: 3 | taste: 2.5 | feel: 3 | overall: 2.5
A 500ml bottle with a BB of Nov 2012. ABV is stated as 4.1%. The label describes it as 'ale with a hint of honey'.
Poured into a tulip pint glass. A clear golden-amber colour with medium carbonation. Forms a decent head of white foam that hangs around for a minute or so before subsiding. Aroma of caramel malt with hints of fruity yeast and sweet honey. A harsh stewed hop note lurks in the background.
Tastes of light caramel malt with a faint honey sweetness and a mild bitter finish. Notes of light honey, fruity yeast esters and stewed hops. The yeast flavour is distinctive and common to other Holt ales that I've tried. A rather harsh, dry bitterness upon swallowing. Mouthfeel is light and slick, with prickly carbonation. Rather astringent. Aftertaste of harsh bitter hops and a strange sweet note.
Not particularly pleasant. The sweet, bitter and yeast flavours don't sit together all that well, the finish is harsh, and the body is lacklustre and overcarbonated. Doesn't make for a great drinking experience. Give it a miss.
1,038 characters
3.42
/5
rDev
+12.5%
look: 3 | smell: 3.5 | taste: 3.5 | feel: 3 | overall: 3.5
It would seem every other brewery in the UK has a Honey beer, this is Holts attempt.
My brown 500ml bottle had only two weeks to go before its best before date (23 June 2010).
The beer was poured (chilled) into a vase shaped pint glass (badged, Old Speckled Hen).
The body is a dull golden/amber in colour, a thin off-white head sat on top.
Mexican aroma honey? Has been used according to the bottle label, I could just about sence hints of honey, along with some citrus hoppiness.
The taste was bland and uninteresting, there is a slight presence of honey within the flavour and a mini hop bittereness to counter it. Sadly they just don't blend too well, the malts come into the flavours towards the end of the mouthfeel. To be fair, everything grew in size (aroma and flavour) as the chillness eased off and the beer warmed, I enjoyed it a whole lot better during the second half of the review.
901 characters


3.72
/5
rDev
+22.4%
look: 3.25 | smell: 3.75 | taste: 3.75 | feel: 3.75 | overall: 3.75
Bottled & ramped up to 4.1 percent for the 2018 English Aldi beer festival
Pours a golden clear body with pretty good white head
The honey extenuates the traditional bitter aroma
but in the flavour it is far too cloying
221 characters
3.33
/5
rDev
+9.5%
look: 3.5 | smell: 3 | taste: 3.5 | feel: 3 | overall: 3.5
Appearance: The bottle has a nice label, very colourful with a cartoon of a beehive. The beer itself is a dirty gold with only a hint of a head that soon disappears.
Smell: Inoffensive, would it be rude to describe it as bland?
Taste: It's a honey beer!! It tastes of honey. Some beers of this genre can overpower the beer itself but in this instance the drink itself is quite fruity, with a sweet hops flavour before the honey really goes to play in the aftertaste.
Mouthfeel: This beer doesn't really trouble the palate very much, there is no carbonation to speak of and nothing really to note.
Drinkability: This beer is very easy drinking, with no complexities. If you want a honey beer I'd go for a Waggle Dance first.
735 characters

2.83
/5
rDev
-6.9%
look: 3.5 | smell: 3 | taste: 2.5 | feel: 3 | overall: 3
500ml bottle 4,1% abv.
Appearance: Humdinger pours a lovely dark golden colour with a decently sized white head. Disappointingly the head doesn't last long and leaves very little lace.
Smell: Hmmmm, I now see why this beer has bad reviews... Very light aroma, slightly grainy pale malt, some floral hops and just the vaguest hint of honey (probably would not be noted if you didn't know it was a honey ale). Humdinger's aroma is only marginally better than the average pale lager...
Taste: As with the smell, dull, bland and sadly lager like. Some pale malt is noted as well as a touch of hops in the finish, but that's really it.
Mouthfeel: Light body and a little over carbonated for an English ale.
Overall: I usually love English ales; however this was a huge disappointment. Not a beer I would buy again or recommend.
834 characters
3.05
/5
rDev
+0.3%
look: 3 | smell: 3 | taste: 3 | feel: 2.5 | overall: 3.5
This has a dark straw colour and minimal head with honey very apparent in the nose. A slightly chalky hint of yeast is present too.
This has the feel of slightly flat mineral water infused with an intial sweet but not cloying sugar hint. There is a very subtle hoppiness which combined with the sugar creates a hint of raisin on the tongue.
Certainly nothing to write home about but eminently drinkable nonetheless.
418 characters
3.11
/5
rDev
+2.3%
look: 4 | smell: 3 | taste: 3 | feel: 3.5 | overall: 3
500 mL brown bottle poured into a pint glass.
Another honey-brewed pale ale.
A: lots of bubble coming up from the bottom, almost resembling a widget-can, but without the widget. Very appetizing. A deep amber color.
S: nothing overpowering, nothing very interesting either, just a mellow pale-ale scent.
T: tastes fine, but again, nothing sticks out. Mildly sweet, not much bitterness.
M: moderately carbonated, goes down smooth, nothing much to report here.
D: average.
475 characters
3.38
/5
rDev
+11.2%
look: 3.5 | smell: 3 | taste: 3.5 | feel: 3.5 | overall: 3.5
Tasted at the Queen's Hotel, Hornsey, N. London, during its mini-beerfestival in mid-July. Gravity-dispensed straight from the cask. The tasting note says this beer is brewed with Mexican aroma honey--interesting~~
A: dark amber in colour, coming with fluffy, bubbly head on the top and a static body.
S: caramelised sugary malts on top of a lively and mildly honeyish base with a stinky bite--very mild hoppy support. Surprisingly settled, but unusual.
T: aromatic floral palate, with an interesting entry of wheat-ish maltiness, underlining a lingering bitter as well as sour-sweet palate of honey-drinks; a bitter edge of full-flavoured hoppyness not usually associated with honey beers gradually develops at the back of the palate... turning tangy+chewy b/w the teeth in the end.
M&D: soothing and med-bodied, it could've been better if given more soft fizziness and served at a cooler temp., which is the problem of cask-keeping onsite at this pub I'm sure, as evinced by three other beers tasted during the same session. But overall the drinkability is really not bad, and this is another interesting honey ale recorded in my book. Looking forward to trying it again in a more ideal condition~~
1,206 characters
Humdinger from Joseph Holt Group plc
Beer rating:
3.04
out of
5
with
12
ratings