Schorschbräu Donner Weizen
| Schorschbräu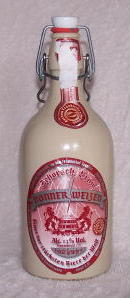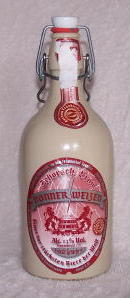 BEER INFO
Brewed by:
Schorschbräu
Germany
schorschbraeu.de
Style:
Weizenbock
Alcohol by volume (ABV):
13.00%
Availability:
Year-round
Notes / Commercial Description:
No notes at this time.
Added by Bierman9 on 10-03-2004
HISTOGRAM
Ratings: 14 | Reviews: 13
Reviews by smanders:

3.33
/5
rDev
-5.4%
look: 4.5 | smell: 4 | taste: 3 | feel: 3 | overall: 3
Found this in a Karstadt market while in Germany. This nontraditional beer (for Americans) is a must-try while in Europe.
Appearance - cloudy orange with a pillowy head. Definitely unfiltered.
Smell - spoiled fruit, cough syrup, and malt.
Taste - sweetness, high warmth from the alcohol, and earthy notes. Not one bit like your traditional weizen.
Mouthfeel - syrup. Heavy.
Drinkability - One could drink this beer on occasion, but beware, the Braumeister warns of spotting wheat gnomes! Try it; you won't be able to compare it to anything else.
550 characters
More User Reviews:
3.68
/5
rDev
+4.5%
look: 4 | smell: 3.5 | taste: 3.5 | feel: 4 | overall: 4
Thanks to ericandersnavy for sharing this bottle.
The beer pours a slightly hazy yellow color with a white head. The aroma is strong alcohol, wheat and some fruit. The flavor is very sweet with a lot of citrus and wheat notes. The alcohol is not that present in the flavor but it is still there. Medium mouthfeel and medium carbonation.
337 characters
3.58
/5
rDev
+1.7%
look: 4 | smell: 3.5 | taste: 3.5 | feel: 4 | overall: 3.5
330ml bottle, just called Schorschweizen on the product shipped to Alberta.
This beer pours a murky, very dark amber-tinged brownish hue, with two fingers of fine, silken, and foamy beige head, which leaves a single streak of arched lace around the glass as it steadily recedes.
It smells of sugary caramel malt, browned mushy fruit - apples, banana, and kiwi - a soft breadiness, some mild dry musty hops, and a waft of warming alcohol. The taste is sweet toffee/caramel malt, a tame wheaty graininess, brown-sugar glazed banana and melon (yes, 'and'), some well restrained saccharine boozy notes, and more musty, dusty, innocuous hops.
The carbonation is rather inert, the body rendering as a fighting heavy weight, and decently smooth. It finishes quite sweet, all those pre-existing sugary conditions persisting to the end.
An interesting enough high-ABV tipple, and of course it's too sweet, though that's not my truck with this - there is just too little of the purported wheat showing through, which only lends more credence to the gimmicky aspect of it all.
1,069 characters
3.6
/5
rDev
+2.3%
look: 4 | smell: 4 | taste: 3.5 | feel: 3 | overall: 3.5
Picked this beer up while in Trier, Germany. Comes in a nice earthenware bottle with a lightingstopper.
Pours a lovely light golden brown color with very little head.
This brew has a nutty, spicey, fruity aroma with a definite alcohol note aswell.
The first thing I noticed about this brew was the alcohol punch. Following that malty sweetness overwhelm the flavor. Kind of a let down on the flavor side, I was expecting something more complex.
Well, it's not a bad brew overall, will probably pick something different next time.
541 characters
4.34
/5
rDev
+23.3%
look: 4 | smell: 3.75 | taste: 4.75 | feel: 4.5 | overall: 4.25
Pours a nice frothy head. Looks like muddy water. Nose didn't quite measure up to the taste so that was the only fault I could find. It was a little underwhelming, but improved as it warmed. Taste of dark fruit, figs, with interesting character from the wheat. Hides its ABV very well. Find this and get it.
307 characters
2.88
/5
rDev
-18.2%
look: 4 | smell: 3.5 | taste: 2.5 | feel: 3 | overall: 2.5
I poured this beer from the big ceramic bottle into the only weizenstarkbier glass I know of, my Aventinus glass. It doesn't make any of the usual wheat beer attempts to raise a voluminous head, but at 13%, this is perfectly acceptable. I managed to get a half finger head, which quickly fell to a skinny tan-yellow glass ring, over a deep yellow brown body that is a little translucent. The nose is deeply alcoholic, wheaty, a bit spicy. peppery, clovey, with a bit of banana bread, and some nice fruitiness. There's also a spice or vegetable scent I pick up that's a little off. The taste is wild - highly alcoholic, very sweet, with various fruity ester floating about. I also pick up a distinct burnt taste, akin to meat of some sort. The mouth is very full, almost viscous, and the carbonation is somewhat low. It's really too strong to be an easy drinker, and not too well put together.
892 characters
3.32
/5
rDev
-5.7%
look: 3 | smell: 3.5 | taste: 3.5 | feel: 3 | overall: 3
A dark brown beer with a faint head, which disappears after a couple of minutes.
Little carbonation.
Smell is intense malty with candisyrup notes. Any presence of wheat is absent.
Taste is sweet and very malty. A syrupy mouthfeel seems to block other tastes. The sweet malt goes towards a heavy caramelmalty dextrinous taste. The alcohol is well hidden, but after swallowing, the alcohol is warming. An over the top brew, which is a nice gimmick, but bigger isn't better in this case.
488 characters
3.15
/5
rDev
-10.5%
look: 3 | smell: 3 | taste: 3 | feel: 3.5 | overall: 3.5
It's neat to finally see something out of the ordinary from a German Brewery. Maybe this is a stab at extreme beer.
Anyhow, I picked this up over by Ingolstadt on my way back from Garmisch at a gas station. The brew comes in a nice looking earth ware bottle. It pours with no head, but I did have this stored a little too cold in the fridge. The body is heavy, with a burnt tan color and is quite hazy.
At first sip this is rich and sugary, but I can also detect faint hints of smoke and black pepper. This is again heavily bodied and feels kind of syrupy.
At first I didn't like this brew very much, but once it warmed up a little, it was much more drinkable, and had less of a burnt flavor to it.
702 characters

3.62
/5
rDev
+2.8%
look: 3.5 | smell: 4 | taste: 3.5 | feel: 3.5 | overall: 3.5
330ml swinging pop top poured into tulip 15/7/12
A murky dark reddish brown with a two finger dark tan foam that falls to a thin film that leaves just a few dots of lace
S overripe pineapple, faint molasses, dark toffees, and a little bruised banana and booze, there's some soggy cereal as it warms
T not quite as nice as the smell, a little nutty and boozy but decent for 13%, some banana chips opposed to the bruised banana, maybe a little wet cardboard in there
M thick liquid with enough carbonation to give it some life, some heat but again reasonable for 13% hits your chest just a little and is pretty sticky on the lips
O I like the smell quite a bit but just OK in other areas, you feel this one pretty fast perhaps it went down a little quicker then it should have
I was hoping for a little more after dropping 10$ on this one, decent beer but a little pricy. I'm always looking for stronger beers too try and this one is just that, worth a try but I wouldn't stock up
986 characters
3.75
/5
rDev
+6.5%
look: 3.75 | smell: 3.75 | taste: 3.75 | feel: 3.75 | overall: 3.75
4.02
/5
rDev
+14.2%
look: 3.5 | smell: 4 | taste: 4 | feel: 4.5 | overall: 4
A gift from Johnfurbock, in a trade in München...
Donner Weizen pours a tawny, russet, light chestnut color. It is cloudy, and with no real head; just a simple ring of bubbles around the edge, with minimal lacing, and there is sporadic carbonation within. Color is nice, but no head... or lacing...
Nose is a rich, toffee aroma, plus a fruity lean to things as well... The body is nearly full, and it is thick, creamy and chewy. Very smooth on the tongue with limited carbonation. Verrry nice feel... Flavor is a very rich, malty sweet one, with caramel and toffee.... strong, like sucking on a candy...real nice! I also get some fruity aspects, which reminds me of Victory Moonglow. The sweetness is what really stands out, though, and lingers too. Feel the heat, as well; the 13% abv does hit the lining of the belly....be careful! The finish has a wheaty, crisp and dry aspect. A very nice Bier! Thnx, John!!!!
overall: 3.95
appearance: 3.5 | smell: 4 | taste: 4 | mouthfeel: 4.5 | drinkability: 4
765
1,007 characters
2.71
/5
rDev
-23%
look: 2.5 | smell: 2.75 | taste: 2.75 | feel: 2.5 | overall: 2.75
Strong aroma, I imagine this is what "Pruno" (jailhouse wine made from prune juice) would smell like. Black in color with no head, a weizen should have a decent head. Taste of roast grain and coffee bitterness hiding under the alcohol tanginess. mouthfeel is slick and oily. Let's see if this gets better as the alcohol kicks in....
334 characters
2.79
/5
rDev
-20.7%
look: 2 | smell: 3 | taste: 3 | feel: 2.5 | overall: 2.5
New bottle design, glass swing top 33cl, also have the large ceramic bottle but will be sharing that with others, drinking the whole bottle was a chore and I'm no stranger to higher abv beers/eisbocks, just had Aventinus Weizen eisbock the other day and cruised right through it.
Pours a sludgy mahogany, a ton of swirly produced a tiny off-white head once it warmed up a bit.
Nose; dark fruits, caramel, and a touch of smoke.
Taste; plums, tobacco, candy sugar, a cloying sweetnes and more ripe fruits.
Mouthfeel; syrupy, thankfully with a decent amount of carbonation.
Overall; so far I have had several of their offerings and have been rather disappointed. Sure, they've been decent, but I'd take a Schneider Eisbock any day over these...
742 characters

4.44
/5
rDev
+26.1%
look: 3.5 | smell: 4.5 | taste: 4.5 | feel: 4.5 | overall: 4.5
Beer 2 of 3 from my bro-in-law.
Poured an extremely hazy amber color with a very small head that was gone in less than a minute. The nose was very pleasant. The scent alcohol soaked cherries and grapes was strong. The taste was very sweet, citrusy fruits (cherries, grapes, oranges), not even the slightest hint of hops, followed by a nice warmth. Medium bodied and highly carbonated, a lot like drinking a badass champagne. I loved it.
437 characters
Schorschbräu Donner Weizen from Schorschbräu
Beer rating:
3.52
out of
5
with
14
ratings