Schorschbock
| Schorschbräu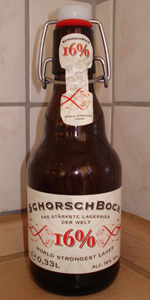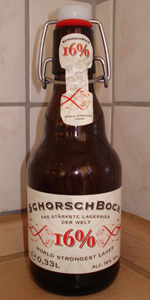 BEER INFO
Brewed by:
Schorschbräu
Germany
schorschbraeu.de
Style:
German Doppelbock
Alcohol by volume (ABV):
16.00%
Availability:
Year-round
Notes / Commercial Description:
No notes at this time.
Added by BlackHaddock on 01-21-2009
HISTOGRAM
Ratings: 13 | Reviews: 8
Reviews by williamjbauer:

More User Reviews:

2.5
/5
rDev
-21.4%
look: 2.5 | smell: 2.5 | taste: 2.5 | feel: 2.5 | overall: 2.5
Brown dumpy bottle, holding 0.33 Litres of 'The strongest beer in the World' according to the label.
Found and drank at International Green Week in Berlin.
Murky dull brown with a deep red hue and no head at all. Looked like dirty washing up water to be honest.
The smell was a real Fairground sickly affair, Toffee Apples, Raspberries and Strawberies with an alcoholic Candy Floss overtone.
The taste and mouthfeel was a thick Raspberry and Strawberry syrup mix, very sweet and alcoholic in an unpleasant way.
There were four in my party, my wife and friends only had one sniff and sip, they couldn't manage any more. I am made of stronger stuff and drank the rest, proptly became drunk (we had been drinking fairly heavily beforehand). This review is taken from notes and observations before the alcohol took full effect. I will not be having this beer again!
876 characters
3.3
/5
rDev
+3.8%
look: 3 | smell: 3 | taste: 3.5 | feel: 3 | overall: 3.5
A viscous, dark brown beer is poured into my glass. A thin layer of off-white foam immediately dies out and leaves only a small layer at the edge of the glass. Ladies and gentlemen, we have a high alcoholic beer! The smell of sweet and syrupy malt fills the room. There are some roasted notes to support the sweet malt and mild alcohol whiff.
The beer tastes sweet and malty with an alcoholic heat. Not much hops there. The beer is all about the alcohol, which makes it a bit of a gimmick. And I must admit that the alcohol is pretty present and the sweetness is like syrup. On the other hand the alcohol is supported, almost balanced to some extend by the sweetness.
668 characters
3.32
/5
rDev
+4.4%
look: 5 | smell: 3 | taste: 3.5 | feel: 3 | overall: 3
I'm not reviewing this as a Doppelbock, but a beer in its own category.
This brew exploded with pressure when I popped off the cap. When poured there were mounds of tight forming head and the body is a murky caramel gold. The overall appearance is hazy like a hefeweizen.
Notes of aroma are that of clove, slight orange peel, and a hint of smoke.
The taste is very sweet as well, with a heavy fruitiness in the way of a touch of peach and plum. The slight smokiness found in the aroma, is also detectable in the taste as well.
This feels very full and syrupy. The alcohol in this brew is very potent in the mouth feel, and almost reminds me of the SATP I tried yesterday.
Overall this is impressive due to the fact this beer is brewed in accordance with the RHG (Zero Adjuncts). It has some work to be done, to mask the alcohol; however, after a few sips this beer does start to grow on me.
I'd say this is a beer any BeerAdvocate should give a try (given a very clean palate).
984 characters
3.77
/5
rDev
+18.6%
look: 3 | smell: 3.5 | taste: 4 | feel: 3.5 | overall: 4
I just had a 0.33l bottle of this rather extreme beer. It is not what you would a Doppelbock to taste like - but keep in mind this a 16% ABV beer!
The appearance is somewhat disappointing : dark brown color but no foam. It gets better when you smell it. Subtle hints of malt, strong fruity notes of raisins and other very mellow fruits as well as strong syrupy notes.
The taste starts off with subtle malt notes and a little bit of smoke aroma. The main body, however, does not so so much consist of malt aromas but rather a strong syrup-like palette. There are some very subtle fruit notes at finish.
It is a very sweet beer and the high alcohol content is hardly noticeable. For such an extreme beer one bottle is quite drinkable but probably not more.
Please keep in mind this not a typical Doppelbock therefor should be considered and appreciated a bit outside of its style guidelines. Unfortunately Bavarians (Schorsch brewery is from there) won't allow themselves to think out off the traditional German style box and do not dare calling it otherwise.
I recommend the beer to everyone how loves thick, syrupy and very sweet beers. Its extreme and well drinkable but not perfect.
1,187 characters


3.03
/5
rDev
-4.7%
look: 3.5 | smell: 3 | taste: 3 | feel: 3 | overall: 3
Served from 33 cl bottle bought in Germany.
A - Color appears to be a very dark brown, but is murky and does not let light through. Head is tan, piles very thick and high, and then slowly fades. Great retention, great lacing.
S - Aroma is unlike any bock I've smelled before. The alcohol is very evident, with a sweet character much like a port. The malt aromas are warm, nutty, and bready, but there is a smoky, charcoal-like note that I can't identify. No hops evident. Aroma is not good or bad--just different.
T - The flavors are balanced between sweet, bready Munich malt and warm, sweet alcohol. Late in the palate there is an unpleasant smoky, chemical-like finish.
M - Thick body and a cloying, sweet, mouthcoating finish. Low, smooth carbonation. Low hops bitterness. Warming alcohol.
O - An interesting beer worth trying, but I won't seek it out again.
868 characters

1.64
/5
rDev
-48.4%
look: 2 | smell: 3 | taste: 1 | feel: 1 | overall: 1.5
poured from a 330ml bottle into two half pint nonics.
a - dark brown, almost black with no head at all. reminds me of porter or stout at first sight. but the more you look at it, the more it becomes similarity to motor oil.
s - smells very interesting like plum juice oder plum liqueur with a clear aroma of blackberry.
t - the taste is like strongly fermented plum juice. no malts or hops perceptible at all. just sweet and alcoholic.
m - the mouthfeel is awful heavy and oily. neither refreshing nor balanced in malts or hops. I had difficulties to swallow that.
o - overall a beer with interesting smell but nothing more. not a doppelbock as you might know it. a weird experiment in "what is possible to brew?"
719 characters
3.72
/5
rDev
+17%
look: 3 | smell: 3.5 | taste: 4 | feel: 3 | overall: 4
I would agree with the previous review - hard to review this as a doppelbock, as it doesn't really fit the style.
Came in a brown 0.33 liter snap top bottle, bottle-conditioned, and well carbonated. Poured a deep orange with a slight, off-white head that disappeared quickly. Hazy appearance, almost muddy, even though I left the yeast cake relatively well-preserved in the bottom of the bottle.
Slight aroma of peach or tangerine, maybe even a slight orange peel. Surprisingly, the alcoholic nose was NOT all that apparent.
Taste was very sweet, with notes of sherry or madeira. Flavor was rather complex, with hints of fruit, alcohol and maybe syrup.
Mouthfeel was full-bodied indeed, even syrupy, with the warming alcoholic punch becoming very apparent as soon as I began to swallow.
Overall, I was rather impressed. I was not expecting a lager with this high of an ABV to be as drinkable as it was. I would most certainly buy it again. A good desert beer.
964 characters
2.84
/5
rDev
-10.7%
look: 2.5 | smell: 2.75 | taste: 3 | feel: 2.75 | overall: 2.75
Sip slowly. The high ABV is very apparent in this monster. Sickingly sweet in aroma and taste. Appearance not much to speak of, pours dark black and no head. Aroma is prunes and alcohol. Taste ...molasses and prunes.
216 characters

Schorschbock from Schorschbräu
Beer rating:
3.18
out of
5
with
13
ratings