Kacey's Kristmas Ale
| Rohrbach Brewing Company (Brewpub)
BA SCORE
83
good
12
Reviews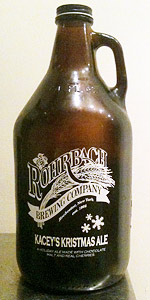 BEER INFO
Brewed by:
Rohrbach Brewing Company (Brewpub)
New York
,
United States
rohrbachs.com
Style:
Winter Warmer
Alcohol by volume (ABV):
5.00%
Availability:
Year-round
Notes / Commercial Description:
No notes at this time.
Added by BeerAdvocate on 12-10-2001
Reviews: 12 | Ratings: 21
3.67
/5
rDev
+1.1%
look: 4 | smell: 3.75 | taste: 3.75 | feel: 3.25 | overall: 3.5
This brew was served on draft at MacGregor's Grill and Tap Room in Canandaigua, NY. It arrived in a dimpled house mug, glowing the color of cherry cola. It held a one finger head of cappuccino colored foam, showing nice retention, and leaving bath-bubbly lacing around the glass as it faded. No haze or sediment was noted, and carbonation appeared to be moderate. The aroma gave notes of grape popsicles, whole grain bread, Flintstone vitamin chalkiness, Gatorade sweetness, salted table crackers, fresh wheat flour, toasty rye grain, soft citric hops, bright metallics, and aluminum yeastiness. Our first impression was that the flavoring was sweet and bready, reminding us of dense holiday fruitcake. The beginning opened with maraschino cherry juiciness, fig, dates, raisins, and plums, vanilla bean coolness, light boozy warmth, gritty brown, caramel, and coffee malts, and dog food dryness. The middle came to a peak with black pepper, dates, almond and walnut bitterness, corny adjuncts, and light grassy hops. Washing through the finish was a blend of soured lemon seediness, vodka fumes, celery and carrot vegetals, nutty breadiness of fruitcake, cranberry flesh, and burnt plastics. The aftertaste breathed heavily of dry grain, with barley, rye, and dirty adjuncts, coin, buttered caramel, clove and cinnamon stick spiciness, beets, and sweet brown breadiness. The body was light to medium, and the carbonation was medium. Each sip offered very little cream of froth, with limited slurp, smack, or finishing pop to follow. The mouth was left lightly coated with oiliness, but otherwise wet and watered. The abv was appropriate, and the beer drank decently as a sipper.
Overall, the most enjoyable thing about this beer was its flavoring. The dark malt profile mixed well with the bold, cloying, candy-like fruitiness of the cherry. The latter was actually surprisingly present throughout all aspects of the beer, so much so that it became a bit difficult to get past it to see what else the beer was about. This faded with warmth as the malts came much more to the front of the mouth, but this wasn't helped by the rather watered feel of the sip, as this was kind of like taking two steps back. We always love to support the local swill, but this one just didn't put us in the Christmas spirit this year.
2,322 characters
3.62
/5
rDev
-0.3%
look: 3.5 | smell: 4 | taste: 3.5 | feel: 3.5 | overall: 3.5
Pours a reddish brown color with a finger or so of ivory head. Doesn't keep much more than a thin lace, and not much stick.
Smell has a big cherry aroma which is quite pleasant, although I can't tell if it's an extract or real cherries or not. Growler does say "natural" flavor added, but doesn't say if real cherries were used. Still, it's a nice aroma, with some subtle spice and sweet caramel and bready notes as well. I don't really get the chocolate malt it said it was brewed with, but it's nice.
Taste has some cherry flavor but not as much as the aroma had. It's more subtle, and overall the flavor is a bit bland. Has a bready/caramel sweetness and a bit of a toasted quality, but again I don't get the chocolate malt. Some spice and vanilla and a sort of earthy flavor in the finish with a subtle bitterness.
Mouthfeel is medium bodied but feels somewhat thin. Good carbonation and pretty smooth.
Not bad, and the cherry is really nice in the nose especially, but the taste is a bit on the bland side. A pretty good beer though and a good local choice.
1,066 characters
3.87
/5
rDev
+6.6%
look: 4 | smell: 4.5 | taste: 3.5 | feel: 3.5 | overall: 4
A- Deep redish brown color, not much head (but nice lacing), perhaps it's not the FRESHEST growler :(
S- Chocolate, malt, dark fruit, spices (it "smells" like christmas).
T- Malty chocolate just like the nose (but subdued) much more dark fruit in the mouth than you smell - it clearly becomes "cherry" here, not just "fruit." Nice hop/bitterness really balances the end, the cherry lingers at the end - not as sour as a kriek but not cloying or overly sweet.
M- It had plenty of body for this style, left a slightly dry (pleasant) feeling at the end
D- This isn't a type of beer I'd normally seek out but I could drink it all day - it's no 10/10 but it's extremely satisfying
Purchased in a growler at Wegmans
714 characters
4.27
/5
rDev
+17.6%
look: 4 | smell: 4.5 | taste: 4.5 | feel: 3.5 | overall: 4
Caught the remaining drops of this holiday brew in late January at the brewpub on the outskirts of Rochester. It poured a dark carmel color with a thin tan head and decent lacing. The aroma was a pleasant sweet chocolate coffee malt, even a touch of rye, very nice. The flavor brings more coffee and a spritely rye malt, even a touch of smoke. Very nice. Kind of thin and very drinkable with a touch of cherry. This is really likeable and not your standard over seasoned holiday brew. It's smooth and enjoyable, not too fancy.
526 characters
4.17
/5
rDev
+14.9%
look: 4 | smell: 4.5 | taste: 4 | feel: 3.5 | overall: 4.5
A - Poured a dark amber brown, clear with 1.5 inch off-white head in a pint glass. Slight lacing, decent head retention.
S - caramel malts, vanilla, cream, toffee and cocoa. Lightly spiced and well balanced in the nose.
T - rich maltiness, caramel and holiday spices. Light cinnamon and nutmeg notes, a touch of hops in finish.
Mouth- light/medium bodied and moderate carbonation. Very smooth
D- Excellent drinkability, I can definitely do a few in a session.
Overall - not bad at all. I probably would get this again. Could use a tad more in the flavor department and strength of the beer, but overall a very good beer. Unfortunately, it does not pair very well with German food like sauerkraut and schnitzel...
715 characters
3.48
/5
rDev
-4.1%
look: 4 | smell: 3.5 | taste: 3.5 | feel: 3 | overall: 3.5
Kacey's Kristmas Ale dense, brownish amber ale without much carbonation. The off-white head is thin and dense. It leaves thin sheets of lacing on the glass. It has a spicy aroma, like coriander and nutmeg. The smell of malt is strong and sweet. It is medium-light bodied, smooth and pretty dry. The finish is a little gritty. It's a pretty mellow flavor-- a touch sweet and a touch bitter. There are notes of greenery, spices and fruitcake. The aftertaste is bitter. I had a couple pints of this, while making home brew outside in sub-freezing weather, and it kept me warm.
573 characters

3.73
/5
rDev
+2.8%
look: 4 | smell: 3.5 | taste: 4 | feel: 3.5 | overall: 3.5
I was lucky enough to get this for my growler at consumers bev center last month- just getting around to uploading the review now...
A- Bronze color - large 3 finger cream colored head disappeared quickly..with light lacing on the glass...
S- Chocolate with dark fruits- cant make out the cherry in the smell, just that its darker fruits.
T- Deep flavor, nutty with chocolate and the cherry is not sweet (which I thought it would be) its a slightly sour cherry flavor that fits well-very good-- kind of taste like a nut brown beer
M- not real thick but thicker than most ales of this type. It doesn't have a lot of carbonation but it fits very well
D- I could've given it higher but after a couple pints I had enough- im sure it could easily be a session beer for some.
774 characters
3.65
/5
rDev
+0.6%
look: 4 | smell: 4 | taste: 3.5 | feel: 3.5 | overall: 3.5
A - Poured a dark brown with an off white head that leaves lacing
S - Malty with a chocolate scent
T - Much like the smell sweet malt with chocolate
M - There is a good amount of carbonation in this brew
D - I enjoyed this one quite a bit good taste makes it a good winter warmer worth trying
296 characters

3.41
/5
rDev
-6.1%
look: 4 | smell: 3 | taste: 3.5 | feel: 3.5 | overall: 3.5
On tap at the Buffalo Brewpub,poured a deep hazed brown with a thinner but well maintained almond colored head atop.Aroma is dominated by sweet cherry really thats all you really get its not bad but just one sided,flavors are like cherry cola with a bit of bitter chocolate infused its really cut and dry no frills it is what it is.Its really not bad its something my wife would really enjoy me pretty much one and done but its alright.
436 characters
2.8
/5
rDev
-22.9%
look: 3 | smell: 3 | taste: 3 | feel: 3 | overall: 2
Had this on tap at Flaherty's. Didn't know what this one would be like when I ordered it. Seems like every winter warmer I get tastes like a completely different style. Granted I don't have much experience with this style, but there seems to be few like qualities in each beer I've had.
Arrived at the table without much trace of a head. I dunno, maybe the bartender was used to pouring Labatt. Maybe it just doesn't have much carbonation. The color was a rich amber, which was attractive nonetheless.
Smell was dominated by cherry syrup sweetness. Honestly that's all I remember.
The taste was more of the same, sweet cherry flavor, being slightly tart and almost too sweet at the same time. Not being a huge fan of cherries, I must admit I grimaced slightly, when I first tasted this one. Sweetness lingers on the tastebuds well after the beer is gone.
Only my fourth winter warmer, but I'm not very impressed with this one. At the bottom of the list.
961 characters
3.58
/5
rDev
-1.4%
look: 4 | smell: 3.5 | taste: 3.5 | feel: 3 | overall: 4
Was up in the Rochester area yesterday and was able to give this brew a try. The brew has a deep cloudy brown color with a off white head that has good retention and leaves thick chunky lacing at the top of the brew and a fair amount the rest of the way. The aroma is nice, had a chocolate aroma with hints of fruit. The web site says cherries and I can definitely pack that up but almost a raisin flavor as well? Not a bad tasting brew, but not a favorite with the slight cherry taste. Also the mouthfeel of this brew seems a little lax as it felt watery. Over all I would say it is a good offering from Rohrbach and next time I am up in Rochester I will have to track a few of the other offerings down.
704 characters
4
/5
rDev
+10.2%
look: 4 | smell: 4 | taste: 4 | feel: 4 | overall: 4
An extremely easy drinking winter seasonal. Rich, chocolately, an ever so subtle hint of cherries and just the right hop bitterness to round out the brew. Merry Christmas indeed!
178 characters
Kacey's Kristmas Ale from Rohrbach Brewing Company (Brewpub)
3.63
out of
5
based on
21
ratings.